Member of Parliament for North Tongu is on his crusade to demand accountability on the construction of the controversial National Cathedral.
In his latest epistle, Samuel Okudzeto Ablakwa is questioning some alleged payments to a purported crèche based in Dawhenya, Accra.
According to a Facebook post, the legislator revealed that a whopping GH¢2.6 million was dished out to a company named JNS Talent Centre Limited.
This, per his expose, did not include the nature of work done to merit such an amount.
"According to incorporation details in my possession, JNS Talent Centre Limited's given registration number is CS695622015. Its directors are: Johannes Eshun, Sheila Eshun and Kwabena Adu Gyamfi. The registered principal activity of JNS Talent Centre Limited is listed as "Talent and Skills Development Training," he wrote on Wednesday.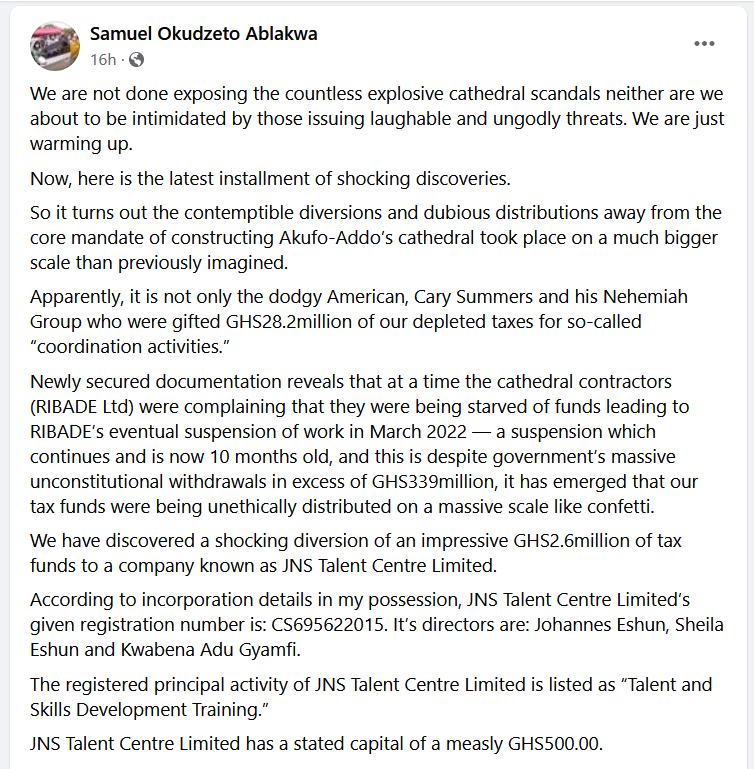 In the statement, the Ranking Member of Parliament's Foreign Affairs Committee insisted that JNS Talent Centre Limited has a stated capital of GH¢500 with no "track record in construction neither does it have the capacity for architectural designs or related services."
The MP's subsequent probe revealed that the company "operates a creche located in Dawhwenya."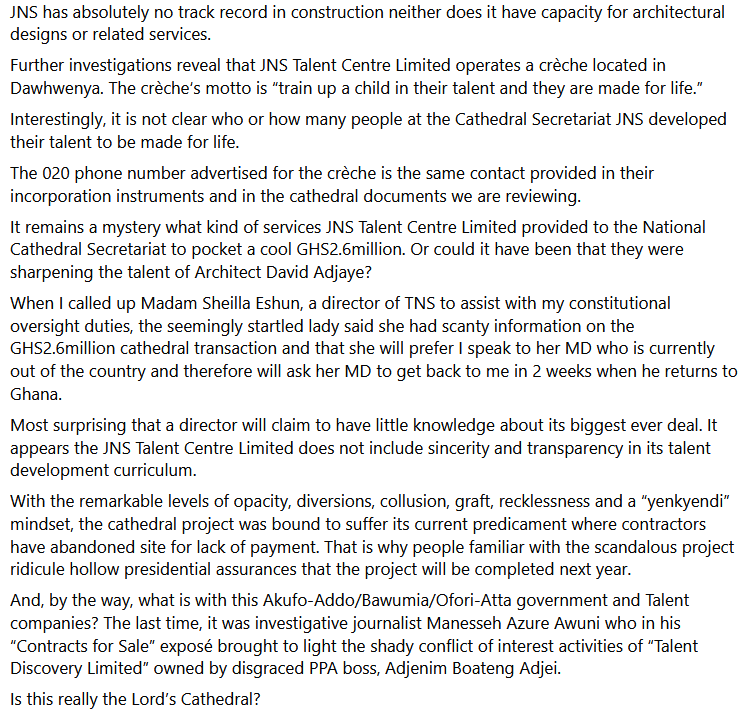 "When I called up Madam Sheilla Eshun, a director of TNS (JNS) to assist with my constitutional oversight duties, the seemingly startled lady said she had scanty information on the GHS2.6million cathedral transaction and that she will prefer I speak to her MD who is currently out of the country and therefore will ask her MD to get back to me in 2 weeks when he returns to Ghana," he added.
He wondered about the kind of work executed by this firm to warrant the quantum of payment.
Mr Ablakwa did not end there. On Thursday morning, he started the day with what he believes are additional particulars to this series of expose.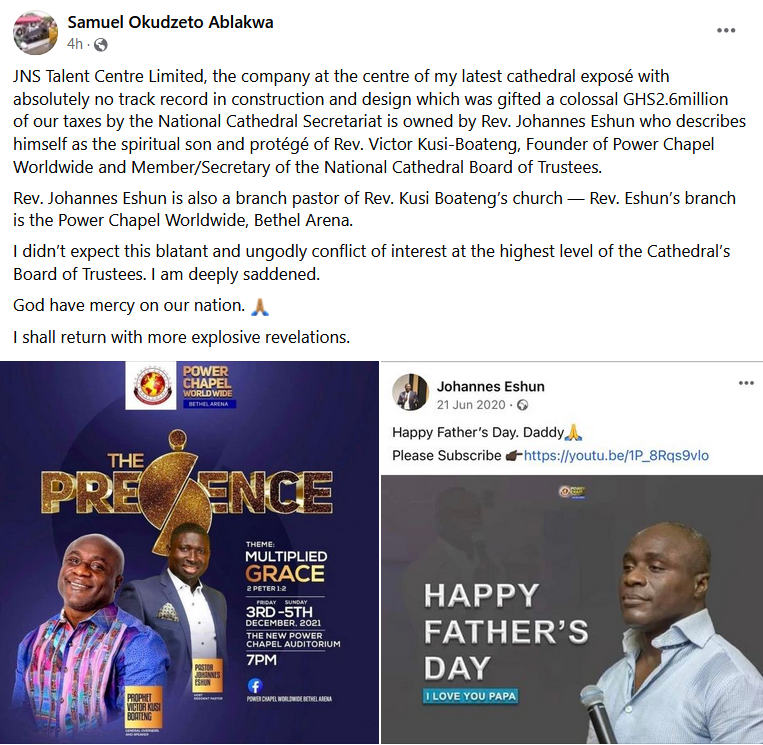 He is alleging that the Talent and Skills Development Training Centre, recipients of the said ¢2.6m is "owned by Rev. Johannes Eshun who describes himself as the spiritual son and protégé of Rev. Victor Kusi-Boateng, Founder of Power Chapel Worldwide and Member/Secretary of the National Cathedral Board of Trustees."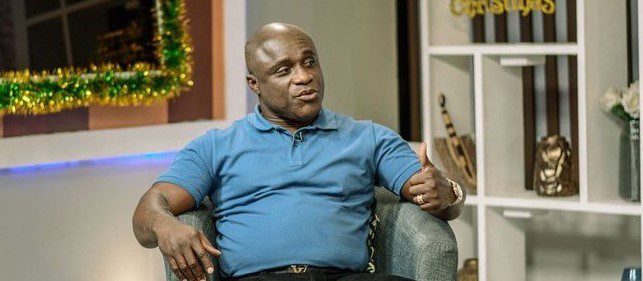 Additionally, "Rev. Eshun, Mr Ablakwa says, is also a branch pastor of Rev. Kusi Boateng's church called the Power Chapel Worldwide, Bethel Arena."
On the back of this, Mr Okudzeto Ablakwa suspects foul play.
"I didn't expect this blatant and ungodly conflict of interest at the highest level of the Cathedral's Board of Trustees."
Meanwhile, President Akufo-Addo has said that the National Cathedral will be built despite the protest by some Ghanaians.
According to him, come what may, the National Cathedral project will be in its advanced stage before he (the President) leaves office.
He made this known during a New Year Service with pastors from various denominations in Ghana at Jubilee House on Tuesday, January 10.
"…I am very encouraged by your words on the National Cathedral. I am very determined that come what may, I have two more years, whatever the case, the National Cathedral will be at a very advanced stage before I leave office. I think it is important that we do it."
DISCLAIMER: The Views, Comments, Opinions, Contributions and Statements made by Readers and Contributors on this platform do not necessarily represent the views or policy of Multimedia Group Limited.