20 years ago, Chief Executive Officer of Reroy Group of Companies, Kate Quartey-Papafio joined the cable value chain and is currently rubbing shoulders with international cable manufacturing company like Nexans.
Mrs. Quartey-Papafio's Reroy Cable Limited is one of the four cable manufacturers in Ghana.
The company was born out of a bad customer experience. Kate bought imported cables, which did not meet the quality and standard she was looking for while building her first house.
She decided to travel abroad and buy container fully loaded of electrical cable. She sold some and used the rest for her project; there she struck gold. Reroy Cable then moved from importation to value addition, and today is one of the leading cable manufacturers in the country.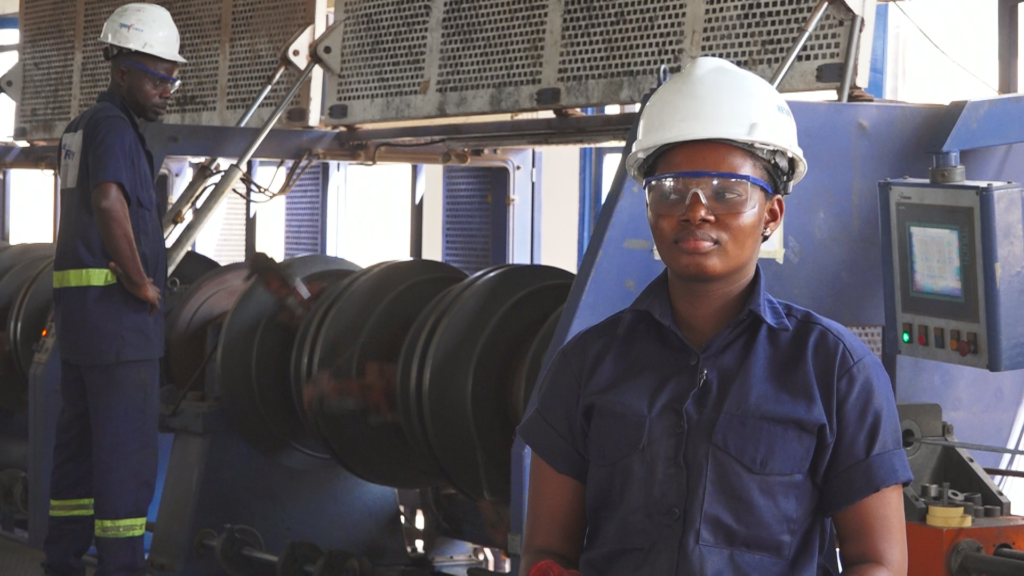 Reroy employs women
Having been in the industry for the past 20 years, Kate says it's hardly to fine women leading in that space.
"We currently have less than 8% women in the business. "I want to replicate myself and "Project 1000 Women Engineers" is an ambitious target I have set for myself in the next five years to employ and train 1000 women engineers and people in the TVET sector to really participate in the energy sector", Mrs Quartey Papafio said.
Currently, 10 females work with Reroy Cable. Grace Tettefio is one of them. Grace indicates she has always wanted to be an engineer. Out of a family of six, she attended Ada Technical Institute where she studied engineering. She got a job from Reroy as part of "Project 1000 Women Engineers" and has already worked there for five months.
Producing Pylons for ECG
Here, Grace Tettefio and five of her colleagues work on the factory floor on different things. One of their core assignments in the day is to produce pylons for the Electricity Company of Ghana.
The company currently leads in the production of aerial bundle cables for ECG.
Factory Manager, John Ofei ,tells Joy Business women work in strategic part of the factory floor for specific reasons.
"Currently our quality control department is mainly run by Grace Tettefio. Women have eye for details and are unlikely to give fake figures. At certain parts of the company we can lose millions in the form of materials if the team does not pay attention."
Reroy Cable currently exports to five African countries and Europe.
"Our first international market was Europe. It makes me feel proud that a Ghanaian company is participating in the global economy and is also led by a woman", Mrs. Quartey-Papafio said.
Kate Quartey-Papafio added her dream is to see women flood the engineering sector and her contribution is to see 1000 women employed at various levels in the next five years.
Ghana's engineering sector is predominately male owned.
Currently less than 8% of the sector are made of women, either leading the business or owning shares. A recent addition of the league of women breaking the glass ceiling is Dr Lucy Agyepong, where she is a member of the prestigious African Asian Pacific Engineering Council.