The doping crisis engulfing athletics subsides – for a few days, anyway – as attention turns to the track and field for the IAAF World Championships in Beijing.
If ever there was a time athletics needed some positive headlines, this is it. And with several enticing head-to-head battles looming ahead of the championships, the early indications suggest that it could yet be a promising week for the sport – despite the damning claims that have surfaced with alarming regularity over the past few weeks.
We've highlighted five duels that are set to take centre stage…
Usain Bolt v Justin Gatlin – 100m, 200m and 4x100m relay

It's already been dubbed a 'battle for the soul of athletics'. While that's a touch extreme – the sport has serious questions to answer regardless of whether the Jamaican or American national anthem rings out in China – many would view a Gatlin triumph as catastrophic. Gatlin, who has served two drugs bans, came out on the offensive this week.
"No-one is trying to take over the world. No-one is trying to blow up the world," he declared. True, but he has contributed to the shroud of suspicion which has engulfed the sport and remains wholly unapologetic for his transgressions.
The 33-year-old is the favourite for both 100m and 200m glory, unbeaten since 2013 and the fastest in the world this year over both sprints.
However, Bolt's successive 9.87-second dashes in London over the shorter distance pulled him within 13 hundredths of Gatlin in 2015 – keeping Sunday's showpiece final wide open.
The Jamaican's prospects over 200m are much more blurred, but he will again have the backing of almost everyone in his tete-a-tete with Gatlin. Despite being the underdog, most fans will hope he can still produce his usual relaxed pre-race routine on the start line before powering to victory.
Jessica Ennis-Hill v Katarina Johnson-Thompson (v Brianne Theisen-Eaton) – Heptathlon
London's golden girl meets Europe's indoor champion for the first time since 2012. It's Ennis-Hill's first major championship since giving birth; Johnson-Thompson's first major outdoor championship as a contender. And yet it could still sink into a tussle for silver and bronze. For the standout name in the heptathlon is neither Brit, but Brianne Theisen-Eaton.
In the ultimate battle of the double-barrelled surname, expect Ennis-Hill to lead after the opening two events (110m hurdles and high jump) before her lead is slowly eroded by the Canadian.
KJT's best hope of success? Smashing the long jump – she's also entered for the individual event – and damage limitation in the shot and javelin. It's not inconceivable that the trio will be separated by just a handful of points ahead of the event-concluding 800m, so there could be fireworks…
David Rudisha v Nijel Amos – 800m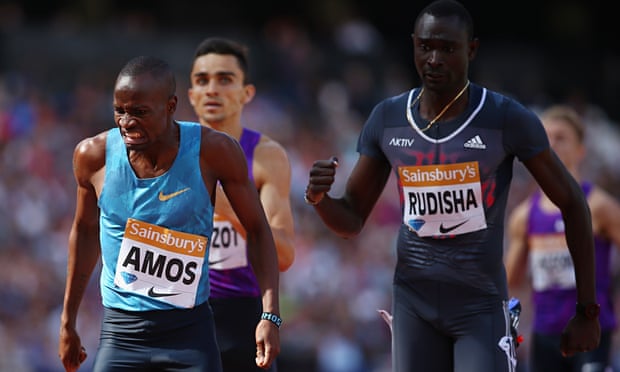 'Eh? Surely Rudisha will walk the event?' Not in Beijing, he won't. The Kenyan is a different athlete to the front-runner who destroyed the world record in London three summers ago, no longer able to keep fast-finishing athletes away. Botswana's Amos has made a habit of sweeping past Rudisha in the home straight and will head to Beijing as favourite after conquering his rival on six out of seven occasions since that Olympic final.
However, it's not merely a two-man race. The duo could yet be usurped by Bosnia's Amel Tuka, who boasts the world lead in 2015 with 1:42.51.
Christian Taylor v Pedro Pablo Pichardo – Triple jump
Jonathan Edwards' world record has never been under greater threat. That mark of 18.29m in Gothenburg 20 years ago has dwarfed a generation of attempts since, with touted successor Teddy Tamgho unable to launch a proper assault – in part due to a succession of injuries, in part to a one-year ban for missing three out-of-competition doping tests.
Step forward, then, Taylor and Pichardo. Both men have crept beyond the elusive 18-metre barrier in 2015, spurring each other into the largely unknown. The former is a world and Olympic champion, the latter a blossoming world junior champion with a marginally superior personal best (18.08m v 18.06m). It's left to the remaining athletes to scrap over bronze.
Anita Wlodarczyk v world record – Hammer
Wlodarczyk entered the history books earlier in August when she became the first woman in history to throw the hammer over 80 metres.
You won't find more paltry odds at this year's championships, with bookmakers pricing her between 1-33 and 1-25 to triumph in China. In fact, the only battle of any interest is Wlodarczyk versus the world record.
That stands at 81.08m following her exploits in Poland. Favourable conditions in Beijing could see that eclipsed, but it's still a huge ask.
–
Follow Joy Sports on Twitter: @Joy997FM. Our hashtag is #JoySports