World football governing body FIFA has acknowledged an official complaint from South Africa Football Association (SAFA) about their last group stage World Cup qualifier against Ghana on Sunday, November 14, at the Cape Coast stadium.
FIFA tells JoySports they are reviewing South Africa's appeal requesting a replay of the World Cup qualifier against Ghana, which ended 1-0 in favour of the West Africa nation.
JoySports was officially notified of South Africa's intent to file a complaint barely two hours after the game.
According to sources, SAFA's attention was drawn to the fact that, some officials of Ghana FA knew there would a be penalty three days before the match.
A purported WhatsApp exchanges sources availed to JoySports revealed a video analyst of the Black Stars technical team requested for a video from a colleague on how Bafana skipper Ronwin reacts to goals or penalties ahead of the game.
The messages showed his colleague could not provide the information, but SAFA took notice of this and made a "formal complaint" to FIFA after the match, appealing for a replay after a series of what CEO, Tebogo Motlanghe say were "questionable decisions" by match officials.
Ghana was awarded a penalty in the first half which was converted by skipper Andre Ayew, who was his 100th appearance for the national team.
Defender Daniel Amartey appeared to have been bundled in the box when a corner kick was taken.
The Leicester City man went down in the Bafana Bafana box after minimal contact from defender Rushine de Reuck. Referee Maguette Ndiaye pointed to the spot and this has become a major bone of contention.
SAFA CEO Tebogo Motlanthe said: "The match officials have decided the game, which is not what is supposed to happen.
"We will be writing to both CAF and FIFA; firstly to investigate how the game was handled and secondly to challenge some of these decisions.
"We have already registered with the match commissioner that we will be making a formal complaint."
He added: "We are very disheartened by their actions and we can't let it destroy the players when we have the chance to challenge, we will challenge.
"We feel very much robbed because it is not an isolated incident of a penalty. There are just a lot of questionable decisions by match officials and we will get an expert to dissect other incidents, so we can make a strong case.
Claims are that about 89 per cent of the referee's calls were against Bafana Bafana, and they suspect he was biased towards the 2010 World Cup host.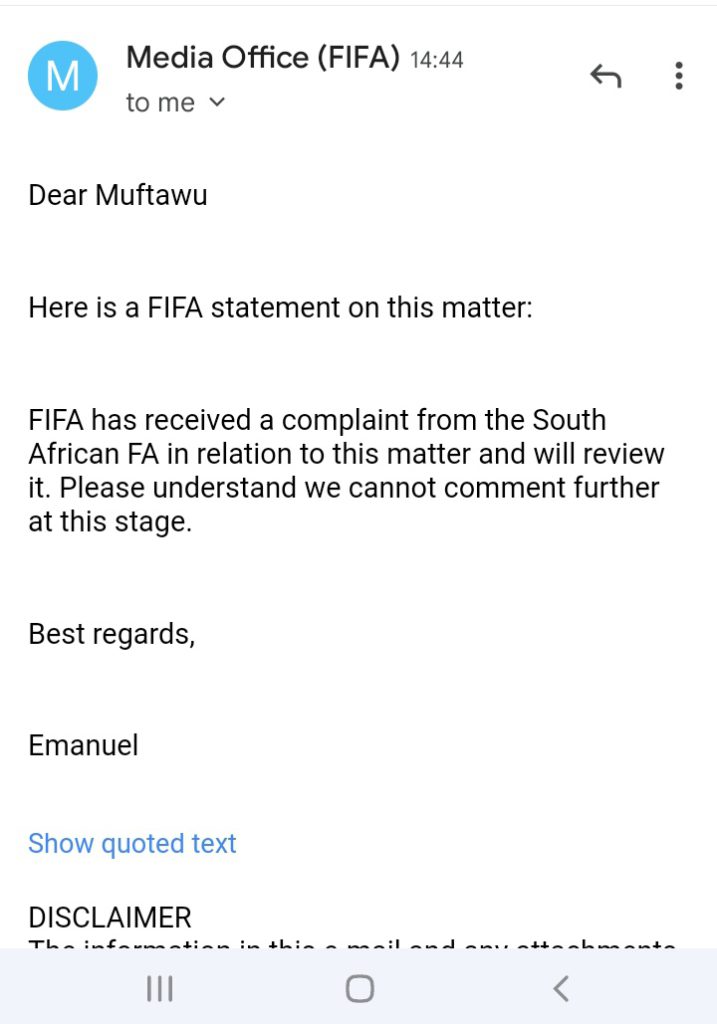 FIFA said in a statement to JoySports on Tuesday, said: "FIFA has received a complaint from the South African FA in relation to this matter and will review it. Please understand we cannot comment further at this stage."
JoySports understand FIFA has requested for match footage from match broadcaster to aid investigation. Though the match was televised on State TV, we cannot categorically report if FIFA request for the match was sent to Ghana Broadcasting Corporation.
South Africa needed a draw to qualify to fhe playoffs.