Zimbabwe is awaiting the results of its landmark elections, with both frontrunners saying they are confident.
President Emmerson Mnangagwa said he had received "extremely positive" information but opposition leader Nelson Chamisa said his party was "winning resoundingly".
Zimbabwe is electing a new president, parliament and local councils.
Monday's vote – the first since long-serving ruler Robert Mugabe was ousted – attracted a high turnout of 70%.
The youth vote is expected to be key – with almost half of Zimbabwe's 5.6 million registered voters under the age of 35.
European Union and US election monitors have been allowed into the country for the first time in 16 years to assess whether the elections are free and fair.
Zimbabwe Electoral Commission (Zec) chairwoman Priscilla Chigumba said she was satisfied there was no cheating.
"We will not subvert [the people's will]," she told journalists.
But Mr Chamisa's opposition MDC Alliance says it has serious concerns that some people have tried to interfere with the results.
Ballots were "stuffed" in some areas where the MDC Alliance did not have polling agents, MDC Alliance official Tendai Biti told the BBC.
Previous polls have been marred by allegations of widespread rigging and intimidation.
The ruling Zanu-PF party has been in power since independence in 1980.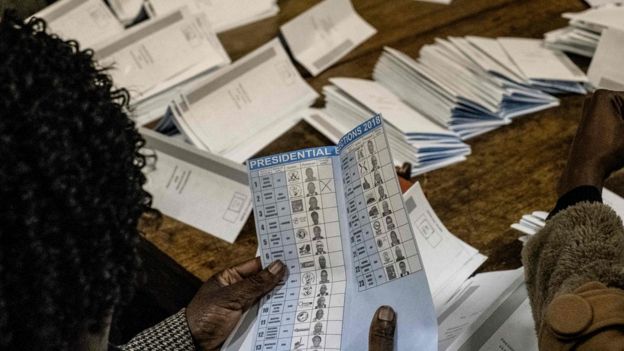 Votes have to be counted and verified before results can be announced
When will we know the winner?
Zec has until Saturday to announce the results but Ms Chigumba said she expects the announcement to be made well within that deadline.
Observers say the race between Mr Mnangagwa's Zanu-PF party, and Mr Chamisa's MDC Alliance, is extremely tight.
Both men are among 23 candidates running for president.
They both hinted at victory on Tuesday, but said they were waiting for Zec to make the announcement.
Good morning Zimbabwe. I am delighted by the high turnout and citizen engagement so far. The information from our reps on the ground is extremely positive! Waiting patiently for official results as per the constitution.

— President of Zimbabwe (@edmnangagwa) July 31, 2018
Winning resoundingly…We now have results from the majority of the over 10 000 polling stations. We"™ve done exceedingly well. Awaiting ZEC to perform their constitutional duty to officially announce the people"™s election results and we are ready to form the next gvt.#Godisinit

— Nelson Chamisa (@nelsonchamisa) July 31, 2018
They are running for the presidency for the first time, and need more than 50% of the vote to win outright.
Otherwise, a run-off election will be held on 8 September.

'Quiet anticipation'
By Pumza Fihlani, BBC News, Harare
As counting continues throughout the country, here in the capital life is returning to normal with businesses reopening.
But there is a sense of quiet anticipation as people wait for the results in this hotly contested race.
With a high turnout electoral commission officials have their work cut out for them. They need to manually count the ballots cast and also have them verified.
In the age of social media and fake news, many are hoping the election commission will deliver the results sooner rather than later.
But will the losers accept defeat? This will be the true test of Zimbabwe's newly-found democracy as post-election periods in the past have descended into chaos and violence.
Do we know any results?
A first set of official results in the local and parliamentary elections are due to be announced at 13:00 GMT, but already candidates are accepting defeat in some of the races.
Pastor Evan Mawarire, who rose to prominence in 2016 by rallying support against Mr Mugabe's government on social media, failed in his attempt to win a seat on Harare's city council.
His #ThisFlag movement, which denounced the government's management of the economy, gained tens of thousands of followers at the time.
Lawyer Fadzayi Mahere, who has a large following on Twitter and ran a successful social media campaign, lost her bid to become an MP for a constituency in the capital.
"We consistently said that we'd win or we'd learn," she tweeted.
Who are the main presidential rivals?
Emmerson Mnangagwa, Zanu-PF

Image copyright AFP
Known as "the crocodile" because of his political shrewdness – his party faction is known as "Lacoste"
Accused of masterminding attacks on opposition supporters after the 2008 election
Thought to be 75 years old, he promises to deliver jobs, and is seen as open to economic reforms
Survived several alleged assassination attempts, blamed on supporters of ex-President Mugabe.
The 'crocodile' who snapped back
Nelson Chamisa, MDC Alliance

Image copyright Reuters
His skull was fractured when beaten up by state security agents in 2007
Became an MP at 25, a cabinet minister at 31 and could become the youngest president at 40
A recently qualified pastor, he has been using the hashtag #GodIsInIt for his campaign
Has promised to rebuild the country's devastated economy, but has been criticised for making extravagant promises – such as the introduction of a high-speed bullet train and bringing the Olympics to Zimbabwe.
The crusader taking on Zimbabwe's 'crocodile'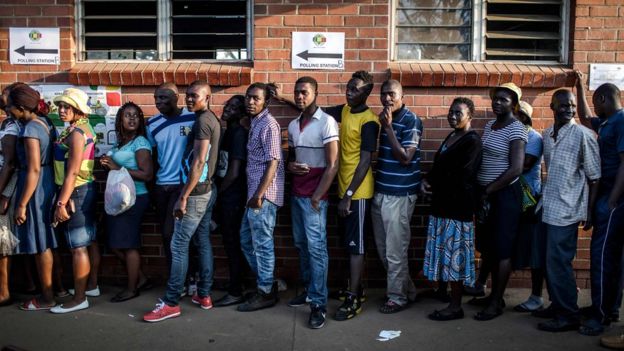 Many had to queue for hours to vote on Monday
What are foreign observers saying?
European Union chief observer Elmar Brok said it was too soon to make a judgement but voting had been "very smooth" in some areas and "totally disorganised" in other areas, Reuters news agency quotes him as saying.
"There are shortcomings that we have to check. We don't know yet whether it was a pattern or whether it was a question of bad organisation in certain polling stations," Mr Brok told the AFP new agency.
As well as worries about the voters' roll, the opposition has expressed concern over the security of ballot papers and voter intimidation in mainly rural areas.
Liberia's former President Ellen Johnson Sirleaf, who was monitoring the poll on behalf of the US-based National Democratic Institute, told the BBC that Monday's long queues showed Zimbabweans were enthusiastic about voting, without any kind of repression.
"I think this is an exciting moment for Zimbabweans to change the course of their country through their votes," she told the BBC.