39 years ago, Opoku Afriyie's penalty ensured Ghana's fourth Africa Cup of Nations (AFCON) triumph in an intense final against Libya.
That day is now long gone as the nation still awaits a successful run at the fifth trophy. In the last three decades, the Black Stars have come so close but yet so far from ruling Africa once again.
On Tuesday, Milovan Rajevac released a provisional 30-man squad, a team tasked with bringing glory to a nation hungry for success.
Financial Sports journalist Bill Eshun takes a closer look at the financial value of the current crop of players with some comparisons.
Methodology
All figures used in this piece were extracted from Transfermarkt. Squads announced in the last five editions of the AFCON were considered for this comparison (2013,2015,2017,2019,2021).
Overall numbers used for 2013-2019 teams factored in the final squads (23 players). Since the 2021 team is made up of 30 players (of which two will be taken out), averages were used to leave all subjects on a more equal footing.
All figures will be stated in Euros as Transfermarkt values were presented in that currency.
General comparison
A look at the numbers from the last five AFCON squads submitted by the Black Stars indicate that the 2021 team have an average value of €4.39 million, the second highest figure.
The team submitted by James Kwesi Appiah two years earlier recorded the highest average value (€5.06 million) whilst that of 2013 recorded the lowest figure (€2.63 million).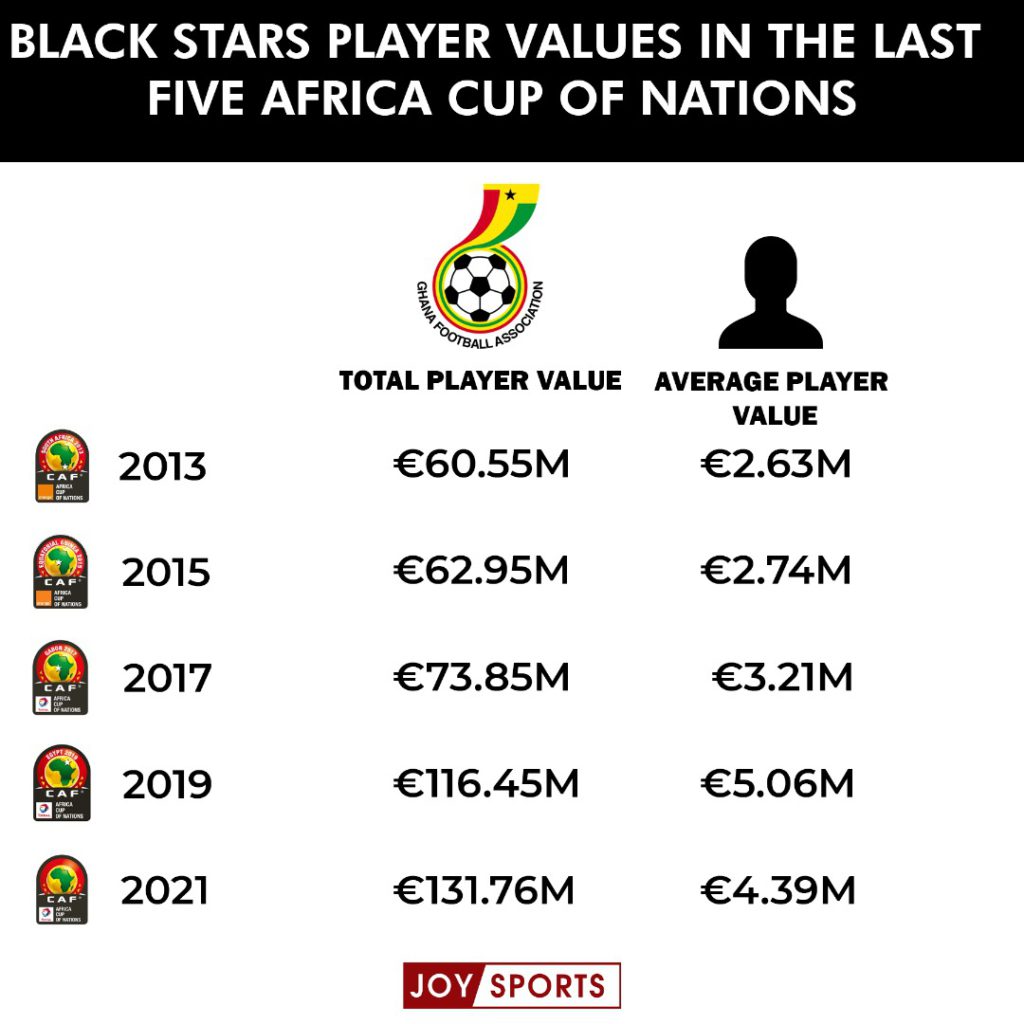 It is interesting to note that the 2019 team was the oldest among the bunch with an average age of 25.83 whilst that of 2013 averaged 24.22 in age, the youngest squad assembled.
Performance wise, Avram Grant's team in 2015 made the biggest impact, reaching the final of the competition. They fell at the hands of eventual winners Ivory Coast in a tense penalty shootout.
2019 was a forgettable year for Ghanaians as the team exited in the round of 16 following a penalty shootout defeat against Tunisia. It was the team's lowest point since 2006 where they failed to make it out of the group stage.
Goalkeeping problems
Since the retirement of Richard Kingson, a number of goalkeepers have vied for the number one spot but have failed to hold unto it for a sustained period of time.
Looking at past valuations, the assertion becomes clearer. 11 shot stoppers have made the cut for the tournament with some featuring in multiple competitions.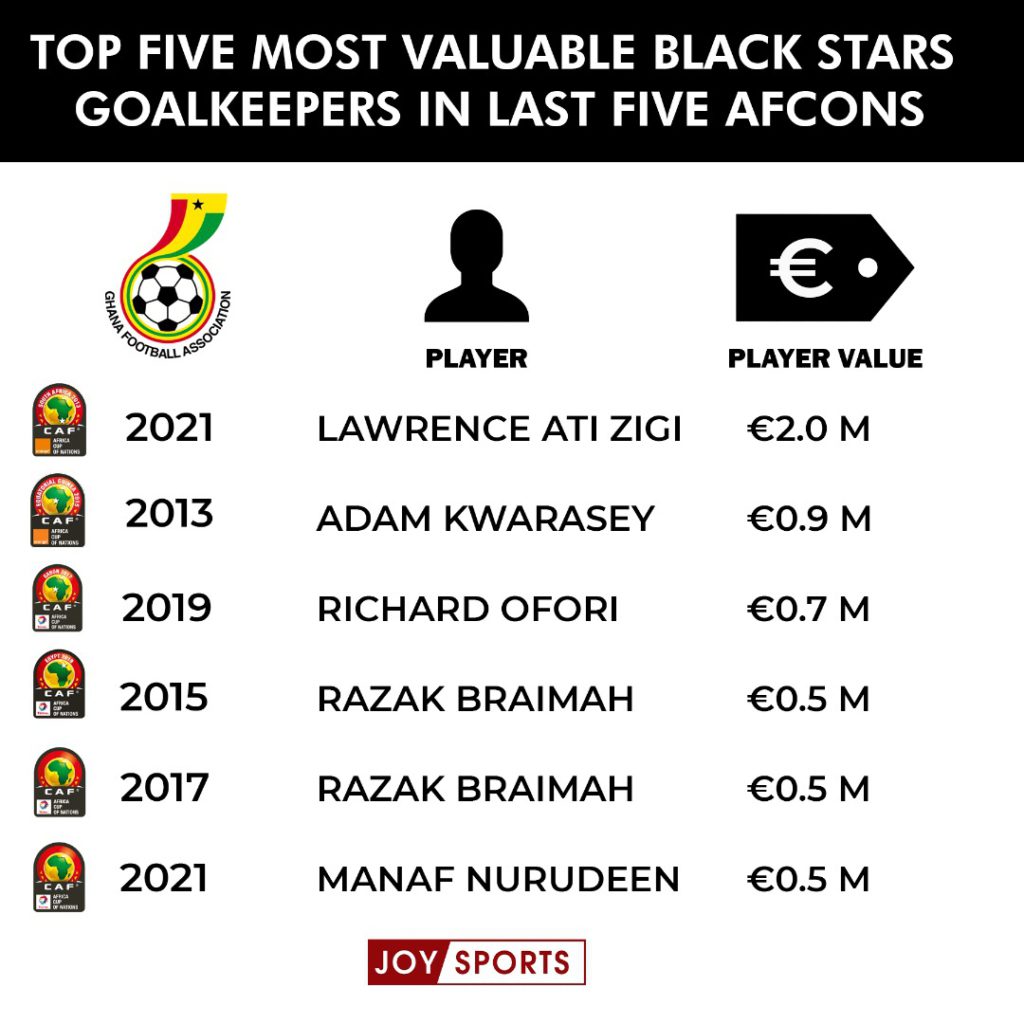 However, only one of them have been valued at €1 million or more, a surprising discovery. FC St. Gallen goalkeeper, Lawrence Ati Zigi, is currently valued at €2 million. The 25-year-old is, as at now, playing second fiddle to Swindon town goalkeeper Joseph Wollacott (€0.2 million).
Zigi's closest competitor in valuation is Adam Kwarasey who was valued at €0.9 million in 2013. It means there is a €1.1 million gap between the top two.
The current AFCON squad boasts of the highest average value for goalkeepers (€0.7 million) whilst the 2017 team recorded an average of €0.25 million for goalkeepers, the lowest value.
Ghanaian goalkeepers have over the years struggled to make it into the biggest leagues in Europe. Hence, there is the perceived low quality, affecting their financial values.
The Partey factor
After establishing himself as a key member of Diego Simeone's side during his time in Spain, Thomas Partey's value skyrocketed and the now 28-year-old instantly became one of Ghana's biggest stars.
When he was included in the 2017 list, the Arsenal midfielder was valued at just €4.50 million. Two years later, Partey's value multiplied by more than ten times (€50.00 million).
The closest to Ghana's vice-captain that year was former Juventus midfielder Kwadwo Asamoah who was then valued at €13 million.
This means he was rated at least €37 million more than everyone else in Ghana's 2019 AFCON squad. He is currently valued at €40 million, a reduction but still an impressive number. His presence heavily contributed to 2019 and 2021 squads leading in overall average values.
A deeper look at all Ghanaian AFCON squads from 2013 shows that only two players have been valued at €20 million or more; Thomas Partey (2019, 2021) and Rennes winger Kamaldeen Sulemana (2021). Only three more players have been valued at €15 million or higher since 2013 (Mohammed Kudus, Andre Ayew, Kwadwo Asamoah).
It indicates that there are few players in the team with real star power outside Ghana.
Can Black Stars bring the trophy home?
Chances of the team winning it all have been greeted with pessimism by many. However, there is some glimmer of hope.
Milovan Rajevac led the team to its biggest success till date in 2010 during the World Cup and has the confidence of many to make his mark in African football.
Ghana are a long way behind Nigeria (€276.55 million), Ivory Coast (286.93 million) and Senegal (350.80 million) in valuation but with great effort and some luck, Ghanaians could smile again.
DISCLAIMER: The Views, Comments, Opinions, Contributions and Statements made by Readers and Contributors on this platform do not necessarily represent the views or policy of Multimedia Group Limited.