The National Association of Law Students (NALS) has disclosed that some law students failed their entrance examinations not because they did not pass but because there was an original intention to admit only 550 students.
The Association claims a total of 1,289 out of the 2,824 students who sat for the exams met the 50% pass mark, yet, were excluded from the successful candidates.
"NALS regrets ascertaining thereto that contrary to the earlier results, some 1,289 out of the 2,824 candidates, representing 45.6%, obtained 50% aggregated score hitherto set as pass mark."
"Yet, there was a clear, very inexcusable exclusion of some 499 candidates, constituting 39% of candidates who obtained this 50% and 18% of all the candidates," NALS alleged in a statement.
This notwithstanding, "NALS is saddened and notes that this published 2021 success rate would have been poorer, not because students underperformed, but because the original intention was to admit only 550 students predetermined irrespective of the actual performance."
The Association says that decision was captured in paragraph 1055 on page 186 of the 2021 budget statement presented to Parliament by the Finance Minister.
"NALS thinks that all stakeholders ought to be worried that despite the yearly increase in applicants and the backlog of students, there is a continued delay in decentralising the course to capable law faculties as well as the delay to publish a procedure allowing candidates the opportunity to have their results reviewed or remarked."
The National Association of Law Students is entreating the Right to Information Commission and other interested groups to immediately come to the aid of dissatisfied candidates.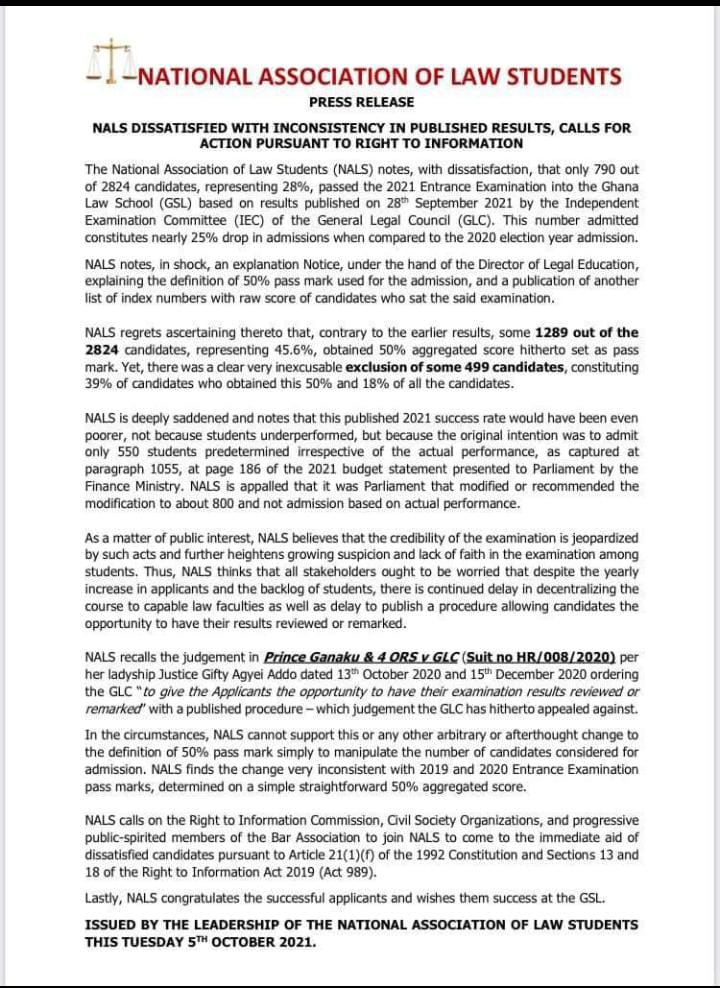 .