Five persons have been burnt to death in two separate fire outbreaks recorded in the Ashanti and Volta regions, the Ghana National Fire Service (GNFS) has confirmed.
The two domestic fires involved a nine-bedroom self-contained house at Asuoyeboah North in Kumasi and a chamber and hall apartment at Dzodze Attiatsikope in the Volta Region.
In the Kumasi incident, a mother and her two children lost their lives because they could not open the burglar proof door leading to their room.
According to a report by JoyNews, only the husband could manage to escape with the support of some residents although he sustained injuries and is currently receiving treatment at the Komfo Anokye Teaching Hospital.
That incident bring to 18 the total number of deaths through fire outbreaks in the Ashanti Region since the beginning of this year.
In the Dzodze incident, the victims were burnt because they had store fuel in their residence.
"Firefighters were able to salvage four out of nine room from burning in the Kumasi incident while the chamber and hall which harboured petrol was totally burnt in the Dzodze incident.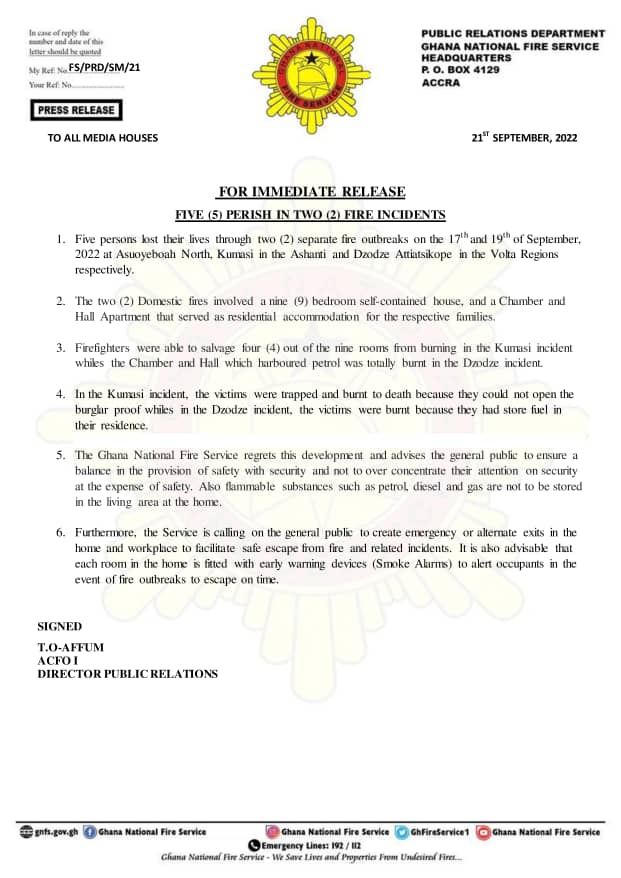 "The Ghana National Fire Service regrets this development and advises the general public to ensure a balance in the provision of safety with security and not to over concentrate their attention on security at the expense of safety," a statement issued by GNFS cautioned.
It also encouraged the public to create emergency or alternate exits in their homes and workplaces to facilitate safe escape from fire and related incidents.
"It is also advisable that each room in the home is fitted with warning devices (smoke alarms) to alert occupants in the event of fire outbreaks to escape on time," the statement added.