The maiden edition of the Africa Globalised Investment Forum is set to kick off from October 25 to 27, in Accra.
The forum aims at bringing international government officials, NGO private sector leaders, investors, and businesses from across the globe to invest in the economic sectors of all the member states of the Africa Continental Free Trade Agreement (AfCFTA).
It is programmed to be organised annually in all respective African countries through a collaborative effort between the AfCFTA Policy Network and Diaspora office in the United States, partners in the Arab league, Asia and Europe. 
Elaborating on the forum, the Executive Director of AfCFTA Policy Network (APN), Mr Louis Yaw Afful said the forum seeks to support the AfCFTA Secretariat to accelerate the implementation of Continental Free Trade Agreement (CFTA) by creating awareness in all African countries through the organization of the Forum.
He added that it is also to take advantage of AfCFTA investment by organizing investors globally to invest in the sectoral economy of the 55 countries of Africa.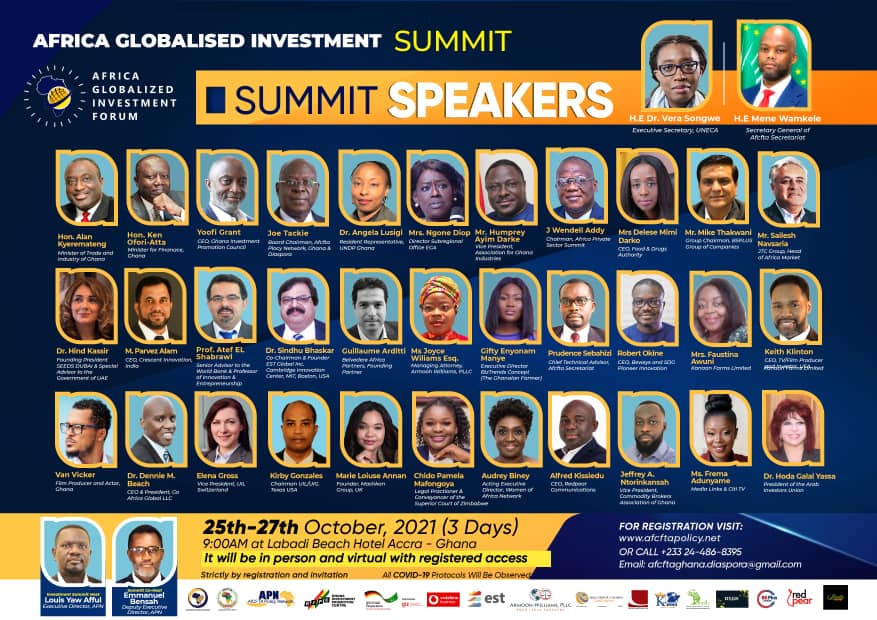 "To create opportunities for the youth and women entrepreneurs and Micro, Small Medium Enterprises (MSMEs) across Africa to assume a major role in the implementation and to be beneficiaries of the AfCFTA. It is also to expose the tourism potential and the role of tourism within the movement of people under the AfCFTA", Mr. Afful said.
Mr. Afful further stated that the expected outcomes of the forum are to promote private investments into participating CFTA countries and, in particular, encourage public-private partnerships.
He was of the view that the week-long summit will create enablers for the startup ecosystem and potential value chains.
"It will provide an excellent networking platform to exchange with fellow investors and industry thought leaders. It will be an exciting opportunity for corporates & international investors to learn about the latest investment opportunities, trends, and how to invest in CFTA countries" he gave the assurance.
The forum will offer in-depth discussions by experts and thought leaders in key sectors such as Arts & Culture, Telecommunication, Digital & Media, Banking, Finance & Insurance, Innovation & Technology, Tourism, Extractives, Automobile, Manufacturing, Agribusiness, Pharmaceutical & Healthcare, etc.
Also, the breakout sessions will provide a platform to discuss pertinent topics related to promoting and harnessing the full benefits of AfCFTA, including the role of Youth and Women, the post-COVID-19 and Beyond, Security and the AfCFTA, Investments & Financing for Industrialization, Entrepreneurship, Innovation and SME Development.
The guest speakers at the forum includes the Vice President of the Republic of Ghana, Dr Alhaji Mahamudu Bawumia, Wamkele Mene, AfCFTA Secretary-General; Alan Kyeremateng, Minister of Trade, Ghana; Ken Ofori-Atta, Minister of Finance, Ghana.