Adom FM editor Afia Pokua has been crowned Media Personality of the year at the MTN Heroes of Change Season 5 on Friday.
Her philanthropic work through her 'Vim Foundation' was recognized at Ghana's foremost event celebrating individuals who go out of their way to impact lives.
Afia Pokua popularly known as 'Vim Lady' moved hundreds of primary school students who attended class under trees after her Foundation built a classsroom block for them at Amenam in the Eastern region.
She would go on to paint 12 blocks of four basic schools in Kwahu in the same region including a school built in 1917 but had not seen a new look for more than 25 years.

Photo: Vim Foundation painted 12 blocks of four basic schools in Kwahu in the Eastern region in April 2019
The Vim Foundation also painted a six-classroom block, for a school in the Kumasi-Amenam in the Ashanti region.
In the course of her charitable work, the Vim Foundation donated school books to Jacobu Methodist Primary and Junior High School (JHS) in the Amansie Central District of the Ashanti region.
The school had an empty library until the gesture.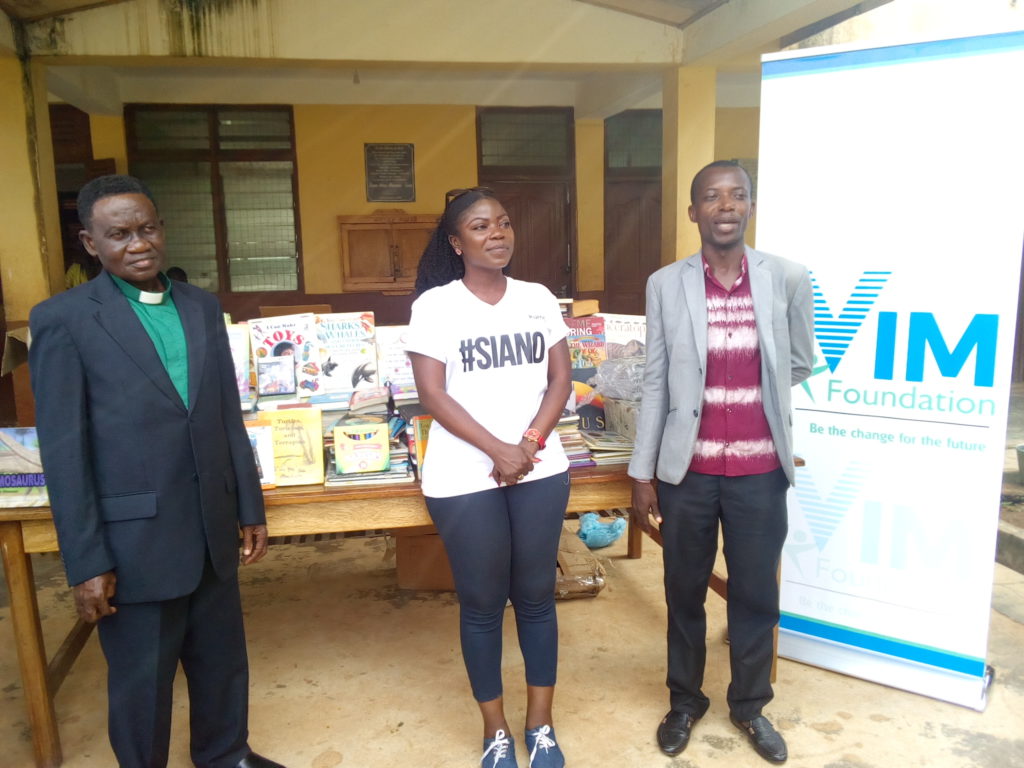 Photo: Afia Pokua and the Vim Foundation in Bekwai in the Ashanti region to fill up the empty library
She explained that she chose Jacobu Methodist School to honour her mother's alma mater during her teenage days.
The Vim Foundation has also given out medical equipment and supplies to several health facilities.
"I am more overwhelmed by the response that people have shown to the recognition MTN has given us," she told JoyNews.
The Multimedia Group journalist who started from humble beginings selling food by the street of Tema in the Greater Accra region paid tribute to her parents whom she said instilled in her the value of giving.
Her cash prize of ¢10,000, she said, will be used for a school project planned for a community in the Northern region.
CEO of MTN-Ghana, Selorm Adadevor, urged many more people to help improve and brighten the lives of people wherever they find themselves.
He explained that the MTN Heroes of Change is about "those who have institutionalized, structured and sustained their extraordinary selfless works."