The thoughts I am about to share are not new; they are the sentiments of many. I say so because I sampled thoughts from diverse people.
People my age have lived long enough to witness four government transitions in Ghana. Apart from violent free elections, citizens hope each transition will offer better living standards and reduce poverty levels and inequality.
We hope for improvement in access and quality of education, public infrastructure, and the delivery of basic amenities like water and electricity. We hope the government will implement strategies that will engender the creation of decent jobs and working conditions.
The Ghanaian people hardly ask for much, we mostly ask for the barest minimum. Our young people are willing to work. We only expect a friendly labour market and humane tax regimes to support young people venturing into entrepreneurship.
In 2016, we transitioned with so much hope sold to us in flowery languages. "We have the men", "we are here to deliver world-class governance", "we are in a hurry" are some of such languages. The current government enjoyed the most goodwill from citizens, with lofty ideas captured in exciting slogans, they convinced many that they were the right people for the governance job.
They promised to create decent jobs, better working conditions, income security, and respect for human rights. People had dreams rekindled in their hearts to see a Ghana where everyone has equal opportunity to flourish, a state where inequality is fought head-on, and a just state where all of us thrive in liberty.
Today, not only have such dreams dimmed, people are also giving up on ever witnessing a betterGhana. The standard of governance is in free fall with little to no guarantee for upholding freedom of speech and association, no protection against political party sponsored attacks. There is a total lack of respect for inclusion and citizens' participation. Our governance architecture today is making nonsense of the status of citizens. We are subtly developing a class system where some peoples' voices matter more than others, which is an affront to participatory democracy.
The management of public institutions are handed over to people like birthrights. They step into these positions feeling entitled to champagne lives. They disrespect long-serving public officials and time-tested systems to their own benefit.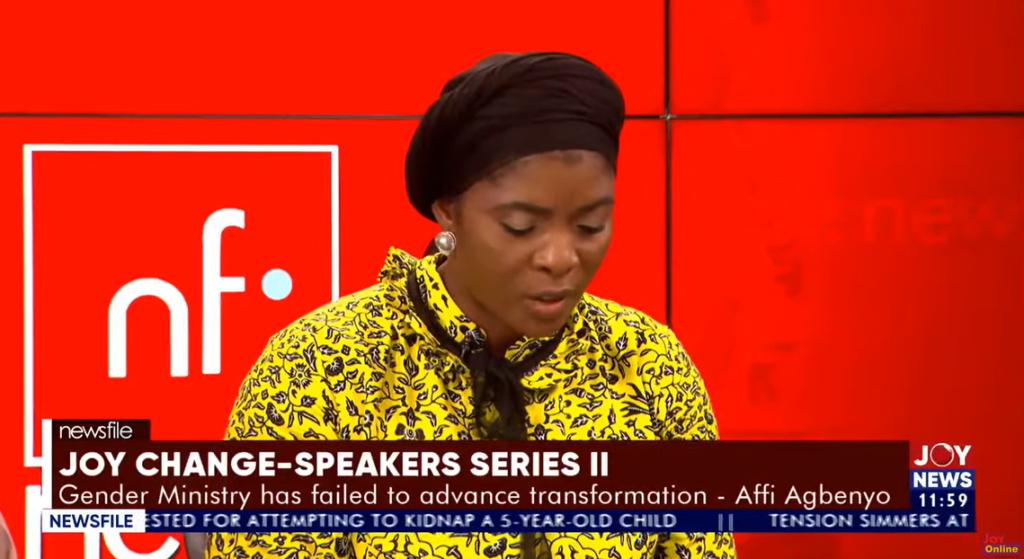 More than ever, the Ministry of Gender, Children and Social Protection(MoGCSP)is leaderless, with a caretaker minister who is undoubtedly overwhelmed by her responsibilities.In such difficult times where the most vulnerable and marginalised of us require innovative interventions from the government to survive – there is no Minister. The only time the Minister's absence bothered the presidency, was when the minister was needed as a parliamentarian to cast her vote for the E-Levy Bill to be passed.
The Affirmative Action Bill has not seen any significant progress over the past 15 years. In recent years, while thrilling conversations have been championed by young people on gender discrimination and exploitation, sexual and gender-based violence, lack of inclusion, reproductive health rights etc, the Ministry has failed to harness these renewed passions to advance gender and social transformation in Ghana. For instance, there have been topical domestic violence and sexual harassment cases worthy of media attention, yet, the Ministry has been Missing in Action.
As a country, the lack of shelter and limited access to justice for victims and survivors of SGBV continue to endanger the lives of vulnerable people. These and many others are what a ministry should be leading and championing for women and children. Who is making a case for the different ways in which unemployment impacts young men and women?
Who is demanding researched interventions to address the gendered dynamics of youth unemployment? Who is leading the charge to get women and young people at the decision-making table that is purported to be discussing issues that concern them.? It is as though the Ministry does not exist, and that is unacceptable.
Not enough has been done since the passage of the Domestic Workers Regulations. Several International Conventions to support women's right to work and to stay on the job remain unratified by parliament. As a matter of urgency, I think a substantive Minister should be assigned with specific targets and timelines,
The quest for promoting decent jobs remains a lost battle. While Technical and Vocational Education and Training have experienced significant attention over the years, training to work transition remains a considerable challenge. We do not have a coordinated strategy to support learners' transition from training to work – whether as self-employed or persons to be employed.
Government job creation interventions and vehicles are not inclusive, scattered and uncoordinated with no guiding policy directive and interventions. I hope that the newly established TVET services will provide policy direction to coordinate such interventions. Skills Gap analysis conducted by the commission for TVET is a recommended tool and starting place.
Policies like the School Feeding Program, LEAP, Free SHS, and other government cushion efforts are facing implementation challenges that could have been avoided. This is not only because the government does not have money but also because this is a government that implements public policies and interventions to shame so-called enemies. Their egos precede the common good; they will not listen to dissent, not even to experts' advice; they label dissenting voices as their enemy.
The human capital development component of LEAP is not receiving the needed attention. This must be given the needed attention through an inter-sectoral approach, drawing experience and resources from agencies responsible for education and skills development, relevant development and funding agencies.
I am surprised at government actors being surprised at our 2021 Press Freedom rating. You do not sit aloof, watch some party apparatchiks sit on social media and haul insults on every dissenting voice and be surprised at your press freedom ratings. You do not create an environment where party foot soldiers feel so powerful enough to threaten activists with their jobs and pretend to be surprised at your press freedom rating. You do not use state institutions to frustrate young activists and expect to score high on press ratings.
High-profile government spokespersons have dismissed the death of Armed Suale and made light death threats on journalists. What is defined as "the press" has changed. So establishing TV and radio stations and controlling traditional media spaces will not cover up the bullying and dangers dissenting citizens experience in this country.
Many people who otherwise were passionate about governance and held governments accountable have resorted to self-censorship in their disappointments and to protect their sanity and sometimes their lives. This is not good for democracy.
The standard of governance is in free fall, and I am worried that this may be normalised. I am worried because we have a history of new governments comparing themselves to previous governments instead of measuring their success by best practices and excellence. I am also worried about the falling governance standards because it leaves young people with no inspiration, no proper role models and no legacy to protect.
Gone were the days when speeches of political leaders were spirited and inspired actions by citizens. We cannot say the same in recent years – there is a pervading lack of integrity in this country, our political leadership is leading it.
Despite all these, I am hopeful.
I am hopeful not in feelings only, I have come to the knowledge that hope is a strategy of desiring a better life and working towards it. It is possible.
I charge myself and all persons listening, especially those of us sitting on the fence due to disappointment, those who are nearing despair about the Ghana project, to allow the feeling of hope to seep into our souls, cause a stir within our spirit and move us to some form of action for a better Ghana.
Thank you
–
The author, Affi Agbenyo, is a gender activist and a strong advocate for women's participation and emancipation of the vulnerable in society.
She made this submission during her contribution to Joy Change Speaker Series II on JoyNews' Newsfile on Saturday, May 21, 2022.
DISCLAIMER: The Views, Comments, Opinions, Contributions and Statements made by Readers and Contributors on this platform do not necessarily represent the views or policy of Multimedia Group Limited.