The Ghana Police Service has declined a notification by pressure group, Alliance for Social Equity and Public Accountability (ASEPA) to demonstrate against the Agyapa Minerals agreement.
According to a statement by the Service, the "restrictions imposed on public gatherings of more than two hundred people without facemasks due to the Covid-19 pandemic has not been fully lifted."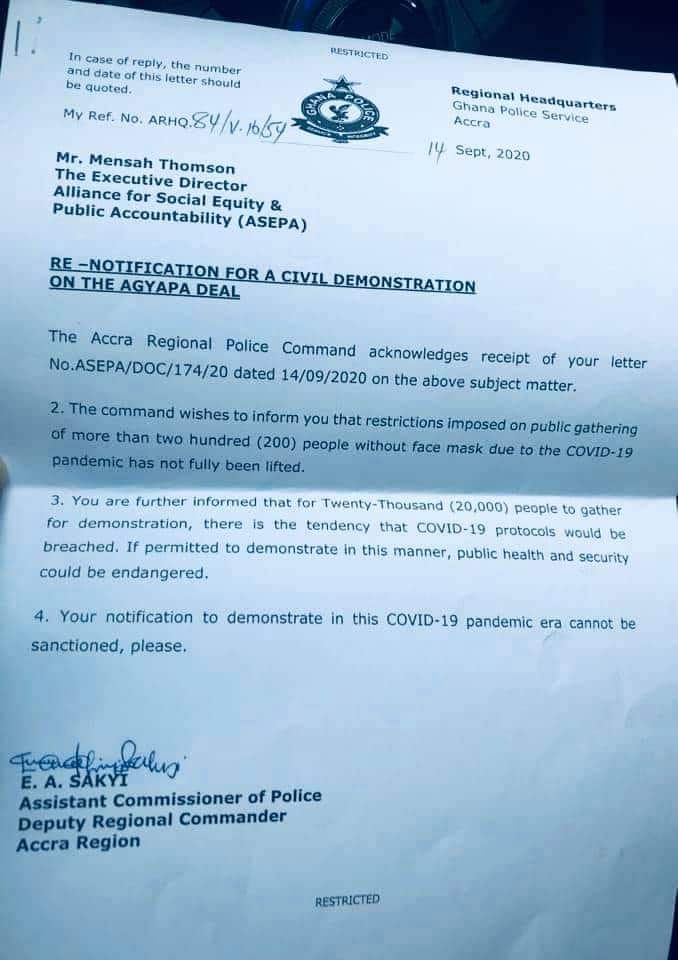 ASEPA has been an integral part of groups opposing the transaction between Ghana and the Agyapa Mineral Royalties Limited.
The agreement which is geared towards monetising the country's mineral royalties, according to government will be used to develop essential sectors of the economy including education, housing, health and infrastructure.
But a cross-section of the public and some civil society organisations have questioned the transparency that characterised the arrangement while demanding full disclosure on the part of the government.
On the back of this, ASEPA, led by its Executive Director Mensah Thompson had planned to hit the streets to express its displeasure at the move which it says say does not have the interest of the citizenry.
However, a statement signed by Deputy Accra Region Police Commander, ASP E.A Sakyi indicated that the said demonstration cannot be sanctioned.
"You are further informed that for 20,000 people to gather for demonstration, there is the tendency that Covid-19 protocols would be breached.
"If permitted to demonstrate in this manner, public health and security could be endangered," the police said in response to ASEPA's request.