A vice-president at Amazon has quit "in dismay" at the internet giant's crackdown on workers who criticised it over coronavirus safety measures.
Tim Bray described the firing of protesters as "evidence of a vein of toxicity running through the company culture".
Workers have criticised Amazon for not doing enough to protect warehouse staff against the virus.
Amazon declined to comment, but has previously defended its actions.
Mr Bray, who was a senior engineer at Amazon Web Services, set out in a blog why he had left the company where he had worked for five years.
The firm faces possible investigation of worker rights violations in New York, where the company fired the organiser of a small protest about safety conditions at a warehouse.
Mr Bray said Amazon also fired office staff who had been organising another protest and had spoken out against the company on climate issues.
"At that point, I snapped," he wrote, adding that he raised his concerns internally first.
"That done, remaining an Amazon [vice-president] would have meant, in effect, signing off on actions I despised. So I resigned," he wrote.
Amazon VP, @timbray resigns over #covid firings of me, @marencosta and others.

Says Amazon "firing whistleblowers" is "evidence of a vein of toxicity running through the company culture. I choose neither to serve nor drink that poison."

Thank you, Tim.https://t.co/oShy4TQisN

— Emily Cunningham (@emahlee) May 4, 2020
Mr Bray said working at the firm had been "rewarding fun" and his decision would cost him financially.
"What with big-tech salaries and share vestings, this will probably cost me over a million (pre-tax) dollars, not to mention the best job I've ever had, working with awfully good people. So I'm pretty blue," he wrote.
However, he said: "Firing whistleblowers isn't just a side-effect of macroeconomic forces, nor is it intrinsic to the function of free markets.
"It's evidence of a vein of toxicity running through the company culture. I choose neither to serve nor drink that poison."
Analysis
By business reporter Zoe Thomas in New York
Amazon had an image problem before the Covid-19 pandemic. The company has taken aggressive steps to stop unionisation in its warehouse. Its vast collection of personal data on users raised concerns about privacy. Its tax avoidance tactics had politicians across the globe asking why such a prosperous company led by the world's richest man shouldn't be paying more to public coffers.
But these concerns dogged other big tech firms (Google, Facebook, Apple) as well. The coronavirus pandemic has given these companies a way to redeem their image. Tech giants are helping develop programs to track the virus, making it possible for other business to work remotely and keeping people connected to friends and family.
Amazon should be at the head of this pack for image improvement. By keeping its delivery business going, Amazon has allowed millions of people to stay home. Instead, the treatment of its workers has become the story.
The company has arguably tried to brush it under the rug, blaming the firing of workers who spoke up about warehouse conditions on other factors. Mr Bray's resignation may be a sign that won't be enough to appease senior staff within Amazon's ranks and, down the line, even shareholders.
Shareholders were told Amazon wouldn't make a profit in the second quarter, because the firm would be spending more on warehouse safety and cleanliness. But if workers are still raising concerns, investors may question if the company is getting it right.
This should be Amazon's moment to show shoppers, investors and government officials just how useful it can be, and that mammoth size is a helpful thing in a crisis like this. Instead, the conversation is being steered away from it, and if Amazon doesn't resolve these issues with the workforce, it may never have a chance to redeem its image.
---
Amazon declined to comment on Mr Bray's characterisation. When asked previously about the firing of office staff, it has said it supports its staff's right to speak out, but added, "That does not come with blanket immunity."
The firm has been facing renewed scrutiny over its business practices as the pandemic pushes the company into overdrive to fill online orders from people in lockdown.
The e-commerce giant temporarily shut its six warehouses in France after a court ordered it to stop all but essential deliveries.
Amazon's chief executive, Jeff Bezos – one of the world's richest people, with a fortune of $138bn – has also been asked to speak before the US Congress as part of a broader investigation of monopoly power.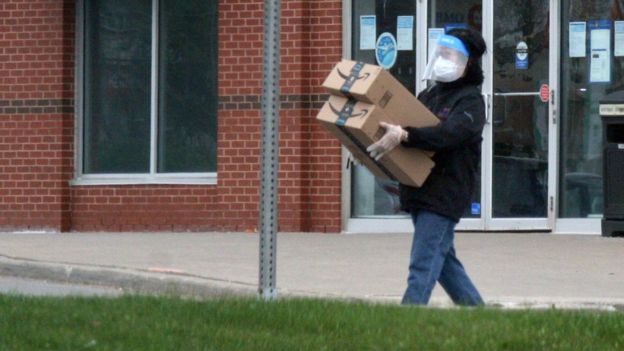 Amazon last week warned investors that the pandemic had forced costly changes to the business, including spending on protective gear and adjustments to operations that make its warehouses less efficient.
It said it expected to spend $4bn (£3.2bn) – its anticipated quarterly profit – on coronavirus measures in the three months through June.
Sales are booming, however, and it expects sales to rise as high as 28% in the current quarter.
DISCLAIMER: The Views, Comments, Opinions, Contributions and Statements made by Readers and Contributors on this platform do not necessarily represent the views or policy of Multimedia Group Limited.