The family of veteran British journalist, Dom Phillips is urging more action be taken to find him after he went missing in the Brazilian Amazon.
Mr Phillips, 57, disappeared along with Brazilian indigenous expert Bruno Araújo Pereira in a remote rainforest area while researching a book.
The two had received threats days before vanishing on Sunday morning, say indigenous rights groups.
Both men have deep knowledge of the region.
Forty-one-year-old Bruno Pereira, who is currently on leave from his post with the government's indigenous affairs agency Funai, is an expert on isolated tribes in the Amazon.
Mr Phillips has been living in Brazil for more than a decade and is a long-time contributor to Britain's Guardian newspaper as well as other publications such as the Financial Times and the Washington Post.
He has written extensively about the threats facing the Amazon, including how cattle farming is fueling an environmental crisis and how illegal gold miners encroach on indigenous territory.
No trace along river route
Two indigenous rights groups sounded the alarm about the men's disappearance on Monday.
In a statement [in Portuguese], they said that the two men had been travelling by boat in the Javari Valley to interview members of an indigenous guard.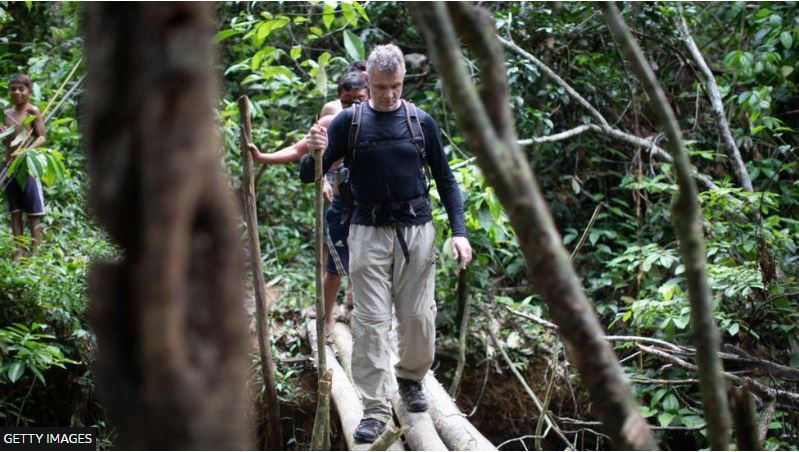 The area is located in the west of Amazonas state, near the border with Peru, and has seen incursions from illegal loggers and miners.
On Sunday, the two stopped in São Rafael, where Mr Pereira was scheduled to meet a local leader to discuss joint patrols between indigenous people and residents of riverside communities.
According to the rights groups, Mr Phillips and Mr Pereira arrived at 06:00 local time and set off shortly afterward towards Atalaia do Norte, a journey which takes around two hours.
When they failed to arrive, Univaja sent out a search party at around 14:00 but found no trace of the two men along the stretch of river they had been expected to take.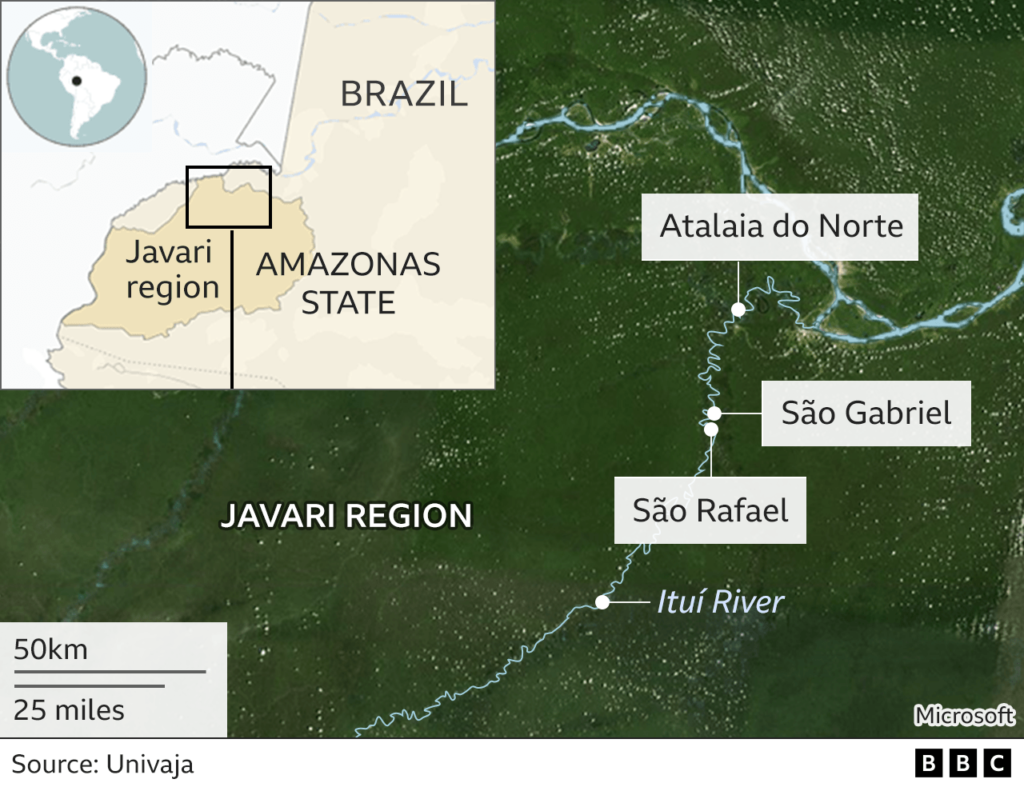 The last to see them were residents of São Gabriel, a community downriver from São Rafael, who spotted their boat going past, the statement adds.
Police say they interviewed two people who are thought to be among the last to have seen the men.
The witnesses were taken to Atalaia do Nore, where they were interviewed, but no arrests were made.
The rights groups say Mr Phillips and Mr Pereira were traveling in a new boat and had enough fuel to cover their journey.
They add that in the week leading up to the men's disappearance, the team had received threats.
"It wasn't the first time threats were made," the statement says, adding that previous instances had been reported to the police.
The area is home to more than 20 indigenous groups, who have denounced activities by illegal miners, fishers and hunters.
A Funai base in the region has come under attack on a number of occasions in recent years.
'Every second counts'
Mr Phillips' family has been appealing to the authorities to speed up the search.
His Brazilian wife, Alessandra Sampaio, wrote "our families are in despair, please answer the urgency of the moment with urgent actions".
"In the forest every second counts, every second could be the difference between life and death," she added.
Mr Phillips' sister, Sian Phillips, also appealed for help in a video statement.
Mr Pereira's family has also released a statement describing the "48 hours of anguish" they have lived through since the disappearance.
The statement says that the family is hopeful that their disappearance may be due to their boat breaking down and that the two "are waiting for help".
"We know that Bruno [Pereira] has extensive experience and knowledge of the region, however, time is a key factor in rescue operations, especially if they turn out to be injured."
The Brazilian government said that the federal police force was "immediately mobilised" and was "taking all possible measures" to find the two.
But there has been criticism of the small number of police and navy personnel deployed in what is a vast expanse of rainforest crisscrossed by rivers.
The navy only announced late on Monday that it would send a helicopter "in addition to two vessels and a watercraft".
Mr Pereira's family has insisted that it is "essential that specialized searches are carried out, by air, river and land, with all the human and material resources that the situation requires".
DISCLAIMER: The Views, Comments, Opinions, Contributions and Statements made by Readers and Contributors on this platform do not necessarily represent the views or policy of Multimedia Group Limited.