The Ghana Water Company Limited (GWCL) says it may shut down its production in Tamale and its environs in the Northern Region due to the pending spillage of the Bagre dam.
In a press release issued on Tuesday, September 20, it explained that the move is to protect its equipment and installations.
It said excess water from the spillage could affect these installations.
"Management of the Ghana Water Company Limited, (GWCL), Northern Region, Tamale, regrets to announce for the information of the public and its cherished customers in the Tamale Metropolis and its environs that reference a communication received on the spillage of the Bagre Dam and Kompienga Dams, it may be compelled to temporarily shut down production for the protection of its equipment and installations."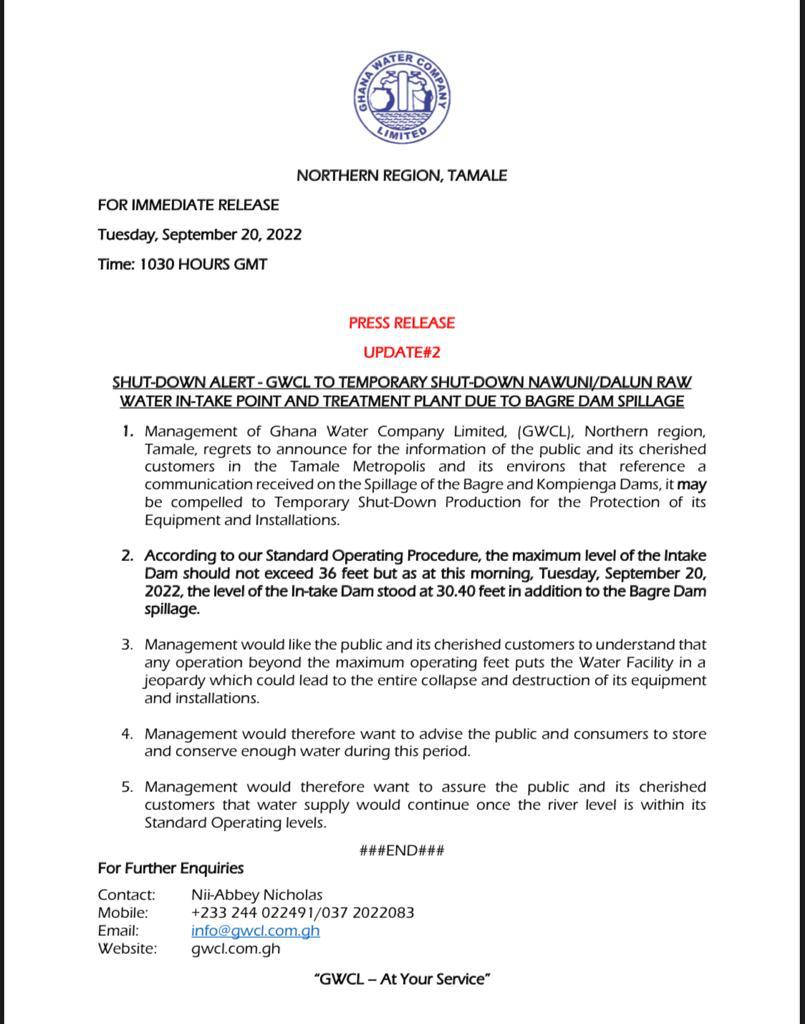 The water company said any move above its maximum operating feet will put its equipment in jeopardy.
"Any operation beyond the maximum operating feet puts the water facility in jeopardy, which could lead to the entire collapse and destruction of its equipment and installations", the release further added.
The spillage of the Bagre dam from neighbouring Burkina Faso is done annually to prevent any breakage of the dam's banks.
This exercise results in flooding in low-lying communities, destruction of crops, livestock and sometimes loss of lives in Burkina Faso and Ghana.
35 communities along the White Volta in the Bawku Municipality, Bawku West, Garu, Binduri, Nabdam and Talensi districts are the hard-hit areas.
Over the years, several homes, farmlands and properties have been destroyed by floods and rendered hundreds homeless.