Two months after their 2022 World Cup group stage elimination, the Black Stars played for the first time – and they did so under new management.
Otto Addo, who took over the team after AFCON 2021 left the role upon conclusion of the World Cup, as he said he would prior. His technical advisor, Chris Hughton after an extensive wait, was then appointed on a 24-month contract.
His announcement met close to zero resentment – which has been the recent case with Black Stars coach appointments. So it can be said many were satisfied with the GFA's call and were awaiting Hughton's first game in charge.
Angola visited a yet-again charged Kumasi, and almost left with a point, till Antoine Semenyo struck in 90 +6.
Breakdown
Ghana's starting lineup meant the team was going to play largely in a 4-2-3-1; but what translated on the field was a staggered 2-4-2-2 in possession, with Mohammed Kudus and Kamaldeen Sulemana playing in spaces between Angola's midfield and defence – and a new midfield line of Gideon Mensah, Edmund Addo, Thomas Partey and Denis Odoi.
Inaki Williams played a sole striker role with Jordan Ayew keeping width on the right flank.

This adjustment supported the Black Stars' idea of buildup, which was going long to play Jordan Ayew into potential 1-on-1 situations. It was a similar role for Kamaldeen Sulemana from the inside left-hand side of Ghana's attack as well.
The Black Stars were looking to rely on the ball-carrying ability and 1-on-1 threat of both wingers for their approach play and after 90+ 6 minutes, Ghana had attempted 56 long balls and 27 dribbles – 31 and 16 of those came in the first half alone – highlighting the approach.
But it failed to yield much, as they created only one big chance in the entire first half.
Angola meanwhile were more constructive in their buildup and approach. Their 4-2-3-1 alternated to a 2-3-2-3 which sometimes meandered into a 3-4-3 during buildup – and they played out easily as Ghana's 4-4-2 shape in defense did little to limit their buildup.
Kudus and Inaki looked to 'press' Angola's center backs or the deepest lying midfielder when they had possession, while Partey and Addo looked to do a job on their opposite midfield numbers. But an Angolan attacker dropping from his lines meant, Ghana was always outnumbered in midfield if he was not followed by either Amartey or Djiku.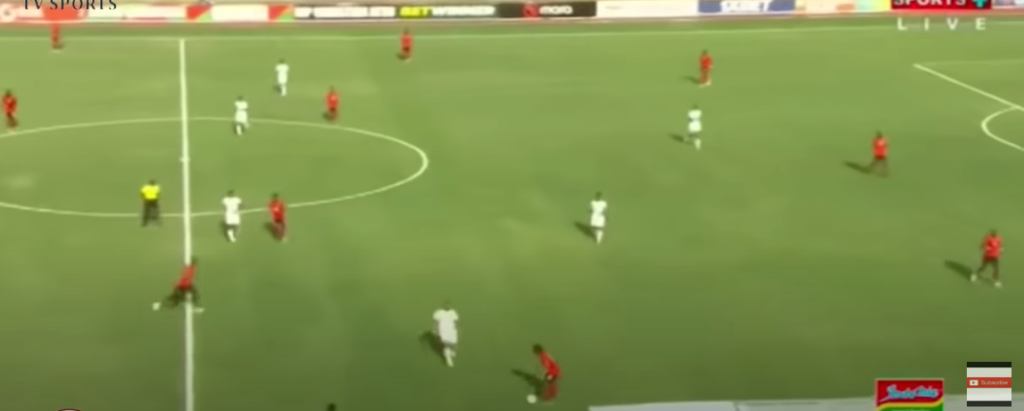 And the Angolans also found lots of joy in the wide areas, which was the focus of their approach as they could combine to play out of a press. But they were very inefficient in the final third, creating zero big chances in the first half.
Hook
Under Otto's reign, the Black Stars looked to build up in a 3-1-4-2 – with a sole pivot, in an approach which left the Black Stars short and exposed in midfield.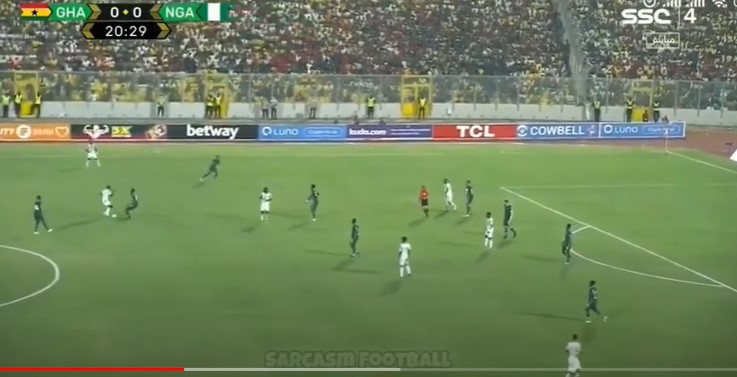 And in three games at the 2022 World Cup, the Black Stars conceded seven goals – the most conceded by Africa's five representatives after the group stage.
Hughton in his press conference unveiling stressed the importance of not conceding, since "if you are conceding goals, it makes it more difficult to win football matches". So in his first game, he changed Ghana's approach from the sole pivot 3-1-4-2 to a 2-4-2-2.
A good step to ensure Ghana had at least two bodies in front of the defence against any turnovers. However, in Hughton's 2-4-2-2, the Black Stars lacked sufficient width, and it was the beginning of Ghana's problems in that first half.
Kamaldeen Sulemana
The Southampton forward was deployed centrally in the first half anytime Ghana was in possession to exploit the threat of his ball carrying and dribbling abilities.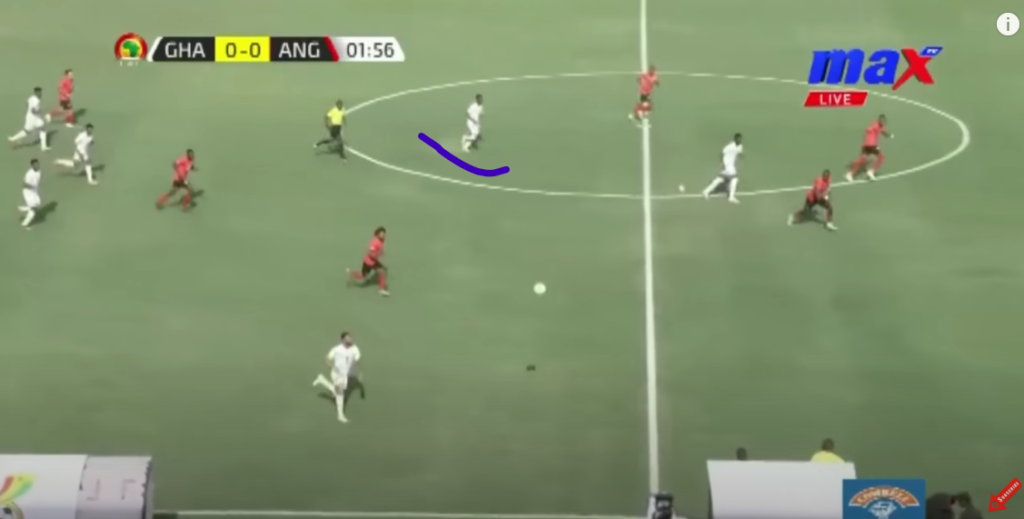 However, Kamaldeen moving inward meant there was insufficient width on the left, as left back, Mensah, was mostly positioned just above the center line, stifling Ghana's ability to penetrate through the left.
As a result, most of Ghana's penetration into Angola's final third came from the right, either through Jordan or Odoi.
So while Hughton looked to improve Ghana's defensive balance from earlier games, his solution severed the attacking balance of the team in the first 45 minutes. So in the second half, Mensah picked his opportunities to foray forward – from a new inverted role – while Sulemana stuck out a little more to the wide areas.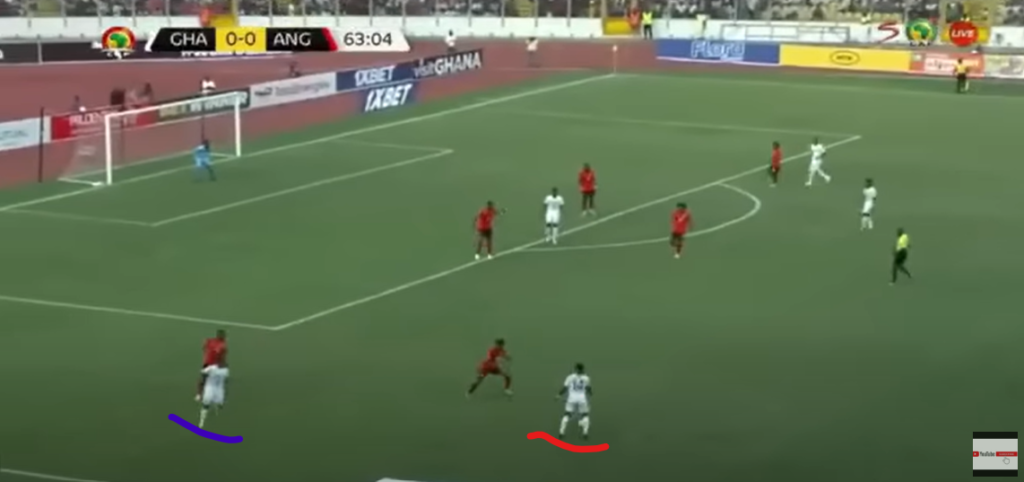 However, Ghana still failed to breakdown the Angolans, mainly due to the approach of wingers; Jordan and Kamaldeen, whose first inclinations were to always cut in. Meanwhile, Angola's compact 4-1-4-1 in defense meant the spaces to hurt the opposition were in the wide areas instead.
Inaki had 16 touches the entire game, and only two were in Angola's 18-yard-box. The forward did not receive any clear chances to score due to the emphasis of wingers cutting in to shoot, and also because of his profile.
So far for the Black Stars, Inaki has looked more adept at playing on the shoulders of defenders. Semenyo, who was introduced for him, gave the Angolan backline more headaches, because of his ability to play as a deep-lying forward – as showcased in his one-two sequence with Thomas Partey.
Conclusion
"Our responsibility is to get the right balance" were amongst Hughton's first words on the day of his unveiling and versus Angola, Ghana showcased bits and pieces of that balance.
However, decision making from Ghana's forwards was below average. Kamaldeen especially, overelaborated often – failing to identify moments to pick a cross and when to cut in for a shot and if the Black Stars want to persist with Inaki as a starting striker, the action-choosing process of Ghana's wingers must improve else the forward – and the Black Stars in general, will continue to struggle to score.
DISCLAIMER: The Views, Comments, Opinions, Contributions and Statements made by Readers and Contributors on this platform do not necessarily represent the views or policy of Multimedia Group Limited.