The Anglican Bishop of Accra, His Lordship, Rt. Rev. Dr. Sylvanus Daniel Mensah Torto has underscored the importance of books.
According to him, books are essential, not only for their knowledge enhancing purposes, but health improving abilities as well.
"Books play an essential role in every student's life. It introduces you to a world of imagination, provides knowledge of the outside world, improves your reading, writing and speaking skills as well as boost memory and enhance intelligence," he said.
The Anglican Bishop of Accra, therefore encouraged everyone who has the ability, to share their knowledge and experiences by authoring a book.
"I would like to take the opportunity to encourage anyone who feels capable, to document their thoughts and share their knowledge. By so doing, you will not only satisfy your personal desires, you leave a legacy," Bishop Torto said.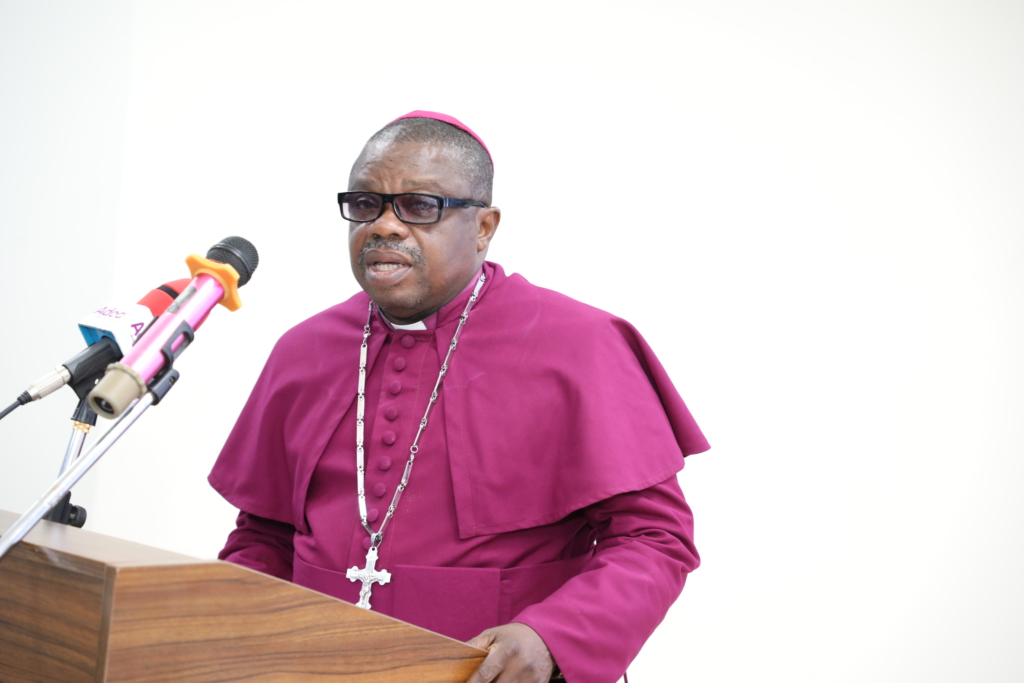 Bishop Sylvanus Daniel Mensah Torto said this when he launched two books written by Eric Mensah-Ayettey, a seasoned journalist and public relations practitioner.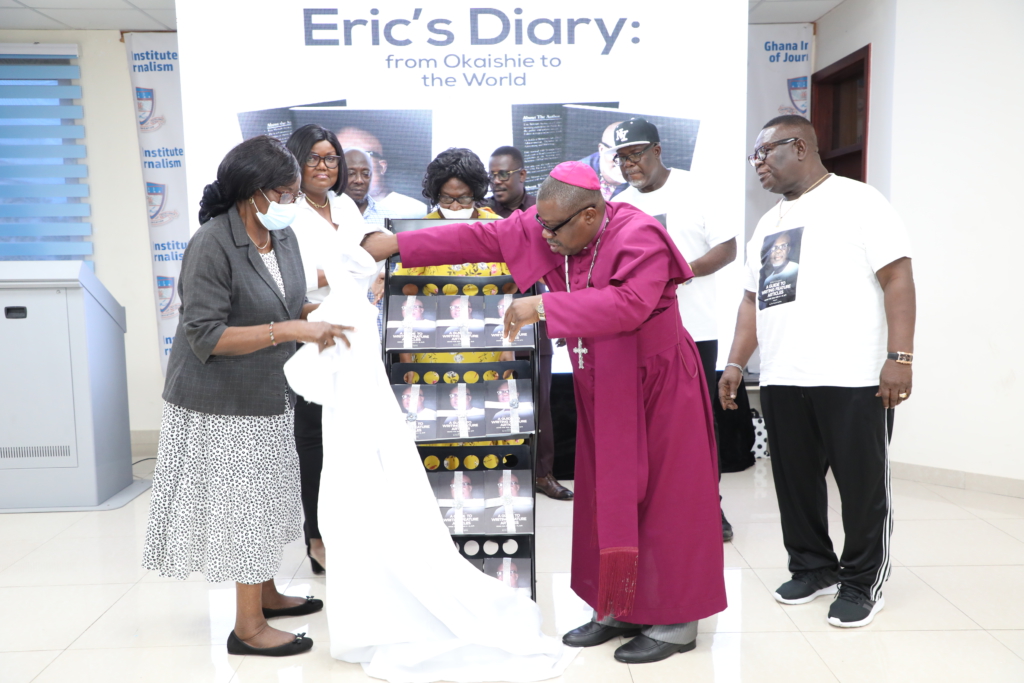 The books, which were published by Adwinsa Publications Limited, are: Eric's Diary: A Guide to Writing Feature Articles Using The 5ws And H + M, O/R and Eric's Diary: Creatively writing with the 5Ws and H.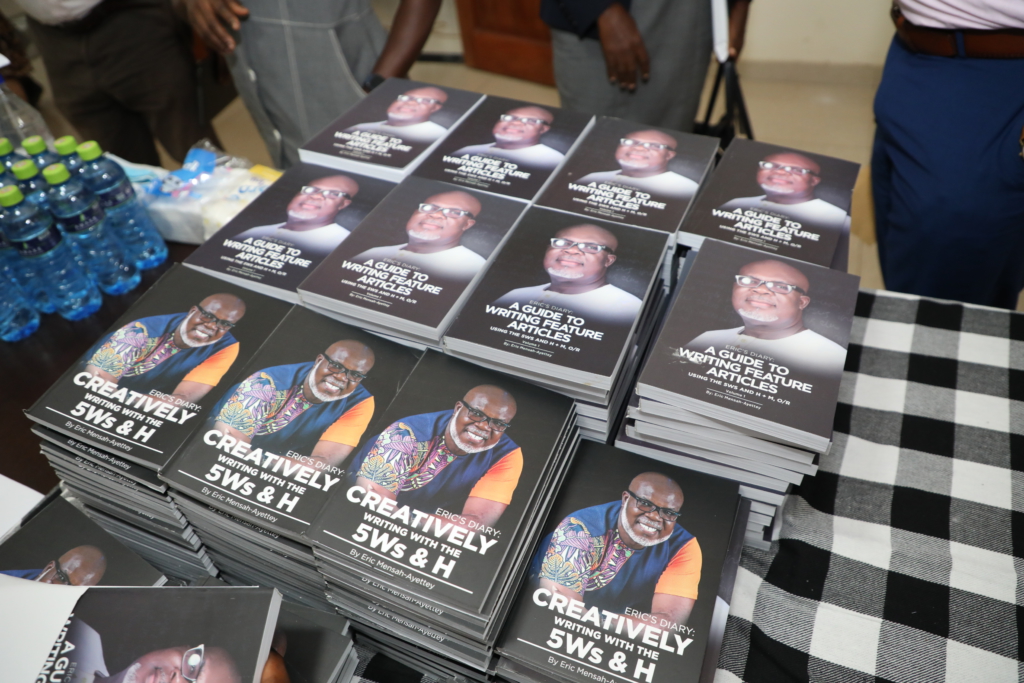 The Cleric described the contents of the two books as, "not only educative, they are informative and entertaining."
The Rector of the Ghana Institute of Journalism, Prof. Kwamena Kwansah-Aidoo also lauded the author for the effort to contribute to existing literature on writing skills enhancement.
"GIJ subjected the books to the test and they passed hence the decision to introduce it to our students," he noted.
The Author, Mr. Eric Mensah-Ayettey explained the inspiration for the books.
"Throughout my 25 years of practicing journalism, Public Relations and Advertising, I have observed that most people have difficulty in writing simple official letters, press statements, policy briefs, fact sheets, talk less of position papers and speeches," he explained.
"My real diagnosis is that many do not have a grasp of the rules of grammar. That's mainly because they don't read. Neither do they listen to good English," said the author.
The award winning journalist noted that, "this calls for more work to be done at the primary and secondary school levels. I urge Teachers at these levels of our educational system, to evolve the right pedagogy methods to change this situation. As a communications practitioner, I believe I can contribute to improve the situation by offering some guidance to all persons whose work involves writing, hence this book."
Mr. Mensah-Ayettey acknowledges that the 5Ws and H (Who, What, Where, Why, When and How) are classically meant for news report writing, "however, in my 25 years' experience as a journalist and Public Relations practitioner, I dare say that the concept can be applied to speech writing, fact sheets and feature writing," he added.
He announced that proceeds from the sale of the books will be used to pursue an Mphil programme in communication studies, in addition to his Master of Public Affairs degree, to enable him contribute formally to the training of communication professionals for the country.
"To begin with, I donate 10 copies each of the books to the Ghana Institute of Journalism (GIJ) as prizes for best graduating students in Feature and Creative Writing respectively each year," Mr. Mensah-Ayettey announced.
The first copies of the books were auctioned for $200.
About the Books
Eric's Diary: A Guide to Writing Feature Articles- Using The 5ws And H + M, O/R -312 pages
In this book, the author explained how the 5Ws and H in news writing, as well as his addition – M, O/ R (Who, What, When, Why, Where and How as well as Motive, Opinion/ Recommendation) are used to write educative, entertaining informative and promotional feature articles.
The title, Eric's Diary: A Guide to Writing Feature Articles stemmed from the style adopted for writing those articles. The author commented on socio-politico-economic issues from his personal experiences. This enabled him to infuse traditional wisdom and local language to spice the write-up for readers' enjoyment.
2. Eric's Diary: Creatively writing with the 5Ws and H- 136 pages
In here, the reader is guided through the imaginative process deployed to produce the nine articles- five entertainment-related and four politico-socio-economic ones.
Using the 5Ws and H, the reader is let in on how the entertainment-related pieces were imagined, conceived and birthed as well as how the politically-inclined ones were narrated creatively.
About the Author
Eric Mensah-Ayettey is the CEO of CIRE Communications Services.
He is a Communications Consultant with over 20 years' experience in the practice of Public Relations and Journalism.
An award-winning Journalist, Eric is currently an Editor at myjoyonline.com, a subsidiary of the Multimedia Group Limited.
Eric worked with Strategic Communications Africa (Stratcomm Africa) for over four years as Lead Communications Consultant.
Prior to that, he worked in various capacities at the Nursing and Midwifery Council of Ghana.
Eric also rose through the ranks, from Reporter through Assistant Head of News to Head of News at Radio Gold 90.5 FM.
As a student Journalist, Eric had stints with the Ghana News Agency, Ghana Broadcasting Corporation and the Graphic Communications Group Limited.
He holds a Master of Arts Degree in Public Affairs (UG), a Bachelor's Degree in Public Administration (GIMPA), Diploma in Journalism and a Certificate in Public Relations, Advertising and Marketing (GIJ).
Eric is an Affiliate member of the Institute of Public Relations, Ghana (IPR) and a member of the Ghana Journalists Association (GJA).
Eric has attended Public Relations Conferences in Johannesburg, South Africa and London, UK as well as pursued a course in Office Procedures in New Delhi, India.
Ericus is married with three children.
DISCLAIMER: The Views, Comments, Opinions, Contributions and Statements made by Readers and Contributors on this platform do not necessarily represent the views or policy of Multimedia Group Limited.