The British victims of a mid-air collision between two helicopters on Australia's Gold Coast have been named.
Diane Hughes, 57, and her 65-year-old husband Ron were from Neston, Cheshire. They got married last year and were on holiday, Queensland Police said.
Their pilot and another passenger also died in Monday's crash, which happened as one helicopter was taking off from a sandbar and the other was landing.
Three others, including two children, were badly injured and are in hospital.
In a statement to Australian news outlet 7NEWS, Mr Hughes' daughter Jane Manns said: "Our family is heartbroken and we are still trying to contact friends and family to let them know.
"Please respect our privacy at this devastating time."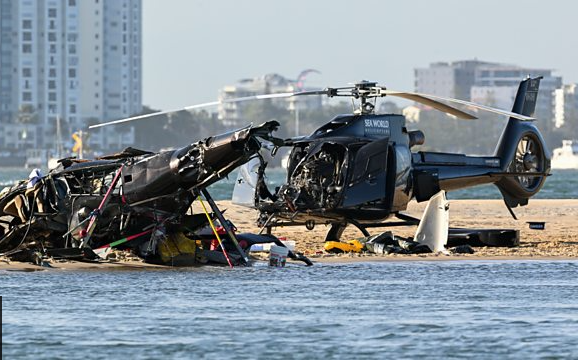 In a public Facebook post, Mrs Hughes' brother Dave Boyce thanked friends for their support, adding: "We are truly humbled at this heartbreaking time."
Mr Hughes owned a home interiors company based in Neston on the Wirral peninsula, about 12 miles (18km) south-west of Liverpool.
A neighbour, Paul Lightfoot, told the BBC: "I saw Ronnie (Hughes) walking his dog the day before he flew, he was looking forward to his holiday.
"He was a lovely fella, he was well known locally. It's just a massive shock."
Australian media reported that 36-year-old Vanessa Tadros also died in the crash, while her 10-year-old son was critically injured.
The fourth victim was 40-year-old Ashley Jenkinson, an experienced Sea World Helicopters pilot who was originally from Birmingham but lived in the Gold Coast area.
Ritchie Gregg told the BBC that his friend had been a "silent hero and gentle giant" who "would have done everything to bring the helicopter down safely".
He added: "He was a top guy with so much experience. He's flown in all sorts of terrain and environments, we're completely shocked."
The cause of the crash, which happened near the Sea World resort about 80km (50 miles) south-east of Brisbane, is not yet known.
Both helicopters were operating tourist flights for the resort.
Its owner, Village Roadshow Theme Parks, has offered condolences and said Sea World Helicopters was an independent operator.
Officials say it happened less than 20 seconds after one of the helicopters had taken off.
All those killed and critically injured were in the ascending helicopter, which crashed within seconds after its main rotor blade struck the cockpit of the other aircraft, the Australian Transport Safety Bureau (ATSB) said.
The second helicopter landed upright on the sandbank. Five of the six people on board suffered minor injuries.
The landing was a "remarkable achievement" given the helicopter was damaged "where the pilot was sitting", said air safety commissioner Angus Mitchell.
"We are very fortunate that we're not standing here with far more deaths."
Footage from the scene showed wreckage strewn across the area.
One eyewitness has said he heard "a loud bang" and saw "pieces of shrapnel flying everywhere".
The ATSB said it would conduct interviews and meticulously scour the helicopters, crash scene, footage, and other evidence before establishing what had caused the crash.
It called on eyewitnesses to come forward.
Police said boat operators had rushed to help after the crash at about 14:00 local time (04:00 GMT), including by giving CPR.
Rescue teams faced challenges accessing the sandbank and later securing evidence amid tidal changes, officials said.
The ATSB's preliminary report is due in six to eight weeks.
Australian Prime Minister Anthony Albanese said the country had been left shocked by the "terrible and tragic incident".
The UK Foreign Office said it was supporting the British victims' families and would continue to liaise with the local authorities.
DISCLAIMER: The Views, Comments, Opinions, Contributions and Statements made by Readers and Contributors on this platform do not necessarily represent the views or policy of Multimedia Group Limited.