Being married and in a relationship must never be seen as a gloomy journey. Some people have described it as selling one's peace and freedom. How could we be-devil this institution that God Himself has created so severely?
Some see it as a journey of doom. To some, it is a means of being financially secure. Some go into it to fulfil society's need, "Me too I am married",; flaunting their bands and responding to the MRS title. To some, it is being recognised now as a man and having someone cook and clean after them. Some simply want to procreate the right way…
The reasons are enormous and often far from the real essence, which is leaving and cleaving.
How very possible is it to get two people aligning with such selfish objectives in a union that is to be driven by LOVE? The greatest of all God's commandment? Just how?
Have you checked what 1st Corinthians  13:3-7 has to say about love? Please go check it out; it sums it up beautifully.
Are you willing to make the sacrifices?
Are you willing to forgive?
Are you willing to  compromise?
Are you willing to love unreservedly?
Are you willing to make your partner priority?
Are you willing to make their burdens yours?
Are you simply willing to LEAVE & CLEAVE?
And this must be a two way commitment.
Are you committed to making each other happy? And forsaking all others for each other's sake?
Are you willing to stand together in love and confront the world?
Love is beautiful and beautiful relationships, and marriages do exist.
Do not bastardise an institution you are unwilling to commit to and fully live according to its tenets. Love is the most beautiful thing on earth. Just loving someone and being rest assured they love you in return just as you love them or even more can be the most assuring thing ever. Loving and appreciating being loved in return does not make you weak or vulnerable; it only makes you human.
I am a firm believer in living in a relationship filled with love and affection than any material thing. So what is the point in living in a mansion, driving the best of cars and having the world at your beck and call when you are lonely and miserable? When is it all a facade?
You can make it work…value yourselves above all else. Place each other first. Give it your all.
The passion, desire, diligence, commitment and the sacrifice with which you do your work should be the same you invest into building that beautiful relationship or even more.
Just as gold is polished to bring out its glow and beauty, work on your marriage and relationships and make them beautiful.
Loving and being loved return is pure gain.
I believe in thriving homes.
*****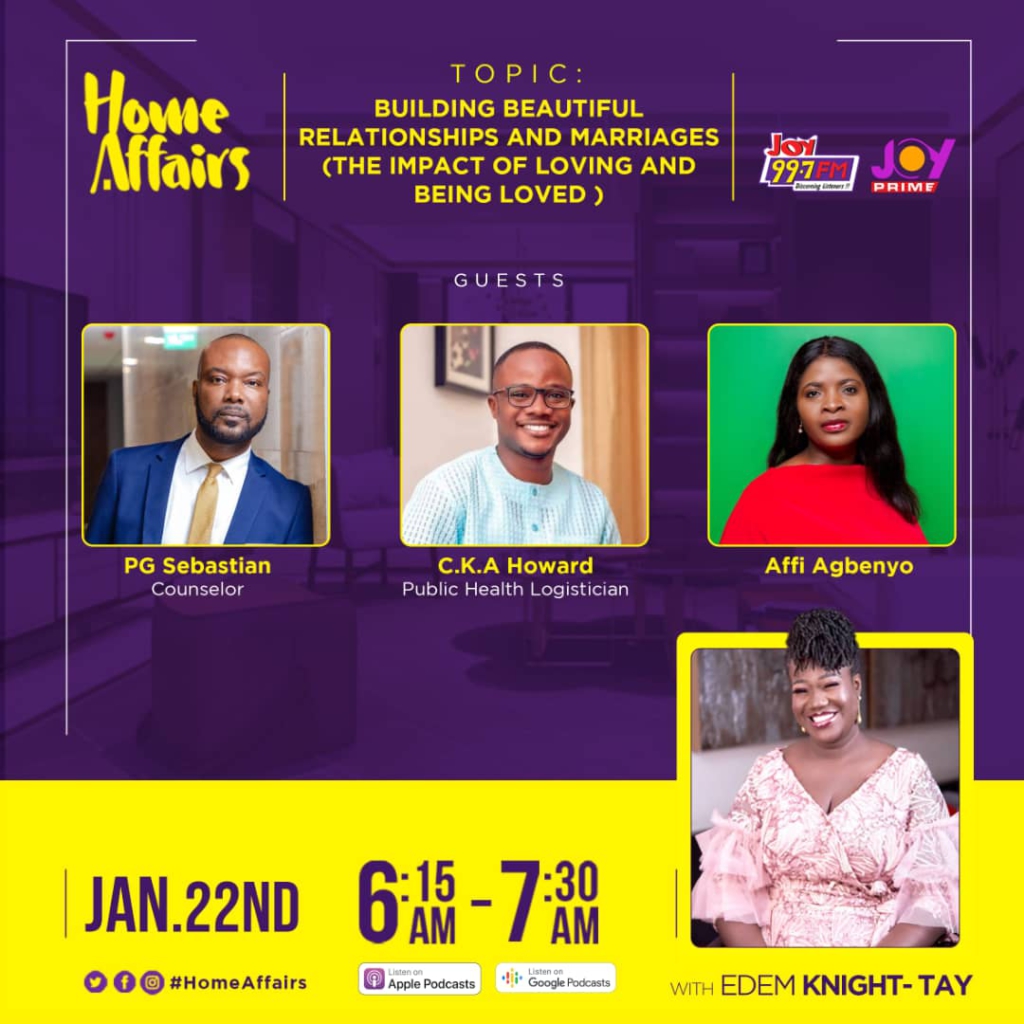 On Saturday, January 22, Joy FM's family show, Home Affairs, discussed this topic and the host, Edem Knight-Tay, shares her 'truth' on the subject.
DISCLAIMER: The Views, Comments, Opinions, Contributions and Statements made by Readers and Contributors on this platform do not necessarily represent the views or policy of Multimedia Group Limited.