The Stranger Things couple have an unwavering approach to style, so we've rounded up their best moments (and lessons) to see you through the season ahead…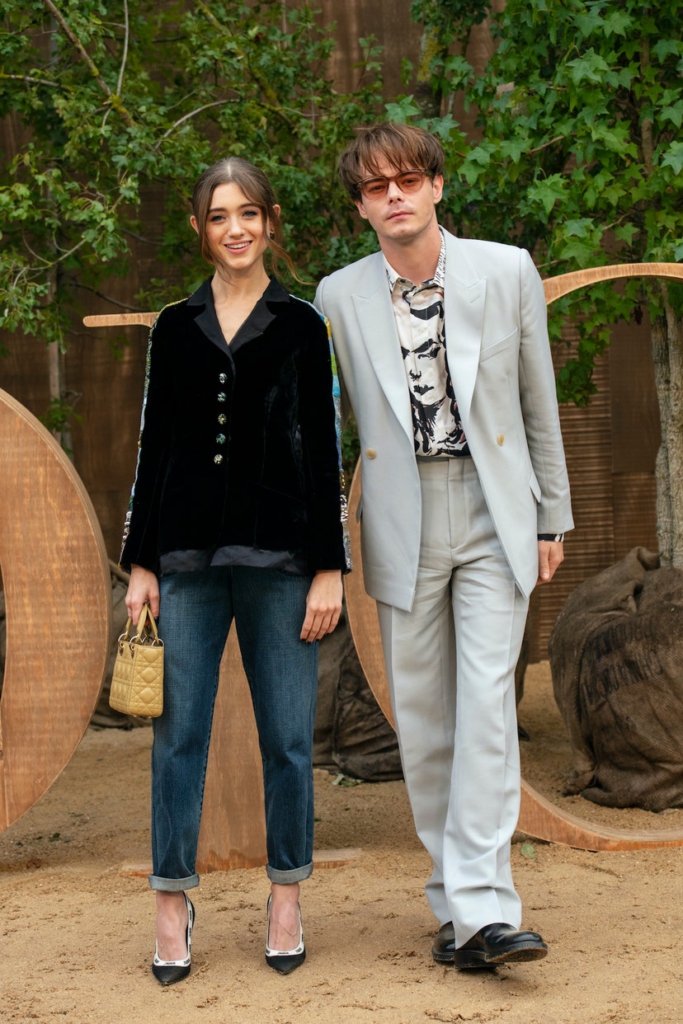 A good blazer is key
When: 24 September 2019

Why it works: That finishing outer layer can really make or break an outfit. For Dyer and Heaton, it always makes it and the finest example is this arrival to a Dior show in Paris last year.
Heaton paired his pastel blue blazer with matching tailored trousers, chunky leather boots and one of Kim Jones' brilliant graphic shirts.
In short, instant summer elegance and it worked wonders next to Dyer, whose incredible velvet blazer was styled very simply with straight cut jeans. Top points for both.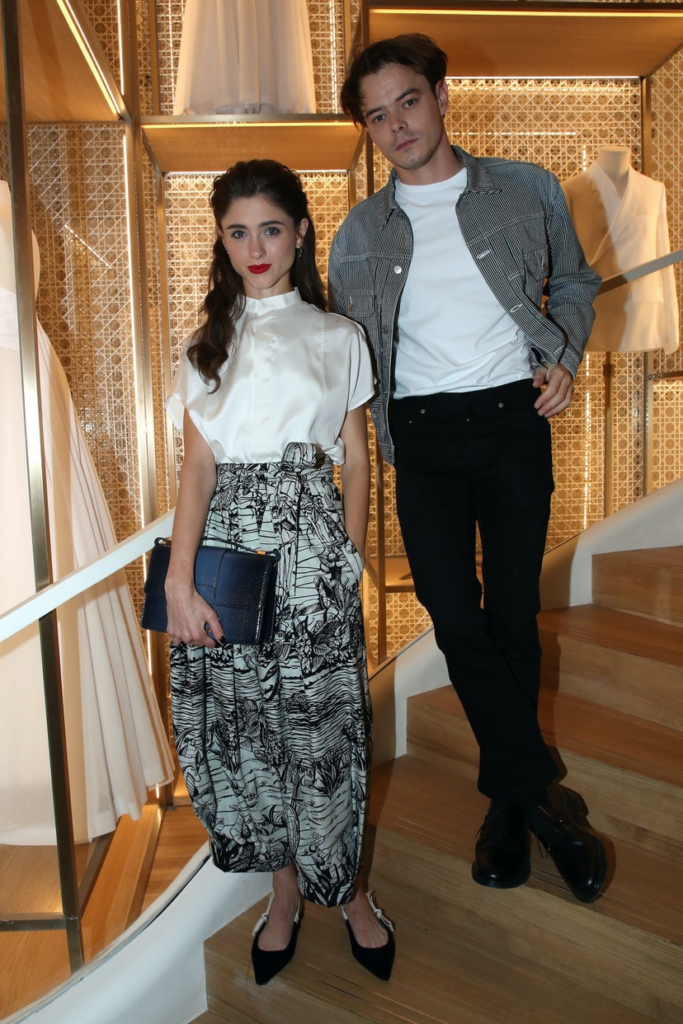 Play around with monochrome
When: 25 September 2019

Why it works: Black and white is a failsafe colour combination when it comes to couple dressing, but there are styling techniques you can follow to make it look even stronger.
Heaton and Dyer's top rule? Stick to the simple colour scheme while playing around with textures, pattern and volume.
In the case above, both opted for a white base layer (nice).
To make things interesting, Dyer then partnered hers with billowing, nature printed trousers, while Heaton went for a boxy striped jacket on top.
A healthy balance of print across the most classic shades – what's not to love?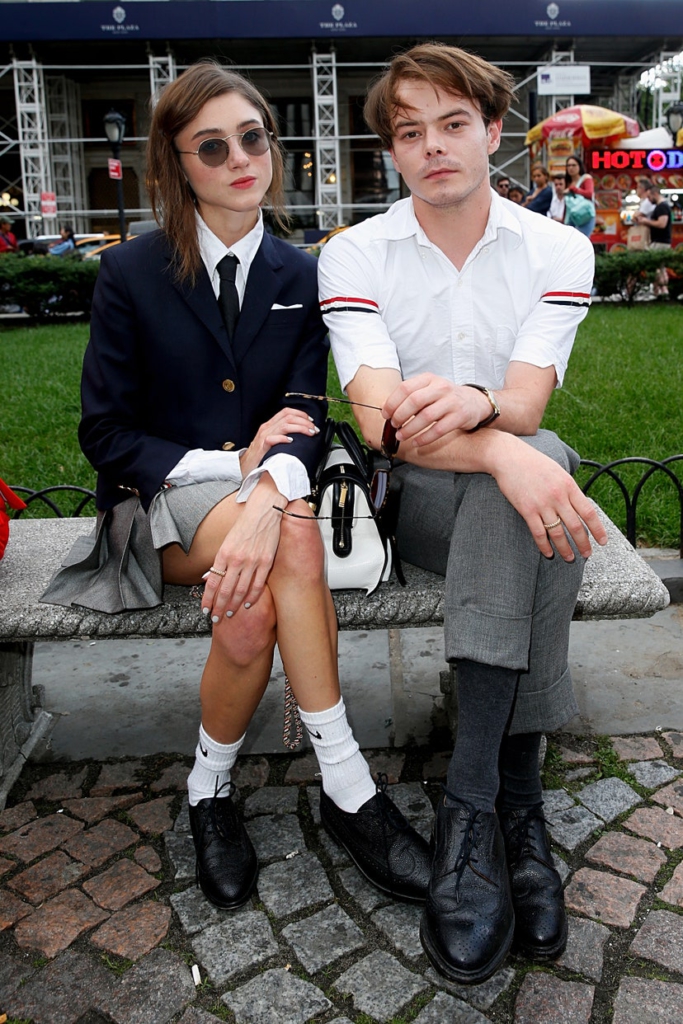 Top points for a preppy look
When: 7 September 2019
Why it works: Stuck on a style theme to embrace this summer? We suggest a trip back to school, as referenced by Dyer and Heaton late last year through these incredible preppy outfits.
Total replication is a no-go, but it's a big yes to pairing up on the shoes, especially when they're lace-ups.
Heaton then opted for some straight-cut grey trousers and a short-sleeved white shirt, which looked super relaxed thanks to slim stripe details and open collar.
As for Natalia? Ties aren't just for guys – we're here for it.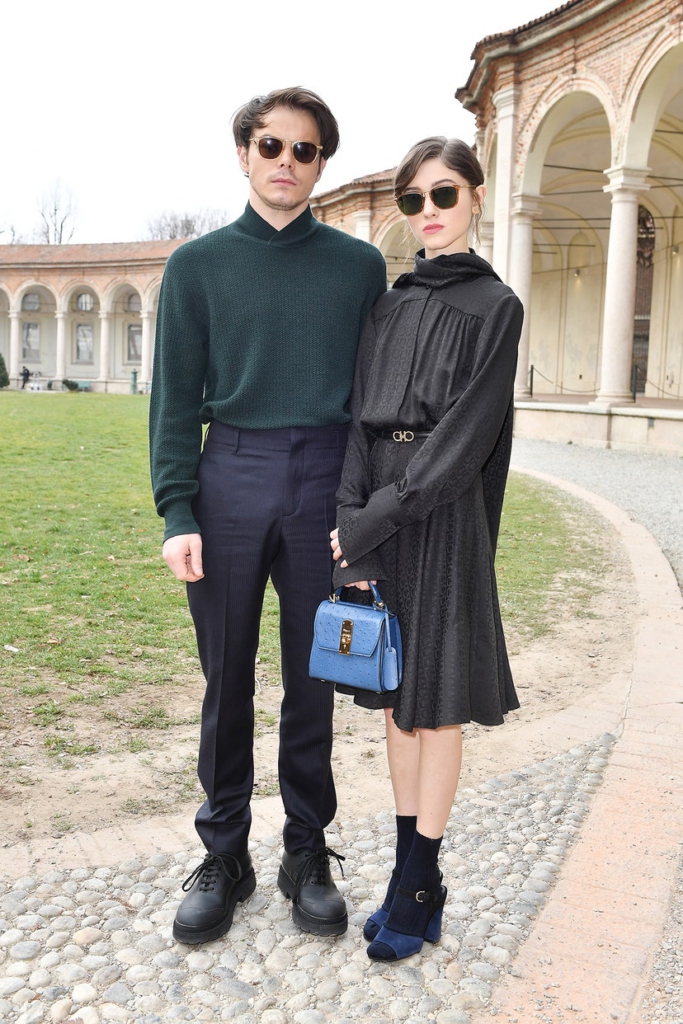 Elegance is key
When: 23 February 2019

Why it works: Salvatore Ferragamo is all about embracing timeless Italian style, so it should come as no surprise that when Heaton and Dyer attended the brand's show earlier this year, they faithfully abided by its reputation. The code was classic: Heaton chose a knitted, bottle-green jumper, navy tailored trousers and thick stomper shoes, while Dyer draped herself in a black satin dress, with blue touches through her accessories.
All in all, an elegant arrival to Italy and, for a finishing touch, those jet black shades worked wonders. Milan is hailed for its heat, after all.
As is a roaring Twenties reference
When: 17 September 2018

Why it works: It's often nice to reference the past through your style. Heaton and Dyer's decade of choice here was evidently the roaring Twenties.
Glitzy gold gowns, art deco emblazoned suits… it's hard to tell whether they were attending the Emmy Awards or en route to West Egg for a party at Jay Gatsby's.
Either way, the couple dressing stands.
Dyer went for a heavily embellished gold dress while Heaton kept his tux interesting through its texture – ideally, stick to brown shades to compliment the metallic hue by your side.
Add a bit of art to an all black look
When: 24 May 2018

Why it works: OK – an embracement of head-to-toe black will always receive approval from us, but you do still want to keep things a tad interesting. Heaton and Dyer's way of ensuring that was by playing with proportions in print.
The key here is to use your upper half as a style canvas, so for Heaton that meant injecting a tribal style polo beneath his boxy black jacket and simple, straight-cut trousers.
For Dyer, it was similar – only an emblazoned piece of abstract art atop her aptly French Dior dress.
As for the shoes? Mid-heel loafers next to suede Chelsea boots are a shout.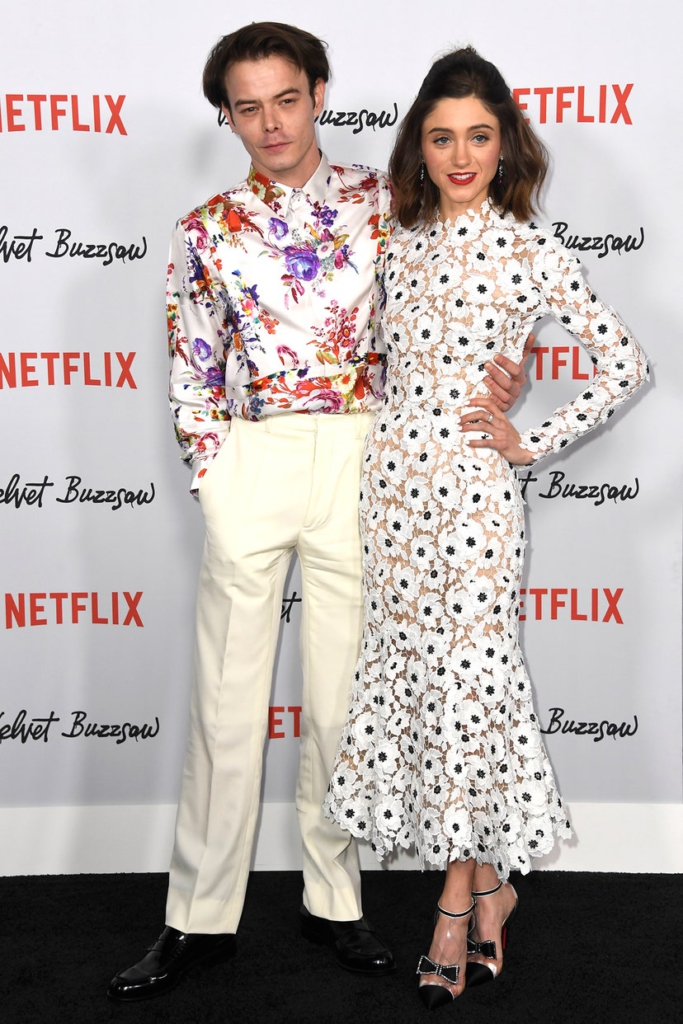 Learn the flower language
When: 28 January 2019

Why it works: Couple. Dressing. Win. Attending Netflix's premiere of Velvet Buzzsaw back in January (starring Dyer), the pair proved that they do, in fact, speak fluently in flowers.
Heaton sported some sharp Dior designs by Kim Jones (we've been on the hunt for this shirt ever since), while Dyer opted for an elegant Oscar de la Renta number. Granted, you don't want to turn up as a couple wearing a duplicate floral print (unless the date is 31 October and you couldn't think of a better arrival), but a balance of blossoming styles works well, especially when the result is as striking as this.
Mustard and maroon is a winning combination
When: 4 December 2017

Why it works: There's quite a bit of pressure on your Fashion Awards outfits, but upon arrival to the Royal Albert Hall the couple went bold on their colour palette, balancing traditionally regal hues of mustard and maroon with modern designs.
For Heaton, that meant a more formal take on the varsity jacket: satin and topped with a few flowers.
For Dyer, it was an ultra-femme dress, but the devil was in the details through a decorative layer of stars.
So, in short, stick to the Seventies combinations and embrace some embroidery.
Stick to simple styles for summer
When: 14 September 2018

Why it works: These two love to look like a pair from the past. If you're attending an upcoming summer event with your other half (festivals aside), this is the style point of reference you should take.
The setting was the SAG nominees night and the styles were plucked straight out of the seasonal good book, but we're going to focus on Heaton's look here.
Tweed was the evident material of choice, but for a less formal approach to the texture embrace it through mismatching pieces. AKA: pair a checked blazer with simple grey trousers.
As for the footwear choice, you could do a lot worse than a leather pair of Gucci loafers (fringe detail optional, but we say go for it).
Colour scheme theme = Stranger Things
When: 25 May 2018 Why it works: Arriving to Dior's Spring/Summer 2019 Cruise show, they went straight up elegance through tailored black clothing: Heaton, via his tee and trousers combination and Dyer through her floor-length coat. As for the Parisian touches? For her, a beret.
For him, a loose red blazer. For both, endless levels of sophistication.
Oh, and note their shared embracement of loafer shoes.
They were probably on their way to the upside down afterwards, so a smart idea.