The Bono Regional office of the Center for National Culture (CNC), has distributed 1,000 face masks and 200 bottles of alcohol-based sanitisers to farmers in cocoa-growing communities within the Dormaa West District of the Bono Region.
The communities include Kwakuanya, Diabaa and Krakrom, along the Ghana-Cote D'Ivoire border in the Dormaa West District.
The CNC, through drum language, traditional songs, and drama, sensitised the cocoa farmers on the precautionary measures to stem the spread of the deadly Covid-19 at separate durbars.  
The Bono regional Director of CNC, Helen Akanbong, said the centre believes culture and tradition are powerfully effective tools of communication hence the decision to use them in educating the cocoa farming communities on coronavirus.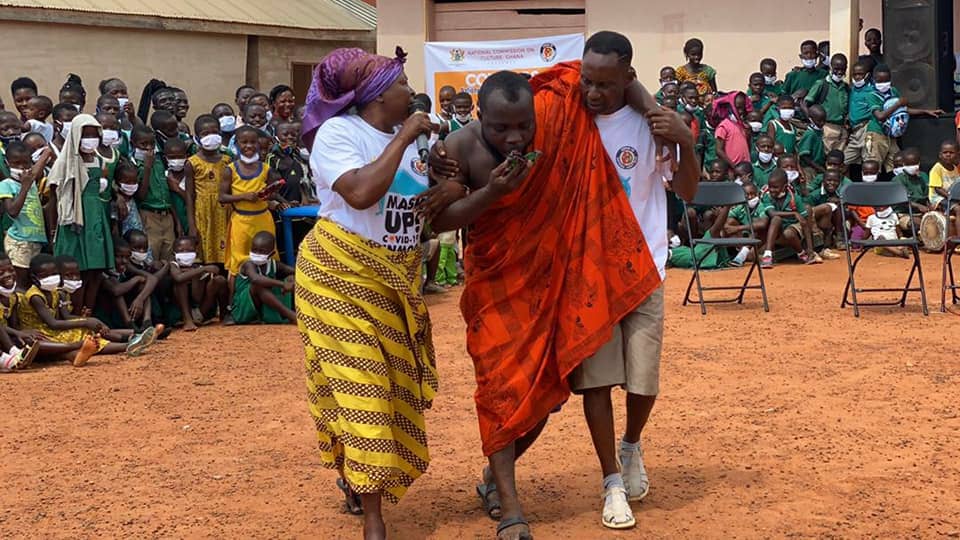 "We have been supported by Care International to organise the communities and explain the dynamics of the COVID-19 pandemic and the need for the people to continue adhering to the safety protocols as outlined the Ghana Health Service," Mrs Akanbong stated.
She expressed fear of about possible super-spread of the virus in the Dormaa West District since many people in the area were still disregarding the safety protocols, especially the wearing of nose masks.
She observed that although there has been a massive campaign to erase the myths and conspiracy theories concerning coronavirus, many people in the communities still hold on to these perceptions and misconceptions.
"That is why we at Centre for National Culture are contributing our quota by intensifying public awareness concerning the pandemic with our effective communication tools so that people will change their mindset and attitudes towards Covid-19," Mrs Akanbong said.
The Dormaa West District Director of Health Services (DDHS), Samuel Twene, said the district has recorded 36 confirmed cases of Covid-19.
He added, "though no death had been recorded, it is necessary to intensify the campaign for the people to understand that the virus is real; therefore, they needed to protect themselves".
He therefore advised the people to strictly continue to wear the nose mask, wash their hands with soap under running water regularly, observe social distancing and avoid handshakes as well.