The Coalition of Domestic Election Observers (CODEO) has lauded President Akufo-Addo and former President John Mahama for being civil and diplomatic during and after the just-ended election petition trial.
The Election Observers in a post-election observation and post-2020 Presidential election petition report, applauded the presidential candidate of the National Democratic Congress (NDC) for seeking legal redress from the court, and President Akufo-Addo and the New Patriotic Party (NPP) for exhibiting good conduct during the process.
"CODEO commends Mr Mahama and the NDC for pursuing their grievances through legitimate election adjudicating channels, including the courts. CODEO particularly commends Mr Mahama for accepting the outcome of the election petition despite his disagreement with the legal processes and the Court's verdict.
"CODEO also commends the President, Nana Addo Dankwa Akufo-Addo and the NPP for generally conducting themselves well during the court hearings and its aftermath."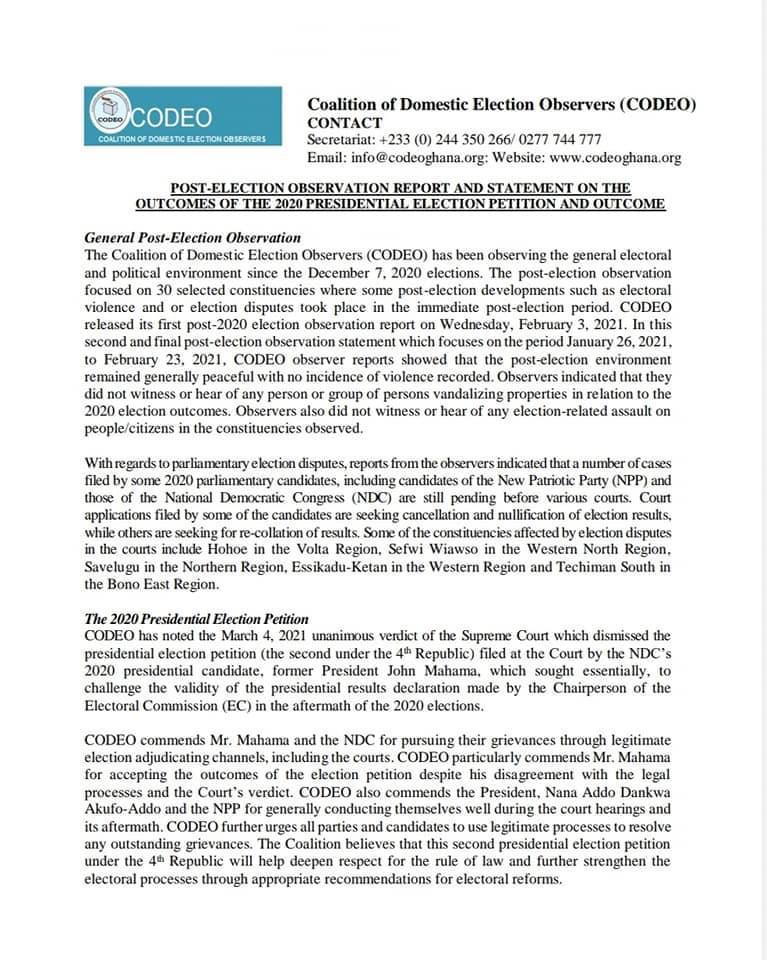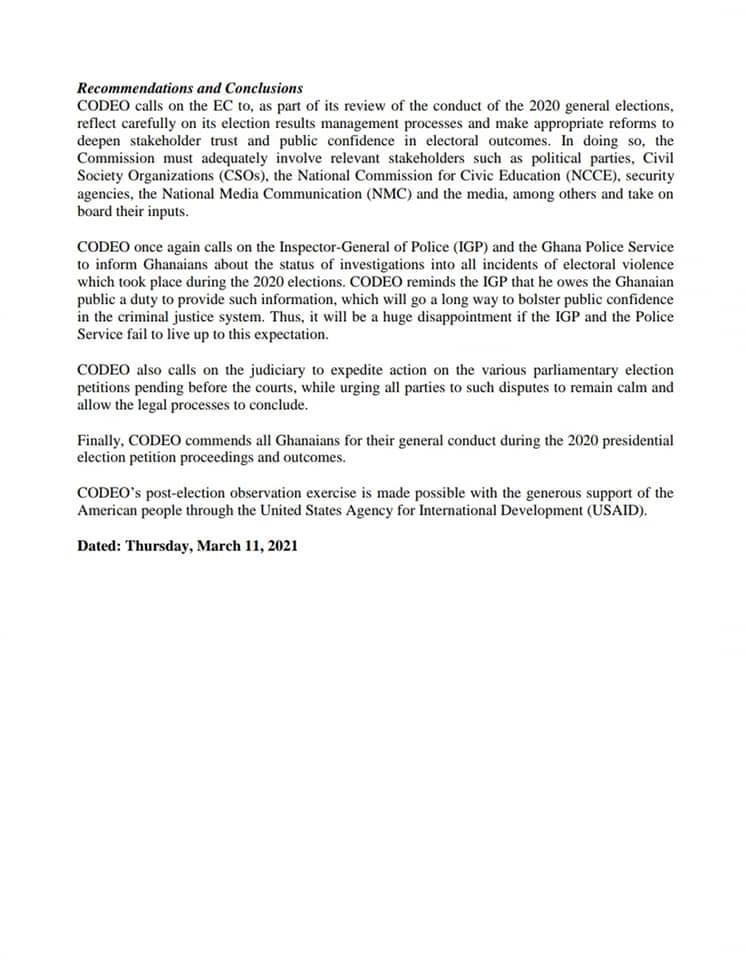 The Supreme Court on March 4, dismissed a petition filed by John Mahama contesting the declaration of the 2020 election results declared by Chairperson of the Electoral Commission, Jean Mensa.
The seven-member panel of judges dismissed the petition as having no merit and reaffirmed NPP's Akufo-Addo as President.
In response to the ruling, the 2020 NDC Presidential candidate, John Mahama, despite being disappointed said his defeat came as no surprise since the apex court had denied many of the applications filed by his legal team.
CODEO is of the belief that the second election petition filed under the 4th Republic deepens the country's respect for the rule of law and will help strengthen Ghana's electoral processes.
Highlighting the prospects of the country's electoral process, CODEO charged the Electoral Commission to "reflect" and "make appropriate reforms to deepen stakeholder trust and public confidence in electoral outcomes."
The said political stakeholders include political parties, Civil Society Organisations (CSOs), the National Commission for Civic Education, security agencies, the National Media Communication (NMC) among others.
Although Ghana's electoral process last year was generally peaceful, there were recorded incidences of some violence that led to the death of some eight Ghanaians.
In view of this, CODEO has urged the Inspector-General of Police (IGP) to facilitate investigations on the matter and provide the necessary information to the citizens.
"It will be a huge disappointment if the IGP and the Police Service fail to live up to this expectation" according to the report since bringing the perpetrators to book will bolster public confidence in the delivery of justice.