A protester with Arise Ghana has lamented the increasing cost of sanitary pads and condoms in the country.
The aggrieved protester, who appeared to be in her thirties, said the rise in the price of the commodity has made it difficult for she and other women to conveniently experience their monthly menstrual cycles.
Speaking in an interview with JoyNews' Manuel Koranteng on Tuesday, the protester, who spoke in the local Ga dialect also indicated that some men have been compelled to resort to rubbers instead of condoms.
This she said, has become a worrying development.
"We can't buy the pad. Even gari has become expensive. We used to buy it at 3 cedis 50 pesewas, but now it has shot to 15 cedis and 20 cedis. We can't buy it. One olonka of gari has also shot to 15 cedis. What is happening? We are dying. We can't buy the pad. It has also become the case that men cannot buy condoms, and hence they use rubber. We can't buy the pads", she stressed during the first day of the demonstration.
In her submissions, she also bemoaned the plights of fishermen in the country.
In this regard, she stressed that the prolonged closed fishing season, which is authorised by government makes life difficult for breadwinners who rely on fishing.
Starting in the late hours of the morning, scores of angry protesters converged at the Obra Spot at the Kwame Nkrumah Circle to participate in what the organisers described as the 'Krom ayɛ shi demo'.
According to the organisers, the protest was to draw government's attention to the increasing hardship in the country and other pertinent challenges such as youth unemployment, corruption amongst others.
Clad in red and black regalia, the demonstrators wielded placards with inscriptions highlighting their agitations and sentiments.
According to JoyNews' Manuel Koranteng, who covered the event, the protest saw hundreds of young men and women venting their frustrations about the state of affairs in the country.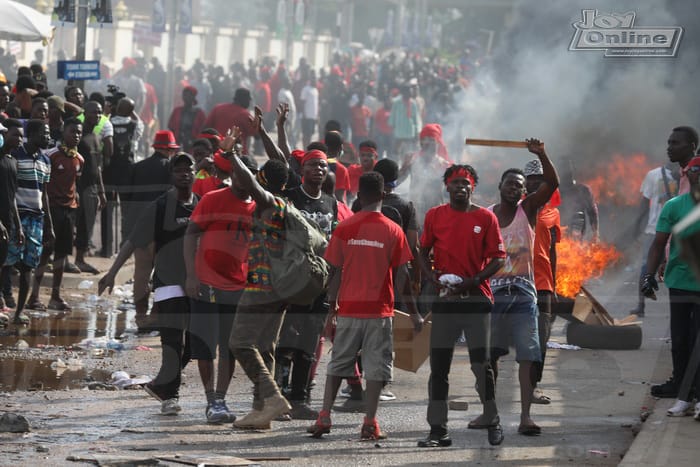 But what started as a coordinated protest soon degenerated into chaos; with the Police firing tear gas into the crowd. According to the Police, this was in reaction to some errant protesters who were bent on using unapproved routes.
The Police were also pelted by some protesters who accused the personnel of deliberately obstructing the flow of activities. This led to some police officers sustaining injuries, with some protesters being wounded as well.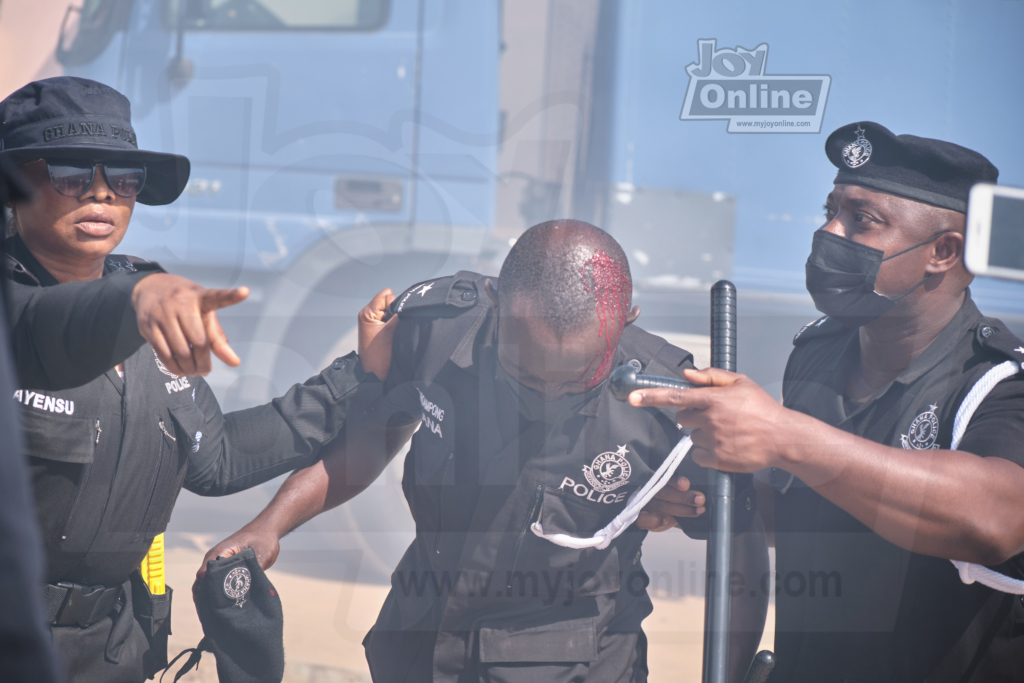 Following the violent exchanges, the Ghana Police Service has condemned the developments and begun investigations into the incidents.
Meanwhile, the protest is expected to continue today, Wednesday June 29. The protesters are expected to converge at the El-Wak Sports Stadium with Police protection.