President Akufo-Addo has assured that the difficulties faced by farmers with regard to supply of fertilizer at the beginning of the raining season is over.
He said very soon, farmers across the country will be accessing subsidized fertilizers as they did during his first term in office.
The President said this at the Gbewaa Palace, when he responded to some challenges the Yaa Naa Abubakari Mahama II laid before him on the first day of his two-day tour of the Northern region.
The President added that the design for the Yendi water project will soon be completed and work will start before the year ends.
"Already, the consultant has been chosen and with that comes the choice of the contractor, I am very confident, that before this year is over, the contractor will be on site to begin the construction of the Yendi water supply system," he said.
President Akufo-Addo also pledged his commitment to provide the needed infrastructure for the satellite campus of the University for Development Studies (UDS) before he leaves office.
He also assured that government would address the transport challenges of the Dagbon State Senior High School in Yendi.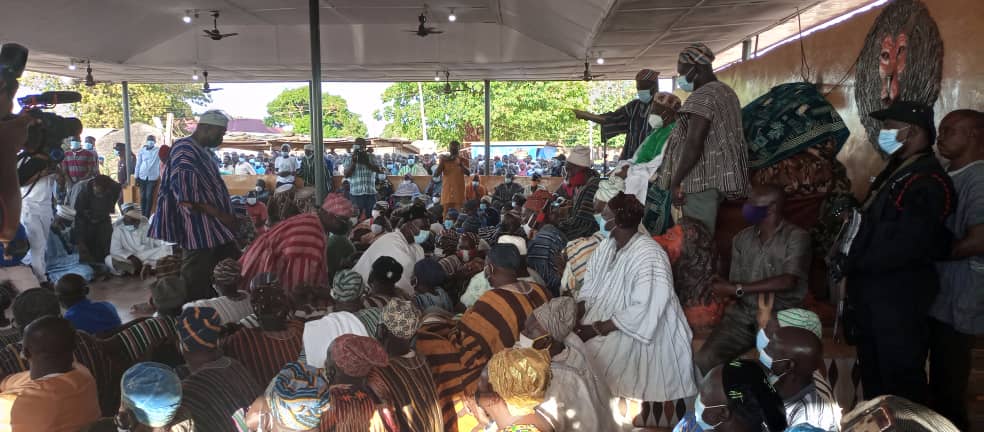 The President also directed the Ministers for Interior and Defence to address concerns regarding logistics for the security forces in Yendi.
He commended the Yaa Naa for his tree planting initiative and encouraged the people of Dagbon to plant more than five million trees before his (President Akufo-Addo's) tenure ends.
The President praised the King of Dagbon for establishing the Yendi Development Fund, an initiative that highlights the potential of the area to engender development. According to him, he has no doubt that the initiative would work considering the calibre of people who are leading it.
"I see here, the abandoned human resource of Dagbon is being mobilised for the development of the state. The very distinguished eminent banker, who chairs the exercise is himself a testimony of the work you are doing to bring Dagbon sons and daughters together for the development of the state, it's a big credit," he said.
The President assured that his government would offer the needed support to make the initiative work.
"You can be sure that whatever assistance government can bring to ensure that the lion coming out of the dark ends up as the lion in the light, we will work together for that purpose, "he added.