Just when one thought these two West African countries had nothing to fight over, 'Fufu' entered the chat.
Prior to this, the friendly banter was usually over whose Jollof reigned supreme and still takes center stage in many inter-regional conversations.
That is why it took many African football fans by storm when Dortmund's Karim Adeyemi of Nigerian heritage attributed his speed on the pitch to Fufu.
This comes after the 21-year-old talisman scored the only goal from a brilliant solo run, beating Chelsea's €121 million buy Enzo Fernandez and Kepa Arrizabalaga, to win the game.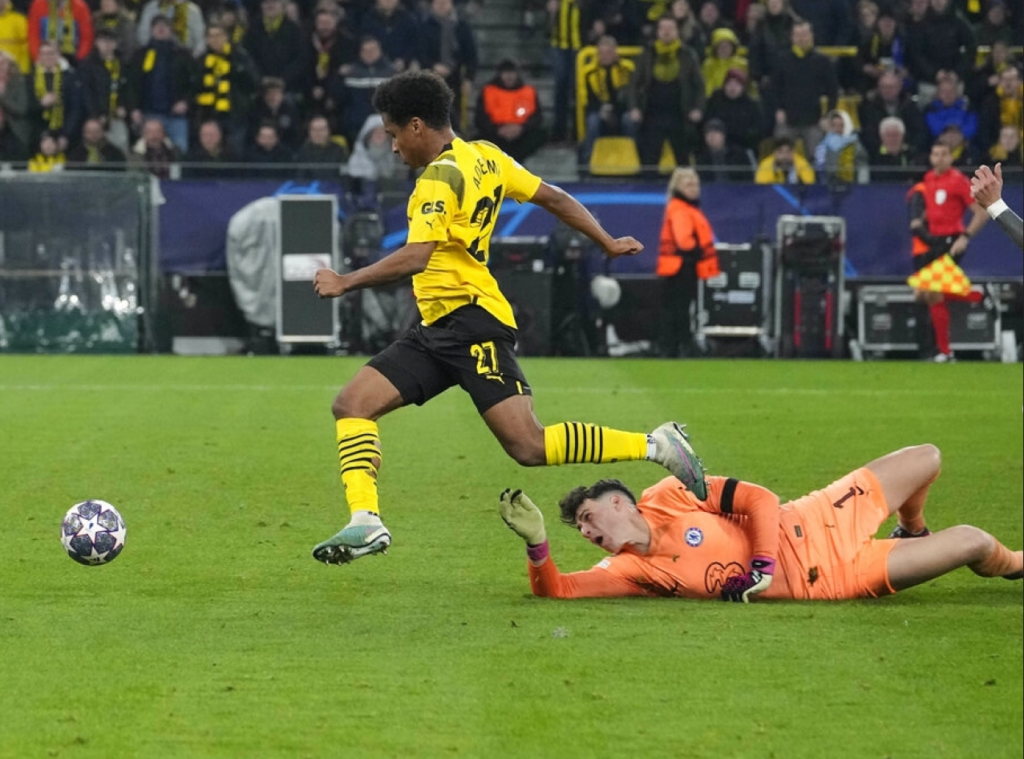 Interestingly, Ghana also has a similar food as a native delicacy, which meant that the comment did not sit well with them.
The team posted a photograph of the German forward on Twitter with the caption, 'Fueled by fufu'.
Fueled by fufu 🏃‍♂️ pic.twitter.com/BbZTOFUq7q

— Borussia Dortmund (@BlackYellow) February 16, 2023
This phrase has drawn the battle lines once again between Ghana and Nigeria, and the turf is social media.
Why are Ghanaians dragging Fufu with Nigerians for Christ sake ?

Adeyemi don cause wahala 🙆🏾‍♂️🤣🤣🤣🤣 https://t.co/yMSLVWWIQY

— Ojora Babatunde (@ojbsports) February 16, 2023
Ghanaians jumped on the tweet with sharing their thoughts on the matter.
Adeyemi is a liar if he claims Fufu as a Nigerian food. Fufu is a Ghanaian name. Google it and see. If he likes Fufu thats fine but its NOT from his roots Nigeria. He is probably referring to Eba but not "FUFU" which is a Ghanaian name. pic.twitter.com/nQjWuQWpFi

— Ervin K. Darko (@GhanaianThe) February 16, 2023
As simple as that, fufu is a Ghanaian coined word and food. He should talk about their EBA nobody will have a problem with him. The word FUFU is a Ghanaian word representing the food that we prepare and eat since BC …

— FlexGermain Online (@flexkgermain) February 16, 2023
I no understand oooh, for Nigeria human beings no dey blow but things wey dey inside dey blow, now na fufu turn 2 cashout.. fufu don blow like this oh 😂😂. Fufu don go global .. fufu na world wide celeb. 🙆😂

— T̥I̥P̥S̥Y̥M̥ḀN̥ ★ (@tipsy_man1) February 16, 2023
Lmao not Ghanaians and Nigerians fighting over another food – y'all need to learn, Fufu is both Nigerian and Ghanaian – while Ghanaians mostly mix Cassava and plantain – Nigerians use only cassava – preparation methods also differ me thinks

— Mr. S. J. Cyriaano-O (@FabSeanJay) February 16, 2023
notice how it's only one country that's crying in the comment section that fufu originated from them😭

they just want to feel important so bad 😂😂

— cokeboy🐺 (@cokeboy_ayo) February 16, 2023
DISCLAIMER: The Views, Comments, Opinions, Contributions and Statements made by Readers and Contributors on this platform do not necessarily represent the views or policy of Multimedia Group Limited.