Inter Milan and Shakhtar Donetsk meet in Germany for the second Europa League semi-final on Monday night
Sevilla lie in wait for the winners in the final itself, having defeated Manchester United.
Head to Head:
Inter v Shakhtar P2 W1 D1 L0; F1 A2
Recent Form (Recent Game First)
Inter: WWWWD
Shakhtar: WWDWW
Route to Semi Final
Inter: UCL 3rd Place, 4-1 Ludogreta (R32), 2-0 Getafe (R16), 2-1 Leverkusen (QF)
Shakhtar: UCL 3rd Place, 5-4 Benfica (R32), 5-1 Wolfsburg (R16), 4-1 Basel (QF)
UEFA Europa League Semi Final Record
Inter: P4 W3 L1 (most recent: 1997/98, W vs Lazio)
Shakhtar: P2 W1 L1 (most recent: 2015/16, L vs Sevilla)
Predicted Line Up
Inter: Handonovic, Godin, De Vrij, Bastoni, D'Ambrosio, Barella, Brozovic, Gagliardini, Young, L Martinez, Lukaku
Shakhtar: Pyatov, Dodo, Kryvtsov, Bondar, Matviyenko, Marcos Antonio, Stepanenko, Marlos, Alan Patrick, Taison, Junior Moraes
TACTICAL PREVIEW
INTER MILAN
Set Up : 3-5-2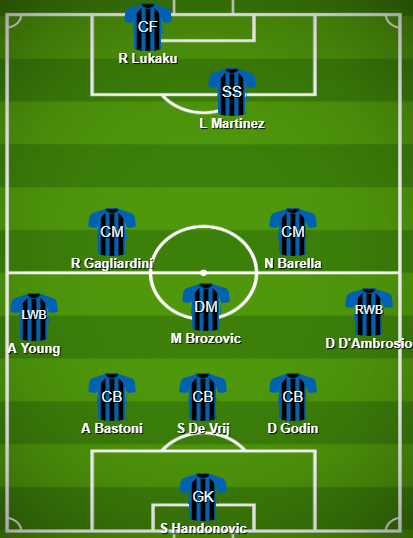 Mr. 3-5-2 is his name. Antonio Conte has been known to ensure a solid backline at all costs. The 3-5-2 affords his teams flexibility in attack and defence. Conte has built his defence around veteran Diego Godin, Milan Škriniar, and ball-playing defender Stefan de Vrij. Inter's 3-5-2 usually has two men upfront with two box-to-box midfielders ahead of the holding midfielder; who sometimes acts as the playmaker/quarterback. These midfielders are flanked by two former offensive wing-players as wing-backs.
In order to move the ball effectively, the holding midfielder usually drops deep to offer an extra body in the buildup in situation where opponents want to press their centre-backs. While this holding midfielder receives the ball, the wing-backs push further up into winger positions in hope that they would beat the press of opponents whilst springing into attack.
This approach, whiles direct, ensures Inter could choose to pop the ball over the defence for Lukaku or Martinez to chase or move the ball horizontally across the opponents to defence to draw them out before a killer ball is played to either wing-back for a cross or to their target man up top.
Attacking Phase: 3-4-3/3-4-2-1/3-3-4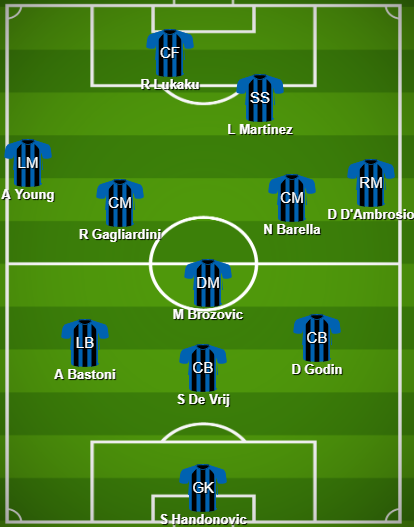 Lukaku is very important in this phase of their game as he is able to hold the ball waiting for passing options with the back facing the opponent's goal. The passing options often run from the deep into the pocket of spaces. Martínez usually runs forward centrally creating space for centre midfielders to run into.
At least one wide player pushes high to occupy this opposing defender. This allows either Gagliardini or Barella to push to that part of the pitch to create a 2 v 1 or 3 v 2 if a striker also drops into that area. The other striker and midfielder who are not involved in the play are now freed up to make necessary runs against the opposing centre-backs.
The options are to either shoot from the edge of the area or to make runs waiting to connect with any crosses. Inter have the quality to attack either side of the Shaktar defence as both wing-backs have the ability to cross or make overlapping runs to create space for midfielders.

Defensive Phase: 5-3-2; 5-4-1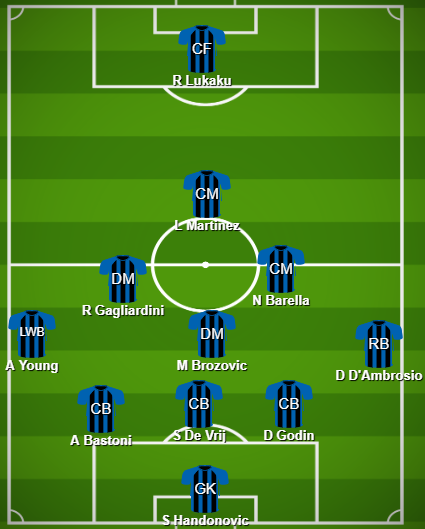 Inter Milan have a simple narrow and compact set up for when they are out of possession. Inter focus on hurrying the opponents once they lose the ball for the first few seconds. If unsuccessful, the set up their defensive blocks. The defensive block consists of 5 defenders and 3 or 4 midfielders, who normally cover any possible spaces between defenders. In effect, all 8 or 9 men become defenders who have a collection aim to force opponents to go wide to either use their wide players or cross. This plays into the hands of Inter who have a defence of giants.
The priority for Conte's men is to get into defensive shape as quickly as possible to ensure they outnumber their opponents. This will make it extremely difficult for Shakhtar to break them down unless they use an intricate pattern of passes to draw Inter's men out of position.
Trump Card: Romelu Lukaku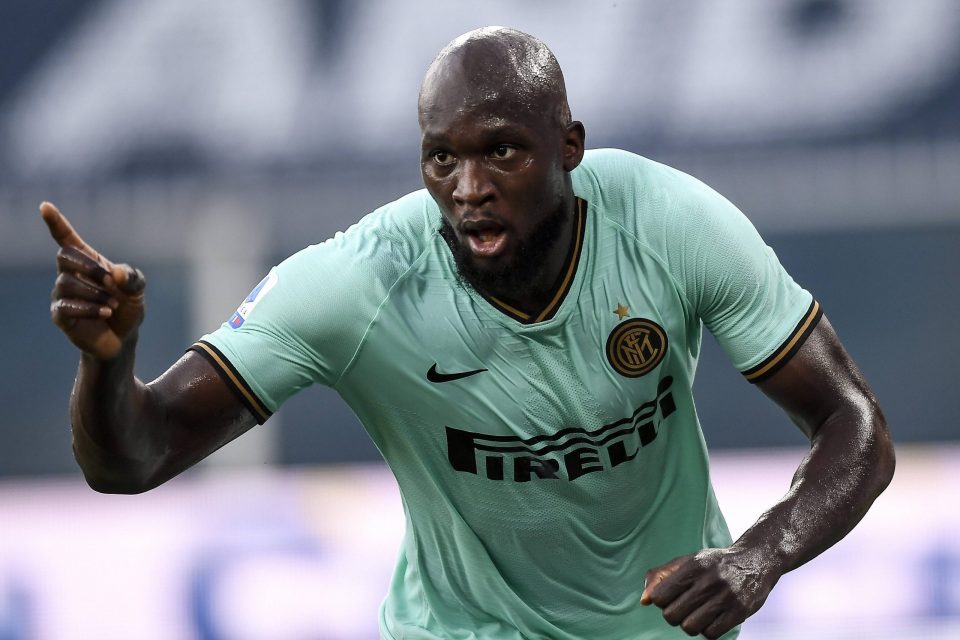 Lukaku is very important in this phase of the game as he is able to keep the ball waiting for passing options with the back to the opponent's goal. Therefore, he uses his body strength as well as his good overview. All in all, 74,95% of his passes are successful. As the passes to Lukaku come from the back, he has to wait for his teammates to provide passing options. They often run from the deep into pocket of spaces. Also, to control long balls from the defence is no problem for Lukaku. Often, he uses his head to link-up directly with teammates supporting him from the midfield. He wins an average of 42,8% of aerial duels which is quite a good percentage for a centre-forward. In the following example, Lukaku is heading the ball to Sánchez who can exploit space again. In this way, Inter creates a 3-vs.-4 situation

TACTICAL PREVIEW
SHAKHTAR DONETSK
Set Up : 4-2-3-1 or 4-1-4-1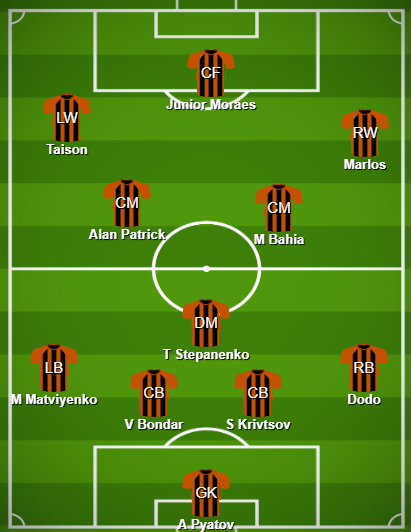 Generally, this side sits up to make the most of the ball when in possession. The wide forwards tend to tuck in just behind their sole striker to create space for their advancing fullbacks.
This is when Shakhtar are most dangerous. The 3 players in behind their striker have the ability to make forward runs in between the central defenders and lateral defenders. This forces the opponent's defence and midfielders to drop off the Shakhtar attack. Shakhtar look to outnumber the centre-backs with their wide men joining the sole striker as seen in the Attacking Phase below. However, the key for Shakhtar would be to unlock the half spaces (if any!) afforded them by the Inter defence.
Another key element to how Shakhtar play is their ever rotating 3 men behind the striker. Owing to the excellent technical ability of the Brazilian midfielders, Shakhtar can afford to occasionally have these players leave whichever position they started the game in. Should any team try to mark these men man for man, they might be found wanting as they would be out of position
Attacking Phase: 3-4-3/3-6-1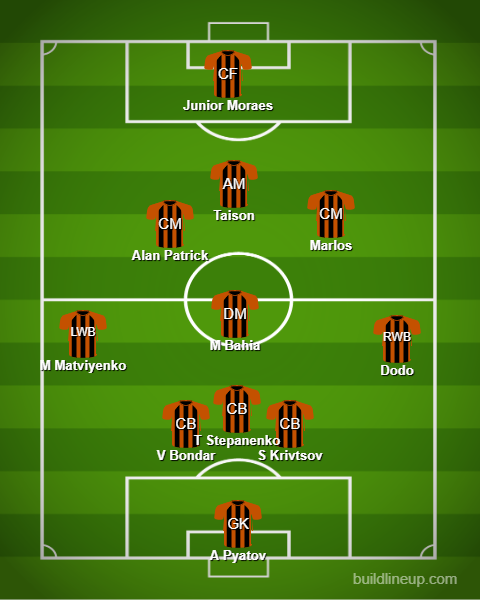 In the attacking phase of play, Shakhtar look to have their holding midfielder join in the center of defence whiles their fullbacks push further into their opponent's halves. The advanced full backs then offer extra outlets for the possibly crowded midfield.
Cutting any supply from Junior will not be possible as defenders will now be occupied by the midfield trio of Taison, Marlos and Alan Patrick who would tuck in just behind Junior Moraes to create even more space for Dodo and Matviyenko.
The balls from the wide men would then locate either their main target man or be cut to the edge of the box to be hit by either Taison, Marlos or Alan Patrick.

Defensive Phase: 4-1-4-1; 5-4-1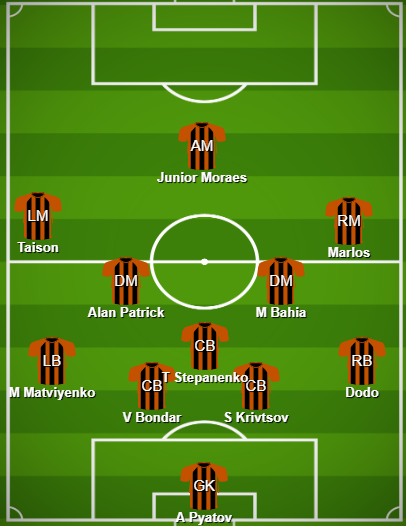 Shakhtar only conceded 15 goals in 23 league games because in defensive phase they normally opoerate in a medium block while occassionally pressing higher up the pitch depending on the opponent. The defensive block usually comes into effect immediately the ball is lost.
It is likely the same approach will be adopted to prevent Inter midfielders having time to penetrate the Shakhtar backline. Typically, Shakhtar will look to play a pressing game based on when the center backs pass the ball between themselves or with their goalkeeper. A curved run from J Moraes will close down the options to force the ball to either go long into the Shakhtar half. In the middle of the park, a man marking tactic is employed to ensure that no short passes are played in the second phase of the game build up. Rather attempted balls to the attacking team's wide men or attempted balls to their main target man up top will be their enforced options.
Trump Card: Taison Barcellos Freda and Marlos Romero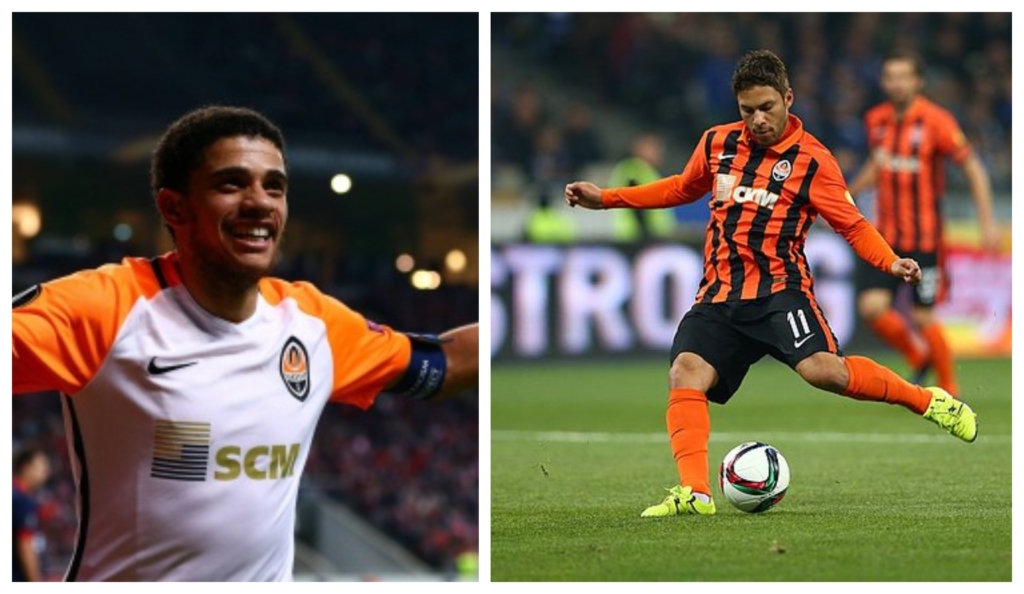 At the age of 32, Taison and Marlos still have the technical ability to hurt any defence. The pace may not be the same as years before but the eye for the ball and technique to get the ball in the exact spot they need it to be would forever be an asset any team would appreciate. These two midfielders will offer a lot of the attacking threat to Conte's 5 man defence and it would be a spectacle worth watching!