The National Petroleum Authority (NPA) has expressed concern about musician Fameye's refusal to name the particular fuel station he claimed sold fuel mixed with water to him.
According to a statement issued by NPA on Wednesday, attempts to make the musician and his team cooperate with the Authority to conduct investigations have proved futile.
"In the case of Fameye and his Management Team, they have refused to cooperate with the NPA in terms of providing the name and location of the retail outlet following his tweet on the suspected purchase of fuel contaminated with water."
"In an earlier interaction with the Authority, Fameye's Management Team said it would handle the matter by itself. Despite that position, the NPA still affirmed its readiness to proceed with the investigation if Fameye's Management Team decided to cooperate with the Authority by providing it with all the necessary contact details," the statement indicated.
The Authority explained that in response to such a complaint, their protocol is to conduct thorough investigations which may include obtaining fuel samples from the retail outlet and vehicle of the customer.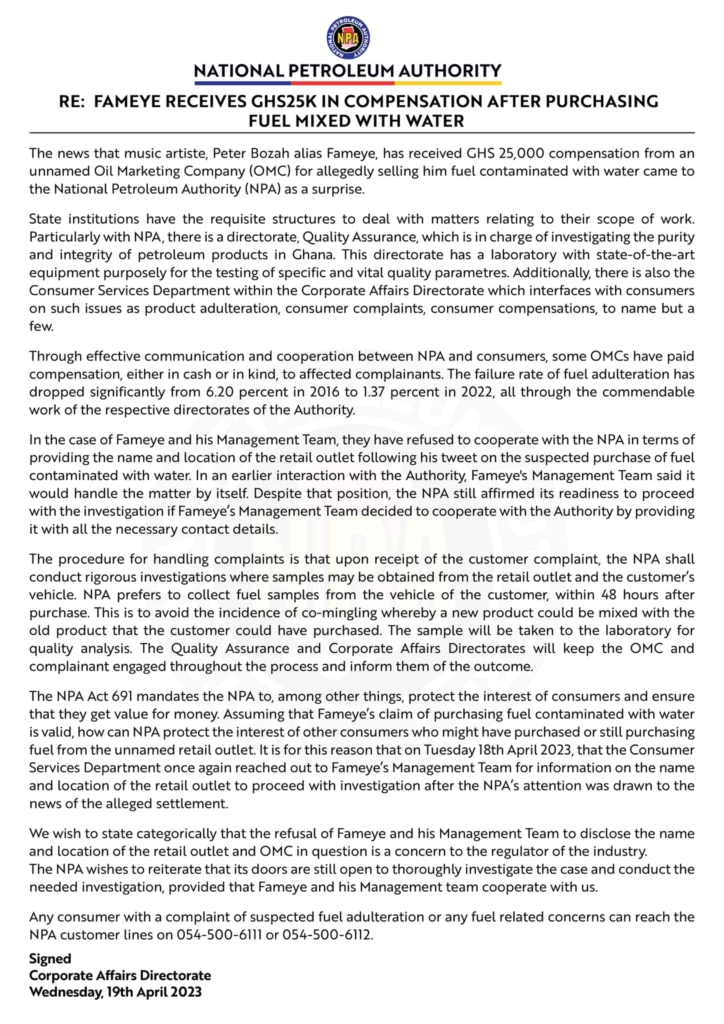 This, they explained, is done to prevent an incident whereby the purported adulterated fuel would mix up with new fuel products.
The NPA stressed that they are mandated by law to safeguard customers' interests and ensure they receive value for their money, which is their reason for reaching out to Fameye to name the retailer.
They reiterated their willingness to follow up on the case and conduct the necessary investigations, provided the musician and his team cooperated.
Also, NPA urged the public to call either 054-500-6111 or 054-500-6112 for any fuel-related concerns or to lodge a complaint of suspected fuel adulteration.
NPA's statement follows claims made by Fameye that he received GH¢ 25,000 from a filling station as compensation.
According to the musician, on his way to a show in Kumasi, Saturday, March 12, he stopped by the station to refill his car's fuel.
However, he claims the fuel was mixed with water which eventually caused damage to his car engine.
"So I realised like five minutes after I left [the filling station] it started jerking, but I don't know too much about cars so I was wondering why. So I continued driving until the car stopped at a roundabout," he said.
Fameye, therefore, claims the fuel station compensated him with that amount of money to atone for the damages done to his car.
DISCLAIMER: The Views, Comments, Opinions, Contributions and Statements made by Readers and Contributors on this platform do not necessarily represent the views or policy of Multimedia Group Limited.