It is 10 am at Ejura in the Ashanti region. The sun has already risen. The weather seems a little bit dry and the wind whisks dust into the eyes of farmers as they gather on bare land. But there are no clouds nor traces of rain. Ayuba Gyibrilla, 28, is standing in the middle of his farm, eagerly awaiting the start of this year's farming season.
There are approximately 30 farmers on the farm too. Mostly those who felt bad about last 2020 farming season. Ayuba is also concerned by the 2020 drought that destroyed his crops. Unpredictable rainfall meant he just had to lose more and he lost so well.
The 2019 national best youth farmer was alarmed by the situation and now holds onto God. "With that kind of weather, I only made a loss," Ayuba says. Ayuba has 500 acres of farmland and all under cultivation.
He also supports 7 hundred farmers who work on 1500 acres. But the 2020 drought that hit some parts of the country robbed Ayuba and his farmers millions of cedis. Their investment was wasted and they are not too sure how much to invest this year.
"Our maize dried up on the farm and I used a lot of money," he said.
His store, once full of sacks of maize, is now empty. Ayuba says he invested about 1.5 million cedis. He regrets the money he invested in Maize farming was of no benefit. The 2020 farming season started well for Ayuba and his colleague farmers. He says the planting was perfect and germination worked well too.
But the problem of drought began after base fertilizer application and top dressing. "And the rain stopped coming," he laments.
The farmers say they used the best seed (pioneer) on the market that has good yield, hoping to reap good yield. "The seed cost us 350 cedis per acre and we applied 4 bags of fertilizer (NPK and Urea) to each acre," Ayuba says.
Pointing to the dried land on his farm, he says he cannot plan for this season without support. If Ayuba converts all other things into money, his loss comes to ¢2 million. He was waiting for 15 thousand mini bags of Maize but had none.
Farmers he supports also lost thousands of cedis to the drought. The farmers' fears intensified when the rain stopped coming after top dressing, so they claimed to have consulted a weather forecast who promised them, the rain would come.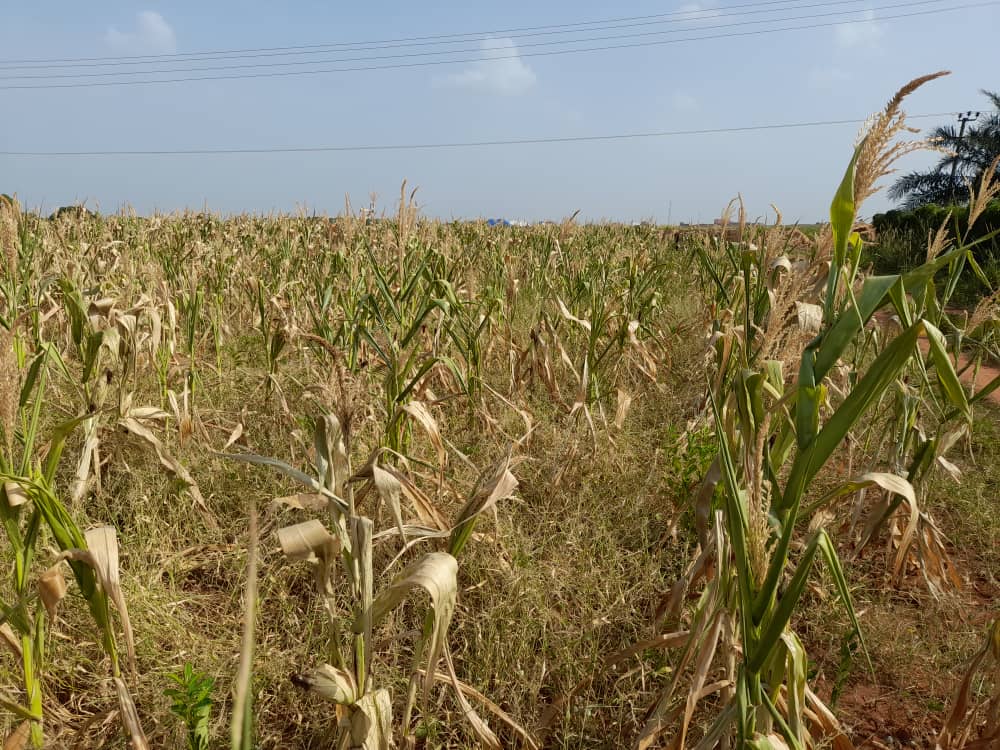 "He told us that it would rain in October but nothing happened. Everything went bad." The 28-year-old level 200 human resource management student at Valley View University explains that he isn't in a good position to support smallholder farmers this year.
"They are at home. They do call to check up whether I can help them or not." The farmers were affected on both sides. As they threaten to abandon productive farms, they would lose a stable income. Meanwhile the price of Maize soars.
Nurudeen Abdul Rauf, 33, says his maize dried up leaving him hopeless. "I struggled to get fertilisers, seeds and ploughed my farm, spending all the money I had. But I got nothing out of the farm," he says. There were virtually no casual jobs at the farms around as economic activity ground to a halt due to the drought.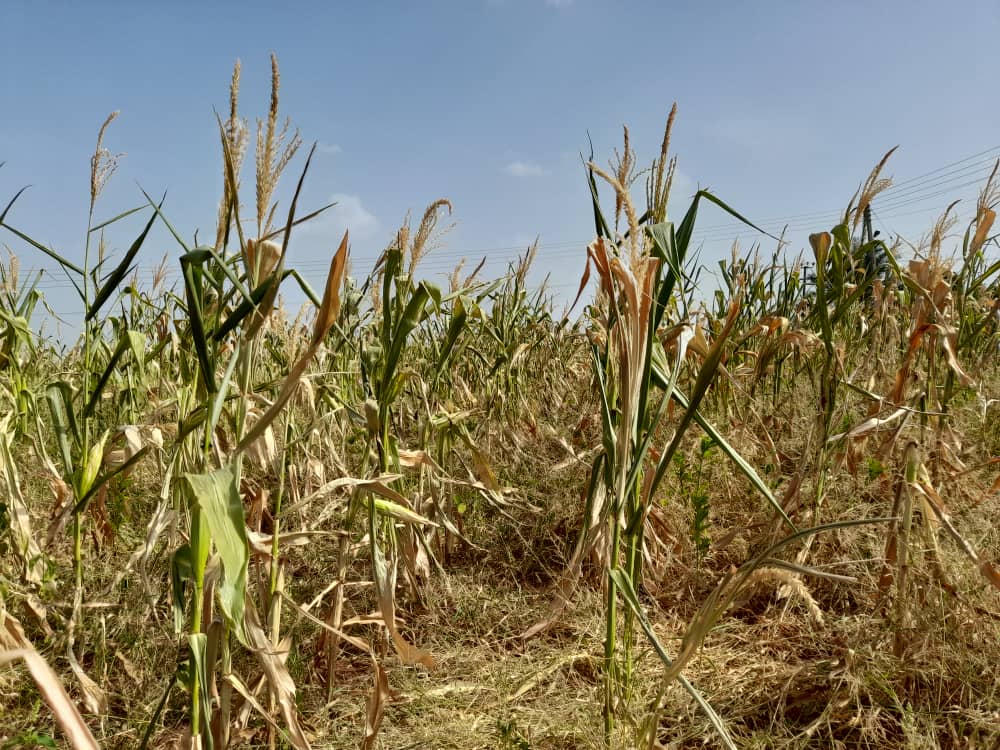 Nurudeen plans to definitively leave his farmland behind for good. Like 40-year-old Mohammed Seidu, a number of farmers are also considering abandoning their maize farms if help doesn't come. The situation becomes worse when 310 female farmers supported by Ayuba are likely to idle this season.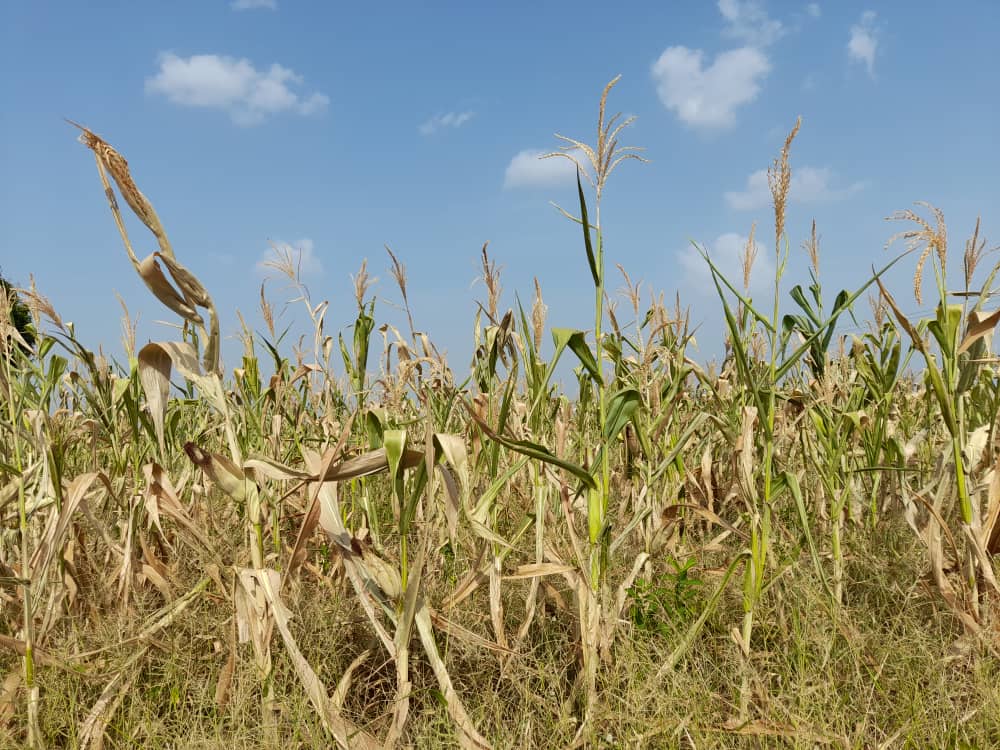 For instance, 36-year-old Ama Kidiwi who has four children may need to wait for a miracle happens. Over the last eight years, Ama has worked on 4-acres of farmland. In 2019, she got 300 bags (50kg) of Maize sold at about ¢19,000.
But 2020 season presented her with more challenges her. Two of her children are in the lower primary while the other two are in upper primary schools. Ama says she may have to find an alternative to care for the family because her husband has no work. Like many rural farmers, Ama is a born farmer who decided to follow in her parents' footsteps. But the impact of the drought has left her with many fears.
According to Ayuba, two tractors he used to support Ama and others have broken down. This means that they have to look elsewhere for what is rather difficult for the female farmers. The 2020 long drops of rain were generally poor over some parts of the country, according to a review by Ghana Meteorological Agency (GMET).
At Centre for Climate Change and Food Security experts dialogue on the Ghanaian Maize Crisis, official at Gmet, Jeremiah Lazia told participants that there were longer dry spells within the raining season for the 2020 period which was part of Gmet forecast.
"Intra-seasonally, the rains show variability rather than diminishing," he says. Mr Lazia revealed GMET is also collaborating with the University of Ghana and Makerere University to come out with Weather Information Dissemination System to bring the interface to the farmers in local languages.
Deputy Director of Agric at MoFA, Dr Solomon Gyan Ansah, stated that there should be a policy for farmers to have water harvesting structures to address cases like that of Ayuba and others. "We really have to invest in irrigation, including water harvesting structures"
He said valuable information should be sent to farmers whether in person or electronically to address problems of drought. He encouraged farmers to invest in early maturity varieties.
DISCLAIMER: The Views, Comments, Opinions, Contributions and Statements made by Readers and Contributors on this platform do not necessarily represent the views or policy of Multimedia Group Limited.