Some farmers are losing substantial portions of their income as the global food supply chain is disrupted by the spread of the Coronavirus disease.
Ghana is a major exporter of fruits, vegetables and various cash crops to Europe, China, America and different parts of the world, grown by millions of farmers across the nation.
The business of a lot of these exporters have ground to a halt as destination countries for their exports go on lockdown and land, sea and air borders are closed or restricted.
"MakolaHub is a small supplier that fills niche gaps in pineapple and papaya by air freight to Europe, on an inconsistent basis. But we are not doing anything now.
"The coronavirus has stopped all of our shipments," owner of Ghanaian fruit export firm MakolaHub Fresh Alex Kravecas told freshplaza.com in an interview.
He explained new business contacts his firm made in February during an international trade fair in Germany who they had struck deals to export to have backed out due to lockdowns brought on by the Coronavirus spread in Europe.
Kravecas says a potential buyer had told him; "the virus is putting much pressure on the market in Europe" as catering orders continue to decline with people unable to step out of their homes.
Cashew, another major export cash crop which generates for Ghana between $378 and $981 million annually, is one of the hardest hit crops by the Coronavirus spread, causing farmers huge losses.
"Checks in Techiman and Nkoranza in the Bono East Region indicate that the price of 100kg bag of Raw Cashew Nuts (RCNs) has reduced from GH¢700 to between GH¢350 and GH¢400. In the Sampa area of the Bono Region, the same quantity was quoted at GH¢450 while farmers in the Savannah Region were offered GH¢400, cashew farmer Clement Anane who is also secretary of the Ghana National Cashew Farmers Association the Business and Financial Times.
"The cashew sector had its own challenges but the Coronavirus epidemic has exacerbated matters," he added.
The spread of the coronavirus has forced the world's largest importers of cashew products including India, China and Vietnam to cut imports as processing factories close due to lockdowns. This is causing a glut, forcing international market price of the commodity to slump by 63% between January 2020 and now.
Ghana's most important cash crop, cocoa, is also feeling the negative impact. Price of the commodity on the international market fell by about 4% last week as the spread of the Coronavirus created concerns for the world economy and continues to worsen. A lot of the countries that import cocoa from Ghana and Cote Divoire (which together produces more than 65% of the world's cocoa) are under lockdown, forcing the closure of cocoa processing plants.
Joseph Boahen Aidoo, Chief Executive Officer of the Ghana Cocoa Board – a government agency that buys cocoa from small scale farmers and sells on the international market told Joynews in an interview; "the buyers have closed their windows so we are not buying. The price of Cocoa has tumbled. Immediately it brings to Ghana a deficit of almost $1 billion. If this thing should continue, paying our farmers will be difficult."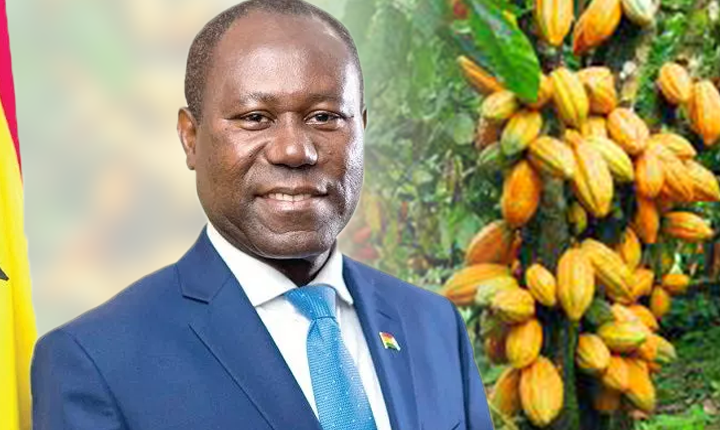 According to Chief Economist at the Food and Agriculture Organization (FAO) of the United Nations Maximo Torero Cullen, "a protracted pandemic crisis could quickly put a strain on the food supply chains, a complex web of interactions involving farmers, agricultural inputs, processing plants, shipping, retailers and more."
Currently, the BBC estimates a third of the world's population is under lockdown as governments close their borders and direct citizens to stay at home to stem the spread of the Coronavirus. "Restricting trade is not only unnecessary, it would hurt producers and consumers and even create panic in the markets," Cullen observed in a paper published on the organization's website.
Where do we go from here?
The FAO official is recommending; "In order to avoid food shortages, it is imperative that countries keep the food supply chains going… As countries combat the coronavirus pandemic, they must also make every effort to keep the gears of their food supply chains moving."
Kravecas of MakolaHub is banging his hopes on the pandemic easing out soon, even as his firm looks for alternative markets to export fresh fruits to.
"We will look for buyers in new markets like the Middle East, although they've been hit badly by the virus as well. We will just have to ride it out and hope the warmer weather brings an end to the virus. Luckily our mango season starts in May-June when the weather is warmer in Europe," Kravecas told freshplaza.com.
President of the Association of Cashew Processors Ghana, Ed-Malvin Nii Ayibonte Smith, says the situation provides a good opportunity for players in the cashew value chain to pay more attention to local production, processing and preservation of the crop.
"Government must invest in the building of modern processing machinery whiles financial institutions help with credits; this is our way out from this kind of crisis we have found ourselves in today," he told modernghana.com in an interview.
Dr. Eli Gaveh who is a lecturer at the Department of Horticulture at Ghana's second biggest university, the Kwame Nkrumah University of Science and Technology, agrees.
"Primary commodities should be processed to improve their storability. Some farm products such as cassava, yam and pepper can be solar-dried. Fruits such as mango, pineapple and citrus can be stored as concentrates.
"Tomato can be turned into purees or paste and stored in hermetic containers. Local food processors should be supported to acquire simple processing equipment for value addition to fresh produce," he said in an opinion piece published in the Ghanaian media on what the food supply chain should do differently in the light of Covid-19 spread.
Other players are advocating hoarding of commodities like cashew for release onto the market subsequently when the global economy recovers.
"Our cashew farmers are in crisis and this is the time they need more of our support; ADRA will soon begin talks with some financial institutions and individual investors and see if we can find a way of buying the raw nuts and storing whiles waiting for the pandemic to normalize across the globe," Dr. Anthony Augustus Mainoo of the Adventist Development and Relief Agency (ADRA) said in an interview published on modernghana.com.
Like all other countries hit by Covid-19, Ghana's economy is facing difficult times as a result of the Coronavirus spread. Just as several parts of the world, schools and offices have been closed, and a significant part of the country where over 200 cases of the disease and five deaths have been recorded are under lockdown.
On how Covid-19 and attendant lockdown is negatively impacting the agricultural sector, Finance Minister Ken Ofori Atta told parliament late last month there will be disruptions which "could limit farmers' access to inputs, such as seeds, fertilizers and insecticides." He also expressed concern the will be "a reduction in the volume of main agricultural exports, as a result of the general downturn in global economic activity due to the pandemic."
"General shortage in food supply is anticipated if the pandemic intensifies. This could lead to inflation in food prices, especially rice, bread, poultry and other meat products, vegetables, sugar and other commodities," Mr. Ofori Atta added. He said government will lose revenue in the 2020 fiscal year to the tune of GHȼ9.5billion (US$1.9 billion), equivalent to 2.5% of Gross Domestic Product (GDP) as a result of the Covid-19.