Since its inception in 1930, 53 hattricks have been netted in the world's most-watched sporting event – FIFA World Cup.
Goncalo Ramos of Portugal is the latest player to complete a hat trick on the World Cup stage. In the second half of the round of 16 match against Switzerland at the Lusail Stadium in Qatar, Ramos scored the first hat trick of the 2022 FIFA World Cup.
Ramos has now joined an illustrious list of more than 40 players to have scored three goals at the world's biggest football stage.
The primary objective of any player, especially strikers, is to score goals, but completing a hat-trick provides a tremendous sense of accomplishment.
When a player manages to score three goals in a single game, it is referred to as a "hat-trick." All three goals need not to be scored in succession and it does not matter whether they are netted during regular time or extra time.
Except for 1942 and 1946, when it was postponed owing to World War II, the FIFA World Cup has been held every four years translating into 22 competitions since the maiden edition in 1930. These 22 FIFA World Cup competitions have cumulatively yielded 53 hat tricks with an average of 2.4 per tournament.
The 2006 World Cup in Germany is so far the only tournament without a hat-trick while Switzerland 1954 set a record for most hat-tricks in a single tournament with 8.
FIFA World Cup Hat-tricks: Hall of fame
On 17 July 1930, against Paraguay, Bert Patenaude became the first player to score a hat-trick in a World Cup game. Although Guillermo Stábile of Argentina got the first hat trick that FIFA recognized on 10 November 2006, it declared in 2006 that Patenaude's claim to be the first hat-trick scorer was legitimate when Tom Florie, a teammate, had his goal in the match against Paraguay reassigned to Patenaude.
FIFA World Cup hat-tricks: Key highlights
Four players—Sándor Kocsis (twice in 1954), Just Fontaine (twice in 1958), Gerd Müller (twice in 1970), and Gabriel Batistuta—have recorded two hat-tricks in World Cup games (1994 and 1998). With 7, Germany (including West Germany) has the most hat tricks ever. Germany and South Korea both hold the record for the most hat tricks conceded, each with four.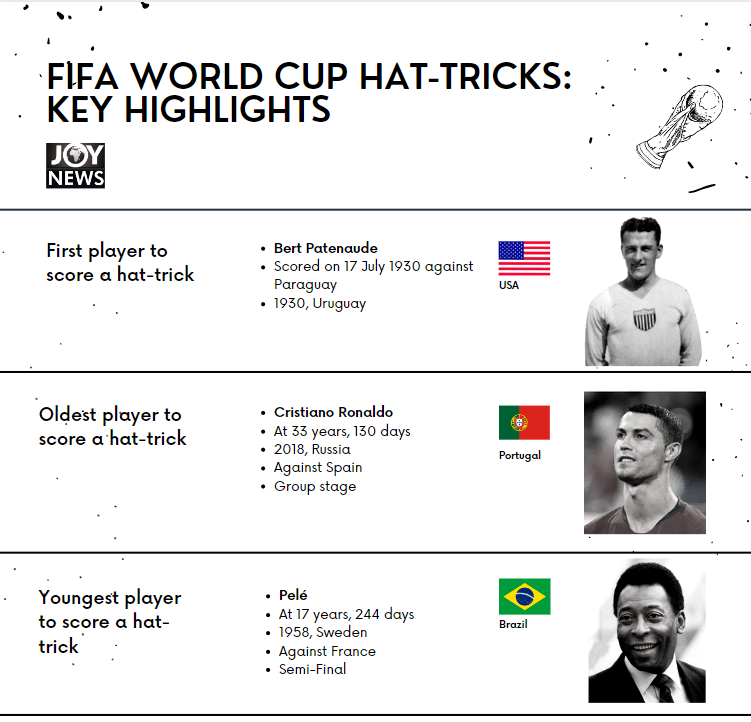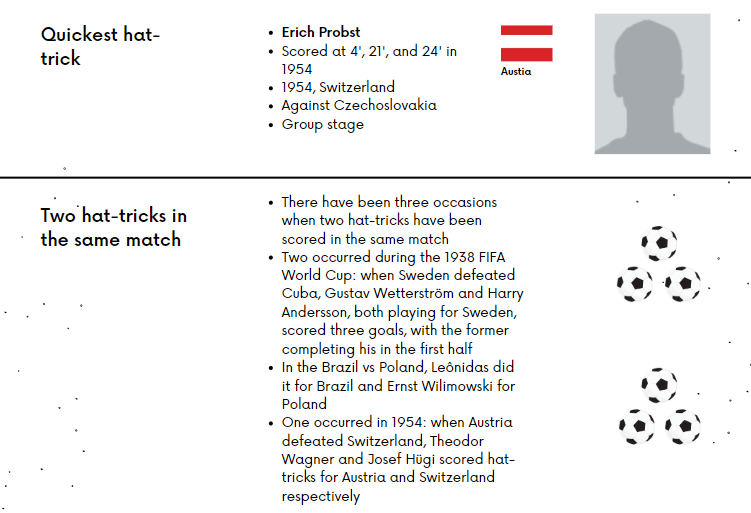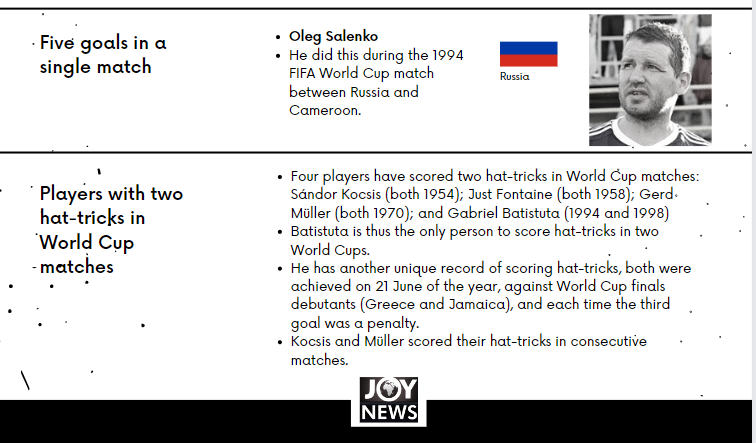 In total, 19 players have recorded three goals in the FIFA World Cup knockout stage. Two of them, Edmund Conen and Angelo Schiavio both participated in their first World Cup game in 1934, in a competition without a group stage.
The only player to record a hat-trick in a World Cup final is Geoff Hurst of England (against West Germany in 1966). In the second World Cup group stage, two players—Zbigniew Boniek and Paolo Rossi—each recorded a hat trick.
DISCLAIMER: The Views, Comments, Opinions, Contributions and Statements made by Readers and Contributors on this platform do not necessarily represent the views or policy of Multimedia Group Limited.