Time is drawing nigh for the maiden edition of the Joy FM Family Pop Quiz. Ahead of its premiere on Sunday May 1, 2022, First National Bank Ghana has proudly hopped into the boat as sponsors for the family radio show.
First National Bank is widely known for its portfolio of unique innovative financial solutions for retail, corporate and investment banking clients. The bank's foresight is evident in its wide range of products, part of which focuses on the various facets of family banking needs.
Speaking to Joy FM, Brands Manager of First National Bank Ghana, Kwamena Budu expatiated on one of their core beliefs; "everyone benefits", citing it as one of many reasons for associating with Joy FM Family Pop Quiz.
"At First National Bank, we have something for everybody, from kids to adults. Thus there are different packages tailored to the very needs of each member of the family at every stage", he revealed.
Kwamena Budu mentioned how First National Bank's package for kids under the age of 18 is a conscious effort to inculcate the habit of savings and investments in them. College and university students are equally catered for, while young tertiary graduates with a fresh step into the corporate world can also benefit from special packages from First National Bank. Adult accounts complete the list of packages that present families with amazing benefits.
The Joy FM Family Pop Quiz seeks to unite families through fun and education on radio. Families will come together to answer simple, witty and spontaneous questions on general knowledge and many more. First National Bank is excited about the initiative and will reward winning families of each episode with sumptuous packages.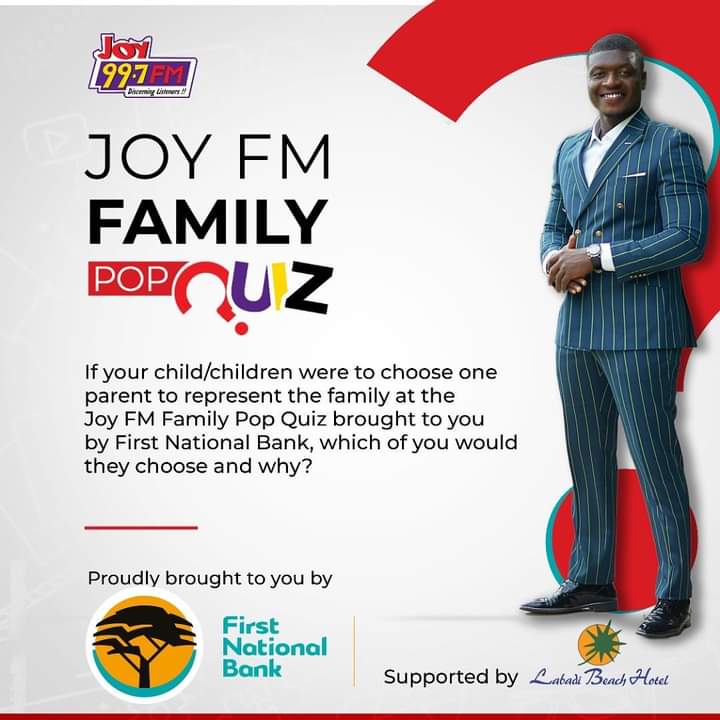 "Our studies show that many families in Ghana do not have financial goals or targets, so one of the things we're bringing to the table is that, for people who win, we are helping you to start that financial journey for the family. We will set you up on the journey to financial freedom for your family", the bank's Brands Manager, Kwamena, disclosed.
First National Bank proves to take absolute delight in family ties, apparent in Kwamena Budu's final words, "what better way to help than partner with Joy FM Family Pop Quiz".
Joy FM Family Pop Quiz goes live on Joy 99.7 FM on Sunday May 1, 2022, and will broadcast every Sunday from 3pm to 4pm, with renowned broadcaster Lexis Bill as its host.
Interested families are encouraged to apply for participation by simply sending the name of family, name of participants, and hashtag #JoyPopQuiz to Whatsapp number 0551111997.
DISCLAIMER: The Views, Comments, Opinions, Contributions and Statements made by Readers and Contributors on this platform do not necessarily represent the views or policy of Multimedia Group Limited.