Chief Executive of the Forestry Commission, John Allotey has commended staff for their immense contribution towards some enviable international feat by the organisation over the years.
Speaking at the Chief Executive's end-of-year briefing and staff recognition awards at Achiawkrom on Monday, Mr. Allotey appluaded the 3,700 permanent and 35,000 contract staff for playing a key role in chalking the feat.
The Commission attracted international funding in excess of over $80 million for two proposals on climate change.
A land cover map of Ghana was also developed by the Commission with the support of the Kwame Nkrumah University of Science and Technology, University of Edinburgh and other local and foreign collaborators.
The land cover map is a project of the Resource Management Support Center of the Forestry Commission.
It gives comprehensive details of Ghana's forest cover which currently stands at 6.5 million hectares.
This is the first time in several years that such a map has been developed.
Mr. Allotey said, "For the first time, we have a comprehensive map that is able to tell us what the forest situation is so far as Ghana is concerned. As we speak now, we know that we have 6.5 million hectares of forest. And we know which constitutes open forest and which constitutes closed forest. Their work is also able to segregate forest trees from cocoa. This is very important in terms of traceability."
The Commission's CEO also noted that the Climate Change Directorate of the Commission had two projects, the Ghana Cocoa Forest Redd+ Program and the Ghana Shea Landscape Emission Reductions Project, approved by the World Bank and the Green Climate Fund.
"This makes Ghana the only country accepted to participate in the 1 billion US-dollar private sector-driven project implemented by a coalition led by the United States of America, UK and Norway.
This particular work started with the Climate Change Department identifying this coalition, making the necessary applications, then supported by the Minister of Lands and Natural Resources and as we speak, Ghana is the only country that has been accepted to participate in this particular 1 billion Dollars," he said.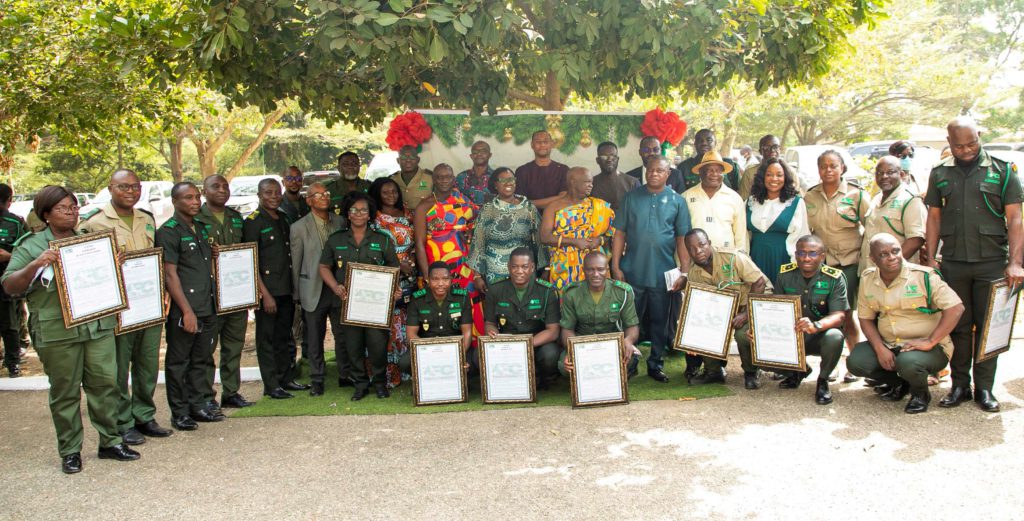 In all, 18 staff who distinguished themselves over the period were awarded with cash prizes, refrigerators and television sets and citations.
It was the first time the awards were being held outside Accra.
Meanwhile, the Ashanti Kingdom Landscape Restoration Programme hopes to plant 100 million trees in the Ashanti Kingdom.
Among dignitaries that attended the event were, the Amakomhene, Nana Adu Mensah Asare who represented the Asantehene, Tetrete Okuamoah Sekyim II-Paramount Chief of Wassa Amenfi, and the Board Chairman of Forestry Commission, Katakyie Kwasi Bumangama II.
DISCLAIMER: The Views, Comments, Opinions, Contributions and Statements made by Readers and Contributors on this platform do not necessarily represent the views or policy of Multimedia Group Limited.