After sharing with managers essential tips on how to build championship-winning squads for this season in Episode 1, the FPL Champ & Ambassador moves to key strategies to be used in the 38-gameweek season.
FPL Ambassador's Episode 2
Triumphing in FPL is not all about having a superb solid squad. It's also about how you smartly play the game across the lengthy season. So let's look at 5 proven key strategies to winning FPL leagues.
Must Haves
Some players are considered FPL Gold such that no matter their price in Fantasy Premier League, they excel. These players are set to be among the Top point scorers at the end of each season. They include 12 million Bruno Fernandes, 7.5 million Alexander-Arnold, 12.5 Salah/Kane and 12.0 De Bruyne. Let me use the opportunity to give special acknowledgement to one of FPL Gold legends, Aguero who left City last season after 10 years of giving FPL managers unquantifiable delight.
At every point in time in the season, we need to have at least a combination of 2 or 3 of these players no matter their price whilst watching out for new 'Must Haves' that might also pop up as the season goes along like how Son, Calvert-Lewin & Gundogan were among the must haves for last season.
Transfer Policy
Like real football managers, the players we buy into our squads should augment the ability of our teams to perform better each game. FPL gives each manager in the world ONE FREE TRANSFER each gameweek and thus managers need to carefully plan which player to transfer out to make room for a new player in a gameweek or even decide not to make any transfers at all.
As managers, we are always tempted to make more than one free transfer each week because we want all the currently performing players in our squads but this comes as a risk of a deduction of -4 points for each extra transfer we make. Meaning -40 precious FPL points for every 10 extra transfers we make across the season.
Thus it's recommended that we try as much as possible to make only one transfer a week or roll over the transfer to the next week so that we can make two straight transfers the next week with no points deduction.
Gameweek Captains
Captains are so important to Fantasy Premier League success that in Episode 1, I suggested we always have at least 2 captain potential players in our teams.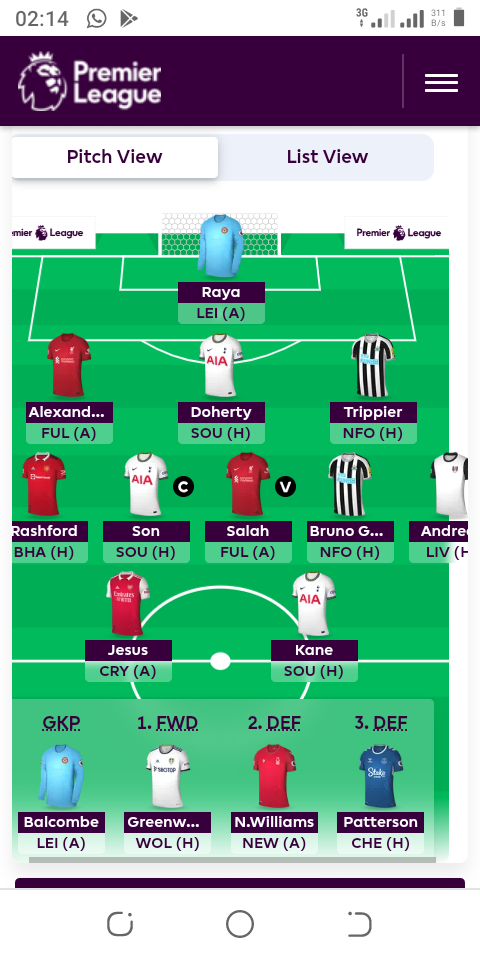 Don't captain a goalkeeper or a defender for any week with the exception of Liverpool's Alexander-Arnold.
or Robertson. Captain a player based on his performance over the last few weeks and his current opponent such that he is very likely to bring in big-point hauls via goals or assists.
Don't forget to always select your vice-captain for each week since, in the event of your captain missing that week's match, your Vice-captain's point will be doubled.
Chips Use
FPL Chips are like boosters or special weapons we use in video games: they boost our performance anytime we use them. And thus it's important how we plan and use them.
a) Wildcard– Each manager is given 2 wildcards to use across the season (one in each half of the season). A wildcard allows us to change our whole 15-man squad at any point in the season with no points deductions.
The top FPL managers recommend that our 1st wildcard be usually played around GW 4-9, when managers might want to reorganise their squads based on the performances of players in the first few weeks of the EPL season. So as a manager, kindly study players from all teams to know which players to bring into your team by the time you are wildcarding around GW 4-9. Some Top Managers also decide to delay their 1st wildcard and play it around the Christmas festive fixtures due to the unpredictability and rotation of team sheets.
b) Triple Captain– The triple captain chip when played triples our selected captain's gameweek points instead of the normal doubling. Thus, it is used when we expect big hauls from our captains such as when a Harry Kane/Salah is expected to meet a Sheffield United of last season.
However, FPL Experts recommend that we play our Triple Captain chips in Double Gameweeks later in the season when some players/teams have two matches in the same game week.
c) Bench Boost- The Bench Boost chip just as the name says boosts our bench such that the points of our bench players are actually added to the total points in that gameweek. This gives us an added advantage in that week since we get points from all our 15-squad players rather the normal point-scoring from only our FIRST XI.
(Also recommended to be played during a Double Gameweek)
d) Free Hit– The Free Hit chip allows managers to change their whole squad for one gameweek (with no points deduction) and revert to their original squad the next game week.
The Free Hit chip is usually used in a week most of our players are injured or have blank game weeks so that we can field a team of players that are assured to play that gameweek.
NB: As the season proceeds, I will be giving further insight here and on the FPL AMBASSADORS SHOW on YouTube on how best to deploy our vital FPL chips for this season.
Adaptability
Every FPL season is different so it's important that as managers we adapt our selection choices as the season unfolds. Top FPL managers who had doubled up on Liverpool's fullback of TAA & Robertson realised early on last season that the lack of clean sheets in the ever-reliable Liverpool defence meant they had to let go of these FPL gems with their underwhelming points return last season. I, though was still adamant about selling Alexander-Arnold till it hurt me so much that I had no option but to let go of my beloved TAA. Even as an experienced manager, I should have known and reacted better adaptability-wise.
I believe if we all adapt to the season and don't become adamant in some of our decisions as managers, a victorious FPL season awaits us all.