An activist has been fined €1,000 (£901) for removing an African artefact from a Paris museum in protest at France's colonial-era looting of art.
Emery Mwazulu Diyabanza grabbed a 19th Century Chadian wooden funerary post from the Quai Branly museum in June in a protest that was live-streamed.
He said he had "come to claim back the stolen property of Africa". Fining him for aggravated robbery, the judge said he wanted to "discourage" similar stunts.
"You have other ways of drawing the attention of politicians and the public" to the issue of colonial cultural theft, he said.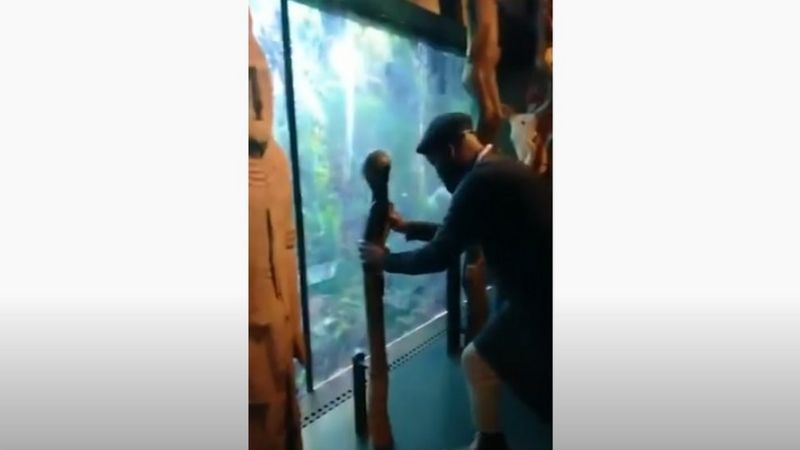 Three other activists who joined Diyabanza at the museum received suspended fines of €250, €750, and €1,000, AFP news agency reports. A fourth was cleared of the charges.
In the half hour video posted to YouTube, Diyabanza is seen wresting the slender post from its fixings. He, along with the other activists, then carry it through the museum shouting "we're bringing it home" but is prevented by guards from exiting the museum.
Diyabanza, from DR Congo, has carried out similar protests in other French cities and in the Netherlands.
He told the New York Times last month: "The fact that I had to pay my own money to see what had been taken by force, this heritage that belonged back home where I come from – that's when the decision was made to take action."
He described the Quai Branly as a "museum that contains stolen objects". The funerary post he grabbed was said to have been a gift from a French doctor and explorer.
A report commissioned by President Macron in 2018 counted some 90,000 African artefacts, much of them art and cultural objects from sub-Saharan Africa.
In the past week, French lawmakers voted to return some prized artefacts to Benin and Senegal that were seized during the colonial era and have been displayed in Paris museums. The artefacts include the throne of Benin's King Glele and a sword and scabbard once said to have belonged to Senegal's military and religious figure, Omar Saidou Tall.
France is not the only country facing protests over its stolen colonial-era artefacts. In the UK, a 33-year-old man, Isaiah Ogundele, was found guilty in absentia last month of threatening behaviour during a protest at the Museum of London's slavery-related gallery after he reportedly toppled a number of sculptures from their plinths.
DISCLAIMER: The Views, Comments, Opinions, Contributions and Statements made by Readers and Contributors on this platform do not necessarily represent the views or policy of Multimedia Group Limited.