"Dress how you want to be addressed" is an interesting dress-related quote I found. Unfortunately I could not find the author.
I guess the import of this quote is the reason most leaders up their game, in terms of dressing, when they assume office.
In Ghana, we have termed dressing as 'spotes'. I don't know the origin of the word. But it means clothes and or dressing in Ghanaian circles.
I have seen newly appointed bosses who had publicly vowed not to wear suits, suddenly don the western garment in our hot tropical weather for most occasions, with sweat on their brow.
There are those who used to dress casually, but switch to Kaftans and other decent clothes immediately they are appointed to certain positions.
Our political leaders are no exception. From Osagyefo Dr. Kwame Nkrumah to President Nana Addo Dankwa Akufo-Addo (NADAA), each had and has a unique way of dressing.
Kwame Nkrumah was the first Prime Minister of Ghana. His tenure started on 6th March, 1957 when we attained Independence from colonial rule. He became the First President of the First Republic, on July 1, 1960 (upon our attainment of Republican status) until his overthrow on February 24, 1966.
I did not live through the Nkrumah era but I have read about him extensively, thus can state unequivocally and in unison, with his ardent fans, that the "show boy" was a visionary leader with a good dress sense.
Photos of him I have seen indicate that he wore the smock (fugu), Chinese-collar suits and western suits for official assignments. He spotted Kente too, although rarely.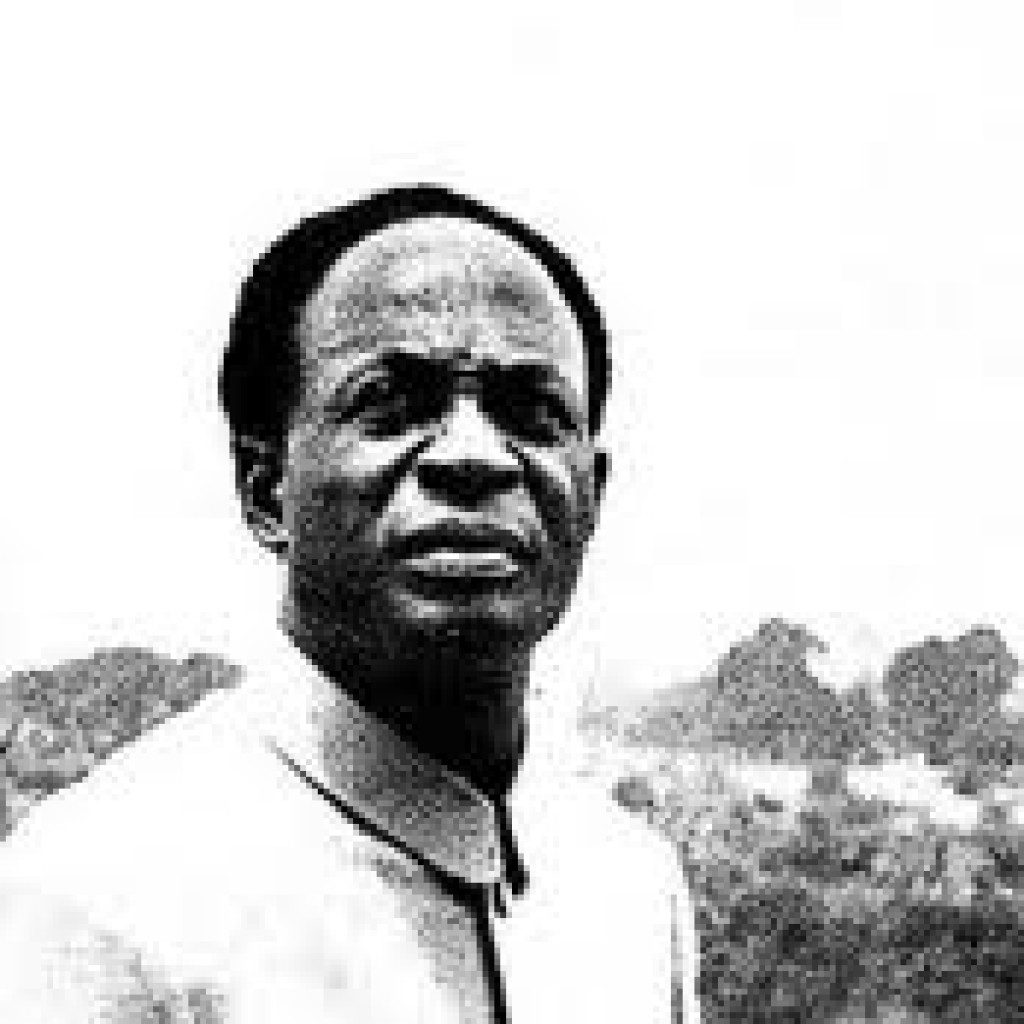 As a military leader, I guess General Joseph Arthur Ankrah, who served as the 2nd President of Ghana, from February 24, 1966 to 1969 in the position of Chairman of the National Liberation Council (NLC), had not much of a choice but to wear the military fatigue. There is however one photo of him I have seen in which he spotted a suit and tie.
All pictures of Lieutenant General Akwasi Amankwaa Afrifa, the next in line, I have come across shows him in military uniform. He was the Head of State and leader of the military government from April 2, 1969 to August 7, 1970.
The Second Republic started with Mr. Raphael Nii Amaa Ollennu, as Acting President of Ghana. Indeed, he spent three weeks and three days in office (August 7, 1970 to August 31, 1970). As a Justice of the Supreme Court, it was not surprising to me that the photo I found of him, was taken in western suit.
President Edward Akufo-Addo is the father of incumbent President Nana Akufo-Addo. The politician and lawyer that he was, he wore suits during his tenure – August 31, 1970 to January 13, 1972. That's according to the photos I have seen.
Dr. Kofi Abrefa Busia, who was the Prime Minister of Ghana under the Progress Party (PP) until 1972, chose between suits and Kente for official assignments. Per photos online.
As a soldier, Colonel Ignatius Kutu Acheampong, another military Head of State, who ruled from January 13, 1972 to July 5, 1978, when he was deposed in a palace coup, donned the military uniform for official duties. He was the Chairman of the National Redemption Council (NRC).
Lieutenant General Frederick William "Fred" Kwasi Akuffo, was Head of State and Chairman of the Supreme Military Council (SMC) in Ghana from 1978 to 1979. Military uniform was his official attire per pictures seen.
Flt. Lt. Jerry John Rawlings was Head of State from June 4, to September 24, 1979 under the Armed Forces Revolutionary Council (AFRC). Military fatigue was his costume for all occasions, as captured by photographers. There is however that interesting wedding picture in which he is seen wearing a unique Kaftan.
Dr. Hilla Limann was the first and last President of Ghana in the Third Republic. His tenure spanned September 24, 1979 to December 31, 1981 when Flt. Lt. Jerry John Rawlings ousted him. Being an indigene of Gwolu in the Upper West Region of Ghana, President Hilla Limann loved the smock (Fugu). He was also seen in suits. And there is this beautiful picture of him wearing a Kente jumper and a hat- the northern style.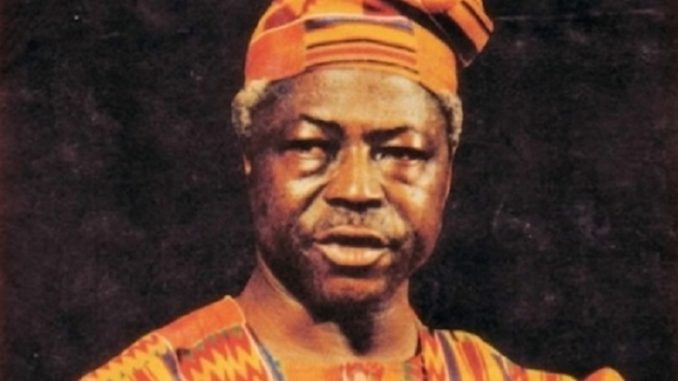 Having returned as military Head of State through the December 31, 1981 coup, Flt. Lt. Jerry John Rawlings continued wearing the military uniform. This time, it was mainly the camouflage.
It was when he became President from January 7, 1992 to January 6, 2001, in the Fourth Republic, that he introduced the smock over long-sleeved-shirt style. This caught on and became the preferred dress code for many Ghanaians, especially to international conferences.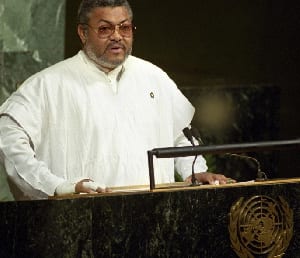 However, a careful review of Dr Nkrumah's photos revealed that this shirt-smock combination may have been originated by the Osagyefo. Although the 'show boy' wore his with short-sleeved shirts.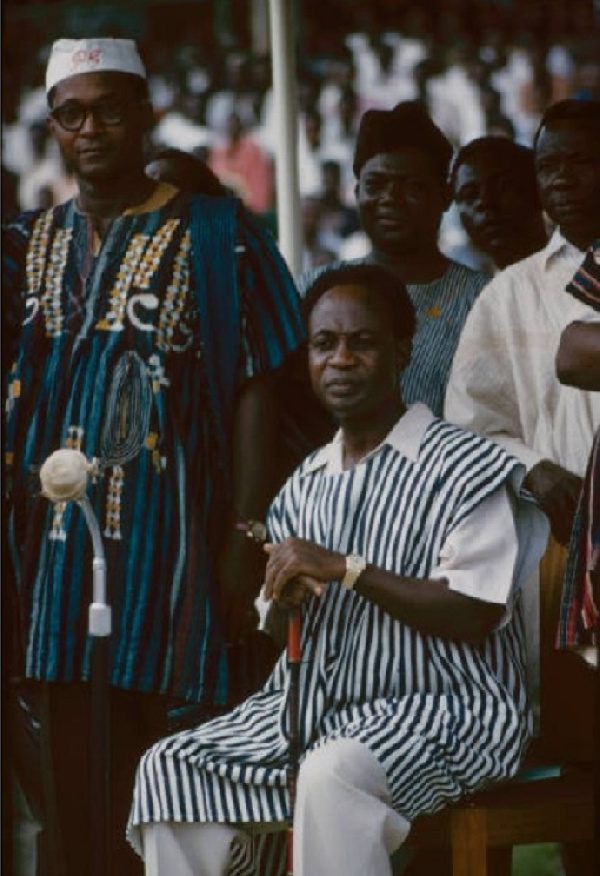 Mr. John Kofi Agyekum Kufuor (JAK) was the second President of Ghana in the Fourth Republic, from January 7, 2001 to January 6, 2009. Apart from wearing Kente during his inauguration as President, JAK the Lawyer loved suits. At a point, there was what seemed to be a public outcry when he appeared at an Independence parade in suit.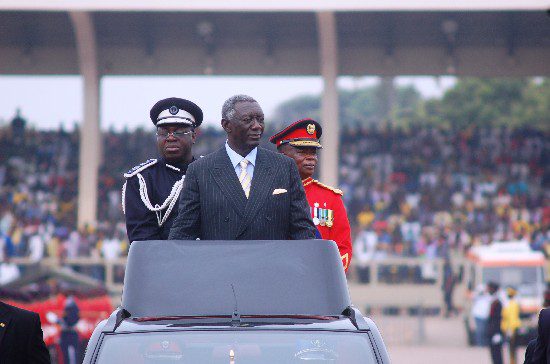 However, when his protégé, Allan Kyeremanten introduced the Friday Wear initiative, he localized his dressing a bit. Long-sleeved shirts, usually white in colour, were used to vary the suits. He also spotted some African prints, occasionally.
Still in the Fourth Republic, the Asomdwehene, Professor John Evans Fiifi Atta Mills was President of Ghana from January 7, 2009 until his death on July 24, 2012. The Nkrumahist that he was, he donned mostly Chinese-collar suits, western suits and Mexican-styled-short sleeved shirts and Kaftans in between. He also loved wearing Kente on national occasions.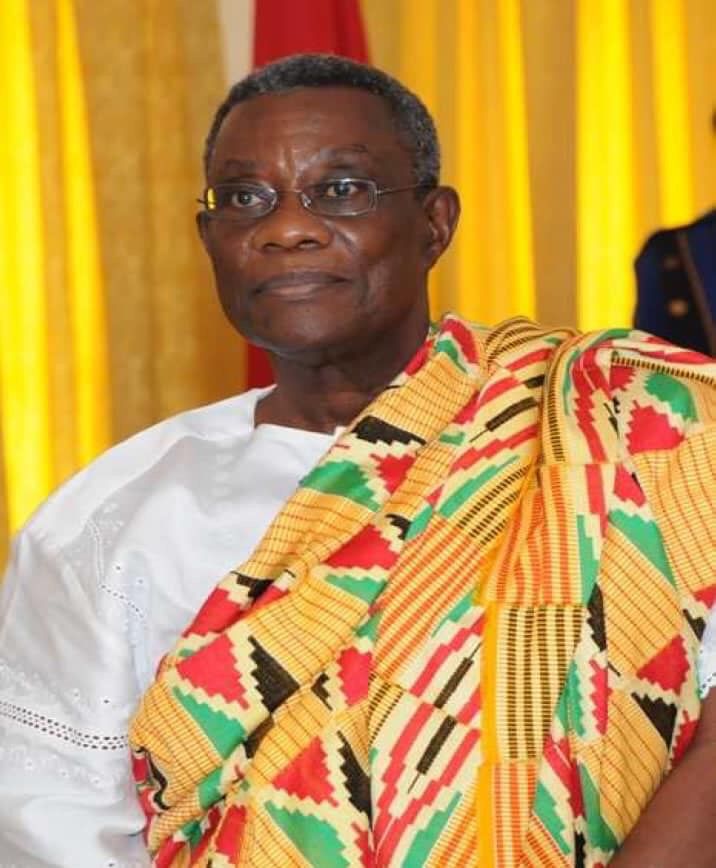 Mr. John Dramani Mahama was President of Ghana from July 24, 2012 to January 6, 2017. He served as Vice President from January 7, 2009 to July 24, 2012 when he took office as substantive President after the death of Prof. Atta-Mills.
President Mahama, the Communications Specialist that he is, seemed to have taken his lessons on dressing to suit the occasion very seriously. He combined western suits, kaftans, long and short sleeved shirts, some local and others foreign. He is the only President who spotted T-Shirts for political campaigns. Not forgetting the inscription JM on the sleeves.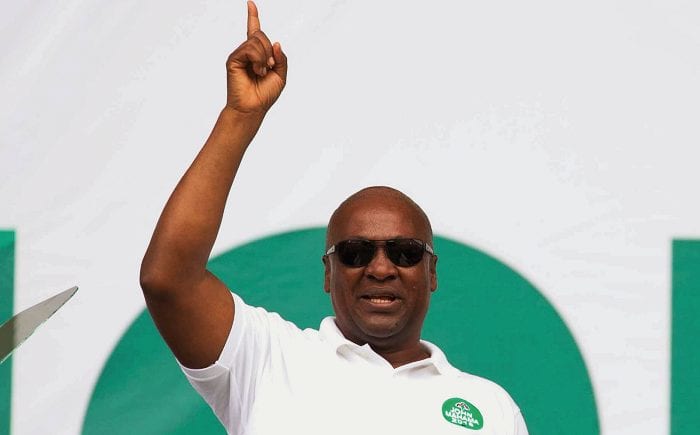 Now to President Nana Addo Dankwa Akufo-Addo (NADAA). He has been in charge as Ghana's President since January 7, 2017 having been re-elected for his second term, which will end on January 6, 2025.
He has decided to wear made in Ghana shirts sewn with local prints for most occasions. Two unique features on these shirts are the two breast pockets and the security-like flaps on the shoulders.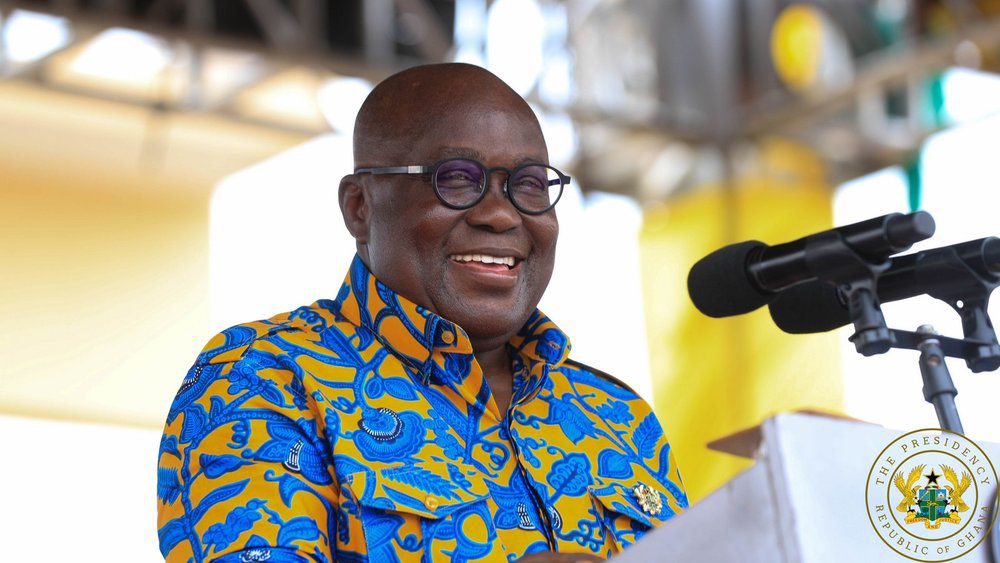 He wears suits only for official assignments and foreign trips. And fugu too- he prefers the short-sleeved type. But not often. This is commendable. Except that I wish he will wear them for the foreign trips as well, to showcase to his hosts what we are capable of, as far as fashion is concerned.
Essentially, NADAA has changed the Presidential 'spotes' in an unprecedented manner.
Watching from afar, it looks to me that the President likes change. He has altered many things apart from the dress code for Ghanaian Presidents.
The first thing I saw that impressed me so much was the modification to the look and feel of the Coat of Arms. I reckoned that some brainstorming was done and a decision was taken to mimic that of the United States of America. Super!
He has also changed the names of universities, added six new regions and altered the holidays that Ghanaians are used to. These days, people spend 1st July at work with their bodies while their minds are at the beaches, swimming- 'meet me there' on their minds.
At the beginning of the year, he changed some of the Ministers who helped him during his first tenure. And two weeks ago, he changed most of the Metropolitan, Municipal and District Chief Executives (MMDCEs) helping him at the local government level, much to their shock.
That's NADAA for you. The smooth operator.
The Presidential seat
As a symbol of office, Ghanaians have a Presidential Seat – Seat of state of Ghana. The seat was crafted under Kwame Nkrumah in the 1960s. Every new President sits on it after they are sworn into office.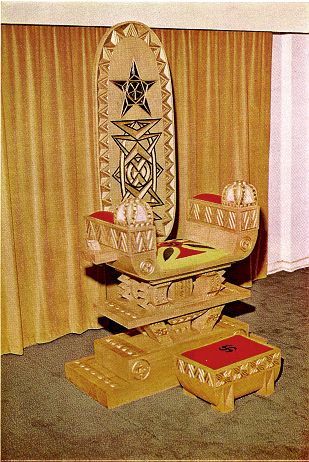 It is also used on special occasions. So far, I have seen it during the inauguration of Presidents and at the State of the Nation Address.
It is a carved wooden chair, overlaid with gold. It is made up of various Ghanaian traditional Adinkra symbols. Due to its huge size and weight, it is evident that it is not easily movable.
Thus, in line with his penchant for change, NADAA has created a 'frequently moved' Presidential chair since he assumed duty.
As I indicated in my article on how the then Ag. Inspector General of Police could make Ghana a security 'heaven', there is an unwritten template for public office holders.
I mentioned the items on the template as; outreach programmes to engage stakeholders, reshuffle staff and surround yourself with competent loyal people. And the emotive but critical one, change your predecessor's chair.
President Akufo-Addo Jnr has ticked all the boxes and in respect of the change of chair, he has done it in an 'out of the box' manner.
But I don't know what it actually is. Whether there are 16 chairs, that's, 1 Region, 1 Chair or there is only 1 roaming chair. With his pledge to protect the public purse, I want to believe that it is only one.
In that case, it means anytime he moves out of the office, the chair is put in one of the numerous Toyota V8s that form part of his convoy. The advantage here is that the security details are spared the easy job of sweeping chairs before Mr. President sits on them. The down side is the drudgery of moving the chair around.
Hmmmm, if you talk p3, they will say #FixYourself pic.twitter.com/94NYlni6PK

— Justice Baidoo (@justbaidoo) October 12, 2021
So far, I have seen the chair at the Asantehene's Palace, durbar grounds, academic convocations, Radio and TV studios and funerals.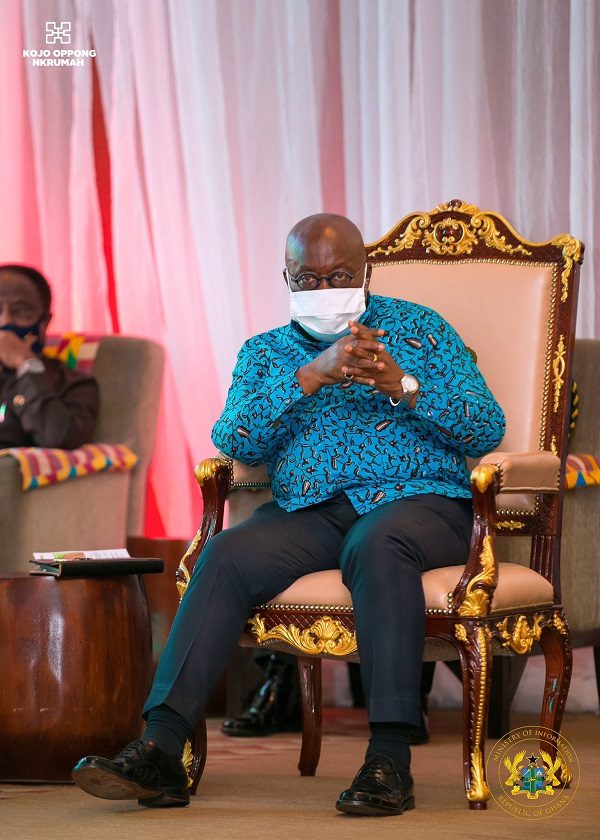 Thus, when I heard about NADAA's trips abroad, I watched closely to see if the chair will show up during the visit to Germany, UK, France, Belgium, South Africa and recently to America and now Serbia. I didn't see our chair. Unless I missed it.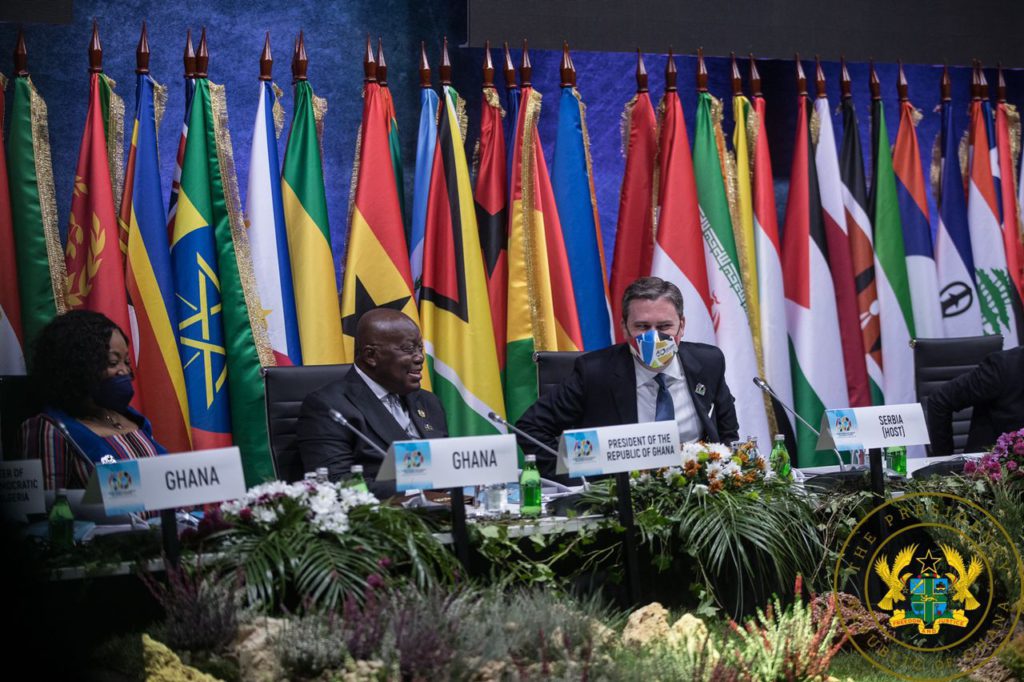 Wherefore I ask, if we can travel abroad without it, why the hustle in carrying one chair across Ghana. A clear case of 'yɛ di adiɛ'– by Daughters of Glorious Jesus. Hmm!
It's time to go
My observation is that African, and for that matter Ghanaian leaders love their positions. They usually will go every length to enjoy the post.
In fact, I know of a Public Service CEO, who upon receiving his Letter of Appointment started planning a big party. But for good counsel from the loyalists surrounding him, including yours truly, he would have had a big bash to celebrate his appointment. Why? You may ask. I didn't know until later when he started enjoying the post that I understood the motivation for the botched party.
Indeed, I know some public service leaders who forget that the position is temporary, until their tenure is over, when it dawns on them that these positions are held in trust for the people of Ghana- Not personal.
They disremember that it is a case of 'mƆko aya ni mƆko aba'- You serve your tenure and leave for your successor.
As a result, there are many instances of change of Date of Birth by Public Servants in order to perpetuate themselves in office. It is this canker that seems to have been extended to the Presidency, whereby African leaders are changing their constitutions to enable them have a third term in office.
Very soon, those who have succeeded at this, will be seeking fourth terms. Don't be surprised if it happens. Robert Mogabe did it until the Zimbabweans had enough of him.
That Alpha Conde's Aide de Camp, Mamady Doumbouya, led his overthrow is a lesson for loyalists whose bosses, get power drunk. Mamady seems to have told his former boss, "Wrong is wrong, no matter who does it…"- Malcom X. But now that he has been sworn-in as Acting President? Hm!
And to think that former President J.D. Mahama may want to be President again? What for? Former Member of Parliament for Bole Bamboi, former Deputy Minister of Communications, former Minister of Communications, former Vice President and former President. What else do you have to offer Ghanaians? That's a different topic for a different day.
What pains me is that because they are surrounded by tripled-loyalists, none of them is able to tell our leaders that, to quote Dr Randy Abbey, "the optics" don't send a good signal to the ordinary Ghanaian.
Otherwise, what's in a chair such that it has to be moved around for the President to sit on? If you expected an answer to the question in the headline, sorry to disappoint you. May be a rejoinder to this article will clarify. I can only speculate, just as I have done.
And ooh. The other day the Speaker of Parliament, Right Hon. Alban Kinsford Sumana Bagbin had cause to tell Majority Leader, Hon Osei Kyei-Mensah-Bonsu about how important his position is, "you have to be my friend not [for] me to be your friend, at least I have a position in Ghana, 'Number 3' what is your number?
Plus, there is this talk about alleged luxurious presidential travels with chartered flights. Because I don't have the competence to deal with it, I leave it in the capable hands of the person we have paid to do so, Hon. Samuel Okudzeto Ablakwa. Go Sammy! Go Sammy!! Go Sammy!!!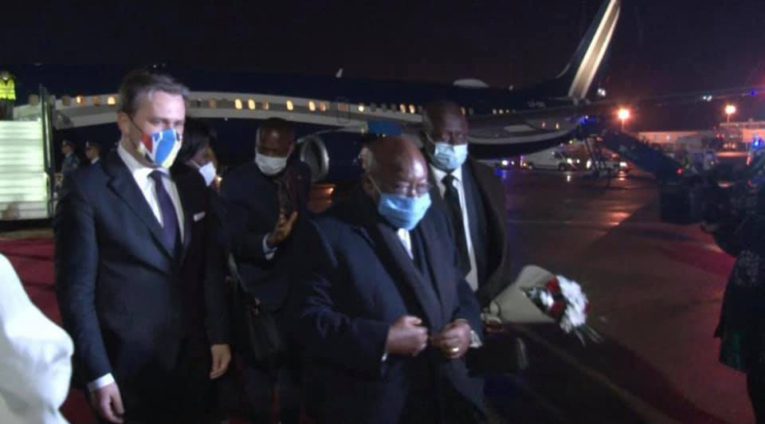 African leaders, chai!!!!
I hope I have not stepped on any toes though. 'Me suro nsu na mekeka yi oo'- I am scared yet I am saying it.
Adinkra – That's good bye in Akan.
Let God Lead. Follow him directly, not through any human.