Not long ago, the story was told, in a 'town' called social media, of a car freak of a father who chopped off the fingers of his five-year old son.
Reason? The toddler, as they always do, used a sharp object to write on the sleek brand new black Mercedes Benz Daddy just brought home.
In his fit of anger, Dad is reported to have remarked angrily; Ahh!!, see what you have done? Bring your hand…..- slash!! The embittered father used the sharp object to chop off the fingers that were used to 'destroy' his new 'babe'.
Few days later, Daddy returned the car from the garage, all sprayed and looking all nice without any trace of the scribble by the son.
The following dialogue ensued:
Son: Daddy, I see the writing is gone?
Daddy: Yes. If only you know how much your careless act, cost me!!!
Son: Daddy, I am sorry.
Daddy: Better be!!
Son: Daddy, so when will my fingers grow?
Daddy: (Silent and embarrassed).
The Apiate version of ground zero
The expression ground zero came to my attention when I was listening to the news in New York the day after the Twin Towers harbouring the World Trade Centre were shattered into smithereens and left debris over most of Manhattan. That was September, 12, 2001.
I later got to know that ground zero means- 'a starting point or base for an activity'. Essentially, those two wonders of American architecture were reduced to rubble. It turned out that the aviation fuel in the aircraft that rammed into the towers, was ferocious enough to melt the metallic building and destroy adjoining buildings.
About 21 years later, the people of Apiate, a town in the Bogoso area of the Western region were destined to suffer similar fate on January 20, 2022. That's according to my colleague, Shandy's conclusion on life and its happenings.
Personally, having undertaken my national service in a rural community (Twifo Pewodie in the Twifo-Hemang Lower Denkyira District of the Central Region), I can state without equivocation that on that fateful day, the cocks in the town crowed and everybody woke up with high hopes to witness dew wet items left in the open.
Leaves of plants would have borne evidence of dew that fell on them during the night. The untended goats would have bleated as usual, as they went round looking for grass and dry cassava peels to feed on.
Farmers would have gone to their farms and traders to the market to ply their trade. Housewives would have gone about their house chores and the 'aboboyaa' (Tricycle) and 'okada' (Motorbike) riders also went riding.
What was unbeknownst to everybody was that at about 1:25pm, one of the 'okada' riders will be compelled to stop suddenly because a car in front of him stopped abruptly. In the process, he will fall off the motorbike and the bike will skid on the road just like himself. That's according to the motor rider, Philip Mensah.
At about the same time, an explosives-laden DAF truck, owned by Maxam Ghana Limited, headed for Chirano Gold Mines, will collide with the skidding motorcycle and burst into flames, thirty minutes later.
The Ghana Police Service's blow by blow account is not substantially different, except it gives the impression that the rider rode the bike as it clashed with the explosive-carrying truck.
The aftermath is 14 lives lost and over 900 persons displaced. Very, very sad.
Suddenly, the town which was bursting with activities, turned into ground zero. Because virtually every building there, now stands damaged, some to foundation levels- a starting point or base for an activity. Quite sad.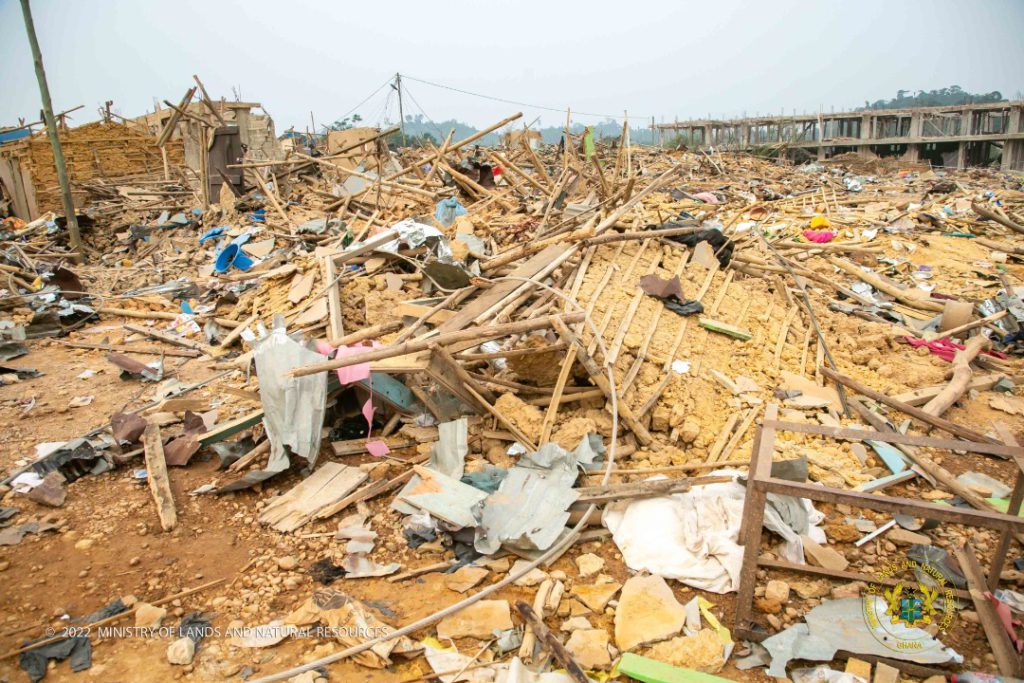 The incident is currently under investigation by the relevant agencies to ascertain the real cause. Government has set up a committee to help rally funds to rebuild the community and restore victims to their pre-disaster mood, hopefully.
And government's support so far is highly commendable, although I wish NADAA had been in the trenches personally, just for the sake of it.
Suspension of Chief Inspector of Mines, A knee-jerk reaction?
I have observed with keen interest, the energy levels of the Jinapor brothers- Samuel Abu Jinapor and John Abu Jinapor of the NPP and NDC respectively.
Their commitment to the cause of Ghana is definitely not in doubt. Actually, they have made a case for appointing young professionals into government. To be able to catch the eye and have the ear of the most important person in Ghana, is no mean achievement. And they have done it interchangeably. Kudos Guys.
They are able to use their command over the English language to bamboozle their way out of discussions on national issues much to my admiration, most times. Their parents should be feeling very proud to have their sons, as young as they are, to be at the helm of decision making in the republic.
However, since assuming the position of Minister for Lands and Natural Resources, I have had cause to be concerned about some acts of commission by Hon. Samuel Jinapor Esq, MP for Damongo.
The first instance was when Asantehene, Otumfuo Osei Tutu II, disclosed that Mr. Samuel Jinapor pleaded with him to stick to the text of a speech his Ministry had written for the Asante King to be delivered at a forum in Kumasi. My Akan friends will ask, 'opanyin nni ofie anaa?'- Such indiscretion!!
Subsequently, his Ministry recommended the burning of excavators used in illegal mining instead of same being confiscated and assigned to Metropolitan, Municipal, District Assemblies (MMDAs), for use in road construction, dredging of silted drains etc. Somehow, he and Hon. Dominic Nitiwul managed to get Cabinet approval for this decision. Hm!
This year, Brother Sammy is at it again. He has been accused of taking a decision that smacks of knee-jerk reaction. Why? It was a Mining Engineer, Theophilus Dzimegah, who described Mr. Jinapor's directive to the Chief Executive Officer of the Minerals Commission, Martin Kwaku Ayisi, to interdict the Chief Inspector of Mines, Richard Kofi Adjei, as a knee-jerk reaction.
According to Google, "If you call someone's response to a question or situation a knee-jerk reaction, you mean that they react in a very predictable way, without thinking."
But this is how Ing. Dzimegah explained his assertion, "we shouldn't have interdicted the Chief Inspector of Mines at this stage. We are yet to even have a preliminary report. So it will mean that we're jumping too quickly."
Here is what happened. In the letter dated Friday, January 21, 2022, that requested the interdiction, Mr. Jinabor Esq. stated inter alia, "Pursuant to Regulation 2 of the Minerals and Mining (Explosives) Regulations, 2012, (LI 2177), the Chief Inspector of Mines is the chief inspector of explosives, and is responsible for the supervision of the manufacture, storage, transportation, and use of explosives for mining and mine support services."
Obviously, Brother Sam relied on the principle of ultimate responsibility. But if this principle would be applied fairly, one would have thought that he and President Akufo-Addo are best placed to be held ultimately responsible for this misfortune, not Mr. Adjei, or?
Let's see what Google has to say- "Ultimate responsibility is the final responsibility of the manager who gets the work done through employees" and operating responsibility is the responsibility or obligation of the person who actually does the work.
Perhaps Mr. Janapor realized this, hence the clarification he made on JoyNews' Newsfile on Saturday, January 22, that, the interdiction is not to fault Richard Kofi Adjei for any wrongdoing.
Dear reader, to google again I went- What does interdiction mean in government? I typed. "Interdiction refers to a temporary removal of an officer from performing his normal duties. An officer may be interdicted when disciplinary proceedings for his/her dismissal are being undertaken or are about to be undertaken. Interdiction may also take place on the grounds that criminal charges are pending."
I am afraid to draw the logical deduction here, seeing as Sammy Jinapor is a Lawyer. But that conclusion seems 'sure banker'.
Suffice it to say that, for no fault of his, Mr. Adjei is going to lose half of his salary for the duration of the investigation, although he was nowhere near the accident- yes accident- "an unfortunate incident that happens unexpectedly and unintentionally, typically resulting in damage or injury."
Closure of Maxam Ghana Limited (MGL)
The next decision to be announced by Brother Sammy was to order the Minerals Commission to suspend the license issued to MAXAM Company limited (MGL- This is what I call coincidence).
"We apply all our talent, energy and knowledge to the mining, civil engineering, defence and sport shooting cartridge sectors, anywhere in the world" is how the company is introduced on its website.
This is how www.myjoyonline.com reported the directive, "Following the directive by the Minister for Lands and Natural Resources, Samuel A. Jinapor, the Western Regional Inspector of Mines has, in accordance with an order from the CEO of Minerals Commission, shutdown operations of MAXAM Company Limited on Saturday 22nd January, 2022.
Mr. Isaac .K. Mwimbelle, the Western Regional Manager of the Minerals Commission said, the shutdown of the entity is to pave way for further investigations. He added that the Minerals Commission has issued a prohibition notice to the company, barring them from undertaking any form of activity at the site.
"Based on the initial investigations that we are conducting, we find it prudent to evoke the law which states that if the inspector has any reason to believe some operation can result in further danger, then we should cause a cessation of same.
We issued what we call Prohibition Notice which means they are not allowed to hold any activity on the site and they are to remove equipment from the site for their own safety."
The key elements I picked from this communique are:
To pave way for further investigations
To forestall future happenings
Barred them from undertaking any form of activity at the site
Wherefore I ask:
Which investigation would be more productive than one that involves a mole in the company who provides undisputable evidence of all possible breaches of safety protocol by the company?
How would you be able to ascertain the real situation on the ground with regard to breaches of safety protocol when the company has been prohibited from "undertaking any form of activity at the site."
To forestall future happenings of a motorcycle ramming into an explosives-laden truck? Or future happenings of breaches of safety protocol on the premises of the MGL?
Were we not in this country when an adequately escorted President Kufuor's vehicle was crushed at the Opeibia intersection?
What about the heavily armed military escort of President Rawlings that was crossed by a 'Trotro' on the Accra-Tema Motorway?
Are we going to have the usual 'inspector' scenario whereby Management of MGL will be informed that, "on this date and time, members of the Committee will undertake investigations at your site to assess your level of compliance with safety protocol. Kindly ensure that members of the Committee are provided with all the necessary courtesies to ensure a successful exercise?"
Would this not amount to shutting the stable door after the horse has bolted?
Essentially, is the closure of the company, the most prudent decision under the circumstances?
My answer to the last question is an unmitigated NO.
This is why- "Prudent decision-making can be thought of as decision-making driven by long-term consequences rather than immediate outcomes. The consequences of our decisions can fall on others or they can fall to ourselves"- http://journal.sjdm.org/jdm06013.pdf.
Let's first consider 'fall on others'.
Conservatively, one can say that MGL employs about 100 Ghanaians. What happens to the salaries of these staff during the pendency of the prohibition?
What happens to contracts signed between MGL and other mining companies for the delivery of explosives or other services of theirs? How would these companies obtain stock to keep operating? If they are unable to operate, how will they be able to pay royalties to the chiefs and government?
MGL uses phones to communicate and pays bills to keep other private entities thriving, how about that?
Now, to 'fall to ourselves'.
Undoubtedly, MGL pays corporate taxes, pays income taxes for employees, collects VAT on behalf of government and pays water and electricity bills to the utility companies etc.
With the closure however, all these revenues to the state have ceased forthwith.
Let me hasten to add, that MGL may be engaged in some form of Corporate Social Responsibility that benefits the community in which it operates.
But all that was lost on Brother Sammy when he decided to close down the company. It had to take a complaint from the Ghana Chamber of Mines to prick his conscience regarding the propriety or otherwise of the closure of MGL.
Speaking exclusively to Joy Business, Chief Executive of the Ghana Chamber of Mines, Mr. Sulemanu Koney, said the country will lose a lot, if MGL does not resume operations immediately.
"The calculations we did as a Chamber indicates that a lot of revenue will be lost, at least to the tune of $1.75 million on royalties per week. If this is for royalties alone, then you can imagine the other forms of taxes and levies mining firms may have to pay and its impact on government revenue."
"I can tell you it's really a big blow to the industry and government; trust me, most of the companies are on the verge of closure because stocks may be running out and without explosives, we cannot blast or do any major mining activities." Mr. Koney lamented.
After these words of wisdom were spoken, an audibly sober Lawyer Jinapor had this as a response for the JoyNews team:
"I had a meeting with the Chamber and the Chamber brought this matter to my attention. They've since written to my office. It is a very important factor that we have to consider in the decisions we take moving forward.
We need to assemble the basic facts before we can take a decision as to whether to lift the ban or not. The Minerals Commission is engaged in that work, let's give ourselves a few days."
"It is a very important factor that we have to consider in the decisions we take moving forward?"
Was this also a knee-jerk reaction? I leave it to your judgement.
It's time to go
I can say however, that it is a clear case of killing a fly with a sledgehammer or if you like, using a surgical knife to slice a bread. Worse still, killing a fly with a bazooka or shooting a cannon into sparrows.
By the way, the idiomatic expression means- being excessive in the application of sanctions.
I first encountered this expression in 2012 when former President Kufuor used it to describe treason charges against Hon. Kennedy Agyepong. The MP for Assin Central, was charged for allegedly inciting Ashantis against Gas and Ewes following pockets of violence that characterised the biometric registration exercise taking place at the time.
It was reported that former President Kufuor felt the charge was too strong and likened it to a sledge hammer being used to kill a fly. "Treason is the highest criminal offense of the land and must be used lightly," Kufuor said.
In reaction, then Vice President John Dramani Mahama is reported to have said something to the effect that, 'this fly will be killed with a bazooka!!' You can laugh to that.
But I am taking a leaf from Ex-President Kufuor's opinion, in this instance.
Yes. It's not like the accident happened on MGL's premises. Neither is it the case that the driver of the explosive-laden vehicle crushed into the Apiate community having burst a tire or lost control of the vehicle. It is equally not a case of the explosives leaking while the vehicle drove through the town. It was a road traffic ACCIDENT!
Well, I have said 'my own'. I hope I have been able to further point out to Brother Sammy, the need to as quickly as possible, reinstate MGL's license and allow it to resume operations ASAP.
You can effectively assess the company's operations while it is in operation not the other way around 'sah.'
It is when this has been done, that I will humbly ask my younger brother, Hon. Samuel Abu Jinapor Esq., 'Bro, how will we recover the revenue lost to the state?'
I hope he will be able to provide answers and not imitate Daddy, as narrated in the introduction to this piece.
Hm! Ghana. We like taking decisions that cost, instead of benefiting us. Otherwise, what is the rationale for imprisoning someone who steals a goat? We put him or her behind bars and feed, clothe, provide water and electricity for the duration of their incarceration, free of charge.
Sai angima – that's goodbye in Hausa.
Let God Lead. Follow Him directly, not through any human.
The writer works with myjoyonline.com. Email: eric.mensah-ayettey@myjoyonline.com