Talks between the BBC and Gary Lineker are said to be "moving in the right direction" after a second day of scheduling disruption.
BBC News understands there are hopes of a resolution soon but not all issues are "fully resolved" at this stage.
Weekend football coverage was disrupted due to walkouts triggered by the Match of the Day host's suspension.
Director General Tim Davie has apologised to licence fee payers for the changes.
Presenters, pundits and commentators pulled out of BBC football coverage in support of Lineker, who was taken off air for criticising government asylum plans.
TV and radio coverage was hit throughout Sunday, with the stand off between the host and the BBC continuing.
It followed an unprecedented day of turmoil for the BBC's sports operation on Saturday, with some of the most recognisable faces and voices associated with the broadcaster walking out.
BBC Two's Sunday afternoon coverage of the Women's Super League went ahead without studio analysis and had to rely on world feed commentary, while Radio 5 Live was forced to plug gaps in the schedule with pre-recorded programmes for a second straight day.
Match of the Day 2 followed the main programme's much-reduced format – airing for just 15 minutes – and was without the usual commentators and host Mark Chapman.
The show started the same as Saturday's Match of the Day, where a continuity presenter apologised for the lack of commentary, which was followed by the opening credits that featured the words: "Premier League Highlights" without the usual theme tune and credits.
Match of the Day was also cut to a 20-minute highlight reel with no punditry, commentary or opening theme, though viewing figures were up by almost half a million at 2.58m.
Radio coverage of Premier League fixtures went ahead but commentator Alistair Bruce-Ball told listeners it had been a "difficult decision" to make.
Speaking ahead of the Fulham v Arsenal match, he said: "It's been a very difficult decision to make personally – I can assure you it's not been taken lightly – but I'm a BBC staff member, I'm a radio commentator for this station and, just like yesterday, we are here to provide our football service to you, our audience."
Paul Armstrong, a former Match of the Day editor, said there was a "lack of consistency…and clear guidelines" for how impartiality implies to sports staff.
He said he "wasn't in the least bit surprised" by the collective response from presenters, pundits and commentators, adding: "I don't know why BBC management didn't realise that these guys are a team… and that if you attack the captain, the others are going to withdraw their labour."
Prime Minister Rishi Sunak said the issue between the BBC and Lineker should be resolved by the BBC itself.
Speaking to reporters on a plane journey to a talks with the US president in San Diego, he did not directly answer a question about whether he had confidence in Mr Davie – and when asked if he would meet Lineker to talk about the issue, he replied that "it's not about any one person".
The BBC has not commented further on behind-the-scenes efforts to resolve the situation.
The presenter's suspension over his criticism of the government's asylum policy has triggered a wider debate about BBC impartiality, the government's asylum policy and the position of the broadcaster's chairman Richard Sharp.
Mark Thompson – who served as BBC director general between 2004 and 2012 – said enforcing impartiality rules for non-news staff was complex, noting that "the BBC has walked into the 21st Century".
Appearing on Sunday with Laura Kuenssberg armed with the BBC's latest impartiality rules, he urged everyone to calm down and said in his view that the star's tweet had probably crossed the line, saying there is a "grey area" around sports presenters.
But he said he hoped the presenter would be back on air soon, and that he hoped and believed BBC Director General Tim Davie would survive the row.
He went on to call the situation an "unhappy accident" and urged the BBC to "ignore the papers", saying he knew Mr Lineker well enough to "believe in his good faith".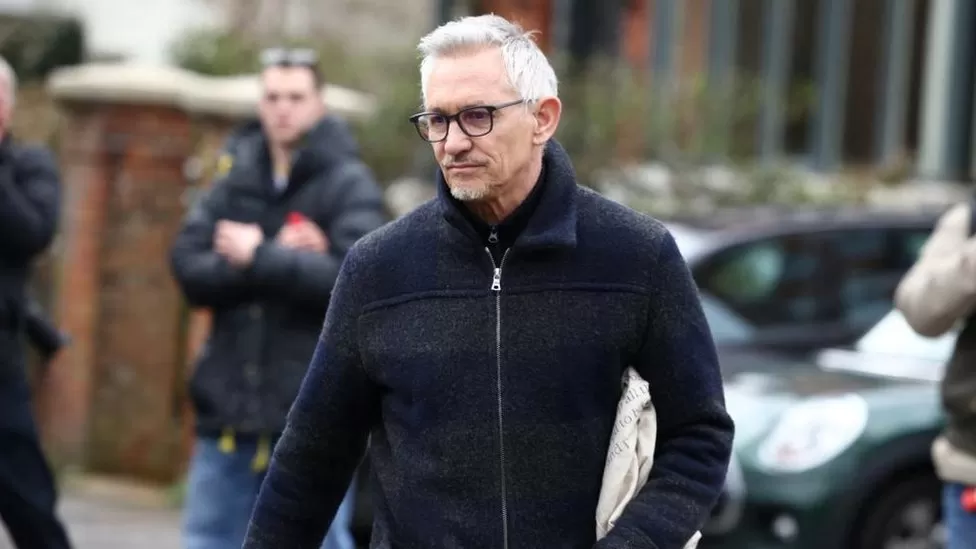 On the same show, Peter Salmon, who was previously the corporation's head of sport, said the BBC's impartiality guidelines were "opaque" and urged bosses to "get this sorted out".
Chancellor Jeremy Hunt – who earlier said he "profoundly" disagreed with Lineker's tweet – told the programme that he thought "making sure the BBC maintains its reputation for independence and impartiality is the outcome that matters most".
But he declined to say whether he thought Lineker should remain as Match of the Day presenter.
Mr Davie told BBC News on Saturday he was in "listening mode" about how to reform impartiality rules for staff outside of the news operation after a "difficult day".
He left the door open for Lineker to return, describing him as the "best sports broadcaster in the world" and said he wanted to see him back on-air.
Mr Sunak reiterated on Saturday that resolving the rowwas a matter for the BBC, but Downing Street and several senior ministers have been sharply critical of the 62-year-old presenter in recent days.
Home Secretary Suella Braverman and Culture Secretary Lucy Frazer have both attacked the presenter this week for his comparison between the government's language and Nazi Germany.
Labour's Shadow Chancellor Rachael Reeves said the BBC had "clearly come under immense pressure from the Conservative Party to take Gary Lineker off air".
She contrasted Lineker's suspension with the BBC chairman being able to continue in his job while the circumstances of his appointment are investigated, adding: "I don't remember those same Tory MPs crying about impartiality when those revelations about Richard Sharp came out."
An ongoing KC-led review into Richard Sharp's appointment as BBC chairman is investigating whether he failed to properly disclose details of his involvement in the facilitation of an £800,000 loan guarantee for the then Prime Minister Boris Johnson. He has denied any involvement in the arrangement of a loan for Mr Johnson.
The BBC is also conducting its own internal review over any potential conflicts of interest Mr Sharp may have in his current role as BBC chairman.
Mr Sharp has resisted calls to quit. He is believed to be waiting for an inquiry into his relationship with Boris Johnson to conclude and has previously denied wrongdoing.
Meanwhile, uncertainty continues to swirl as to whether Lineker will return to the BBC.
Questioned by reporters on Sunday morning outside his home, Lineker replied only "I can't say anything at the moment" when asked if he would return to the BBC or if he had been approached by rival broadcasters.
But his son, George, told the Sunday Mirror that he thought his father would return to presenting Match of the Day.
He later tweeted: "Dad is a good man, a good human, and I'm proud of him for standing by his word. That's why he was pulled off the show – because he wouldn't apologise. But he will always speak up for people who don't have a voice."
The row erupted after Lineker called the so-called Stop The Boats Bill an "immeasurably cruel policy directed at the most vulnerable people in language that is not dissimilar to that used by Germany in the 30s".
DISCLAIMER: The Views, Comments, Opinions, Contributions and Statements made by Readers and Contributors on this platform do not necessarily represent the views or policy of Multimedia Group Limited.