Four universities are to benefit from an initiative of the Ghana Digital Centers Limited (GDCL) to equip students and graduates with entrepreneurial skills needed to develop their projects into viable businesses.
With the help of GDCL's Tertiary Digital Innovation Program (TDIP), Ghana's tertiary institutions will be able to commercialize research and project outputs into sustainable enterprises that will support employment creation.
The Ghana Digital Centers Limited held its first Tertiary Digital Innovation Program roadshow at the Kwame Nkrumah University of Science and Technology (KNUST) to engage students on the initiative.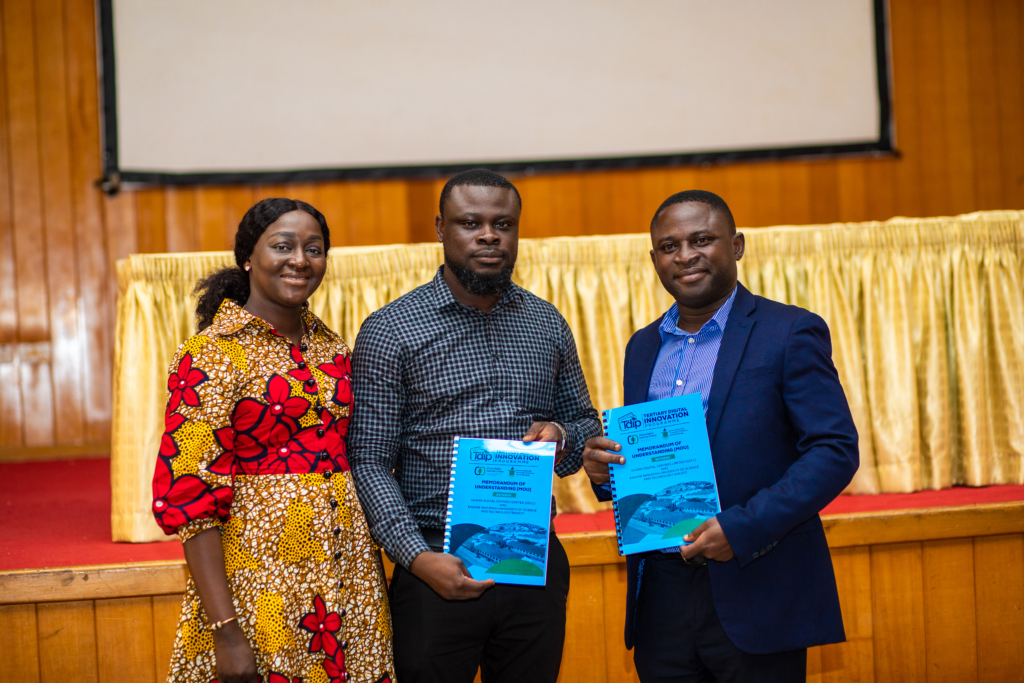 The Program has been designed to identify and onboard ten teams from four universities to help them build viable business models, product prototypes, market testing and a full launch plan.
The Program will select fresh graduates, tertiary students or national service personnel who, at the point of completing university, had developed a concept for a technology startup which they have the desire to pursue upon completion.
"The tertiary innovation program is a program designed by the Ghana Digital Center Limited to develop research and project work of final year students of tertiary institutions into tech businesses for entrepreneurship and employment opportunities.
We're doing this in collaboration with the Kwame Nkrumah University of Science and Technology, University of Ghana, Legon, Academic City University and the Ghana Communications and Technology University. We also partnered with GIZ represented by Make IT Africa," Project Coordinator for the Tertiary Digital Innovation Program (TDIP)," Edward Aikins noted.
The project coordinator listed requirements for eligible participants, "You would have to be a final year student or recent graduate of one of the participating universities, have a concept of a tech enabled startup, your Idea should have the potential to contribute to achieving any of the SDG goals, have 2- 3 co-founders who are willing to spend time to develop their idea, be ready to sign on with the Ghana Digital Centers Limited for National Service, be willing to commit fully to the first 12 months component of the program, be willing to work exclusively on their idea for the entire period and the team should have at least 30-40% women representation of team members".
According to the Institute of Statistics, Social and Economic Research (ISSER) of the University of Ghana, only 10% of graduates find jobs after their first year of completing school.
On average, it may take up to 10 years for many young people to secure employment after graduation.
Prof. Emmanuel Kofi Akowuah of the Department of Computer Engineering, KNUST, explained, "how the partnership with the university will reduce graduate unemployment.
Students come up with a lot of innovative ideas but they don't get to the market
This relationship with the Ghana Digital Center Limited will afford students to go through a properly thought-out process to be able to go through the whole innovation process and develop viable products.
This will help students develop their business side of technology and in a way reduce the unemployment rate".

Participating teams will benefit from a provision referred to as "Start-Up Kit". The grant package will offer them services, such as business incorporation support, branding and digital marketing, lead generation, HR policy development, finance policy development, and shared office space.
Logistics Coordinator for the TDIP project, Ama Asante Akowuah, advised that students have to take advantage of this opportunity because it's not funded by the government, and it's sustainable.
One of the participants, Alberta – a final year student explained that, "the program is going to help me personally because I do a lot of project work but it goes down the drain but this is really going to expose us to the job market" Alberta, a final year student said.
Opoku Elijah a final year computer engineering student said, "We have a lot of ideas but we're unable to put them to use, but I think this initiative will break that gap"
DISCLAIMER: The Views, Comments, Opinions, Contributions and Statements made by Readers and Contributors on this platform do not necessarily represent the views or policy of Multimedia Group Limited.