A new study has revealed that Ghanaians are divided on the effectiveness of the hung parliament.
About 46% of the populace believes the current dispensation has made legislators "somewhat more" or "much more effective in scrutinising government spending."
"But fewer see gains in MP effectiveness at passing laws or building consensus among political parties in the current Parliament, which for the first time is equally divided between the ruling NPP and the opposition NDC."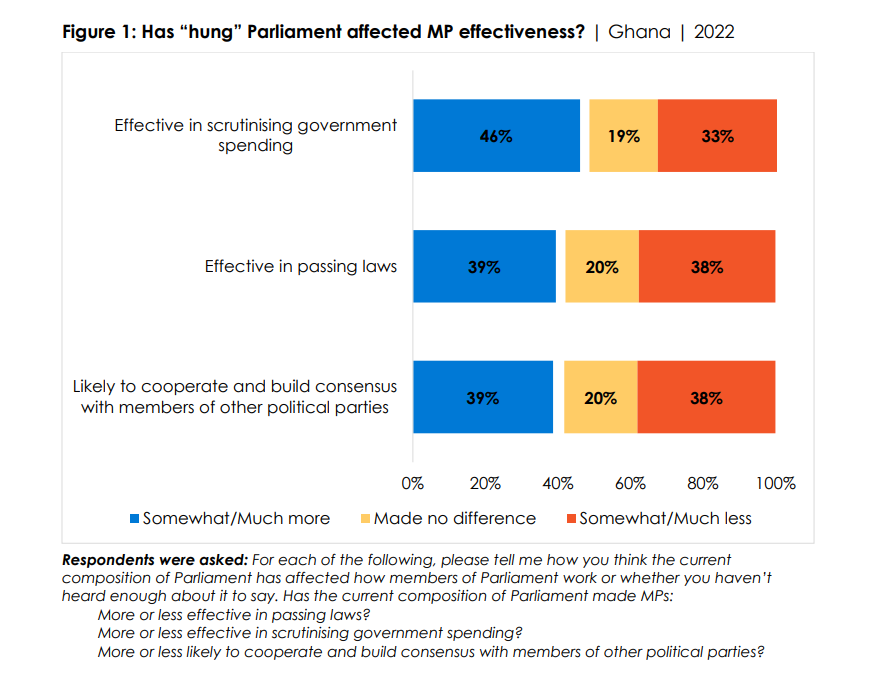 This was the conclusion of a study conducted by Afrobarometer in collaboration with the Ghana Centre for Democratic Development (CDD-Ghana).
It was released on Friday, August 26, 2022.
The House's hung nature stemmed from the nearly equal number of Parliamentary seats between the ruling NPP (138 including an Independent Candidate) and the NDC (137).
This brought hope to many experts who were concerned about what many described as the rubber stamp style of decision-making in the House.
The House has seen a number of tough times during deliberations as parliamentarians are sometimes unable to reach a consensus over issues, with some ending in fisticuffs.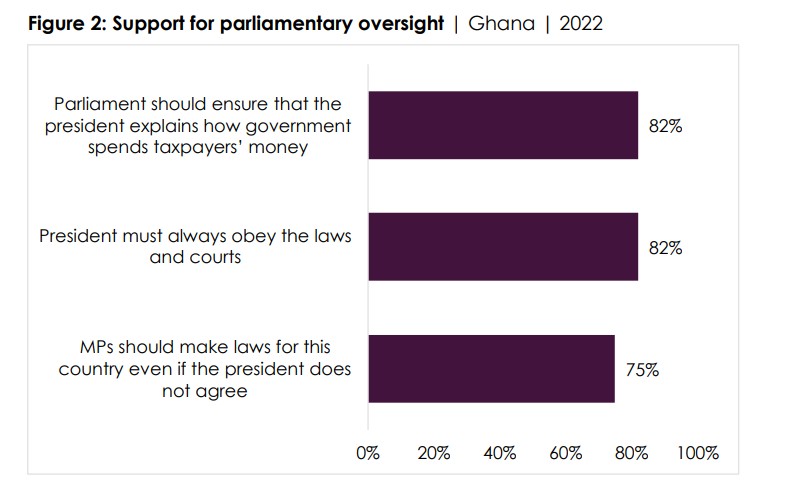 Despite the revelations above, the study insisted that the "survey findings show strong public support for the central role of MPs in making laws and holding the president accountable."
However, a "few citizens think MPs listen to what their constituents say, and most give their elected representatives a negative performance review."
Regarding the entity responsible for holding legislators accountable, the respondents were "divided on who is responsible for ensuring that MPs do their jobs: 38% say it's the president, while 35% say it's the voters."
Additionally, "most Ghanaians (85%) say their MPs 'never' or only 'sometimes' listen to what people have to say. Only 14% say parliamentarians 'often' or 'always' try their best to listen."'
DISCLAIMER: The Views, Comments, Opinions, Contributions and Statements made by Readers and Contributors on this platform do not necessarily represent the views or policy of Multimedia Group Limited.