The Consulate General of Ghana in Dubai is urging people with relatives travelling from Ghana to caution them against taking parcels and messages from agents or other persons for onward delivery to someone in Dubai.
This according to the Consulate General is because these gifts or parcels are usually used to conceal drugs.
In a statement sighted by JoyNews and signed by the Consular Officer of the Consulate General of the Republic of Ghana, Dubai, some five persons are allegedly said to have been arrested for trying to traffic Marijuana into Dubail through the international airport.
"The sad part of it is that, all the parcels containing the weed were given to them by the agents in Ghana who acquired the UAE visa for them, with the instruction to give the parcels to their counterpart agents in the UAE on arrival," part of the statement read.
The Consulate General said while the 'weed' is normally hidden in food items, the unsuspecting travellers are apprehended at the airport and punished for carrying drugs they may not be aware of.
They are therefore cautioning the general public not to take or accept any parcel from agents or other person "except if they can inspect and ascertain the true content of the message/parcel."
Find statement below: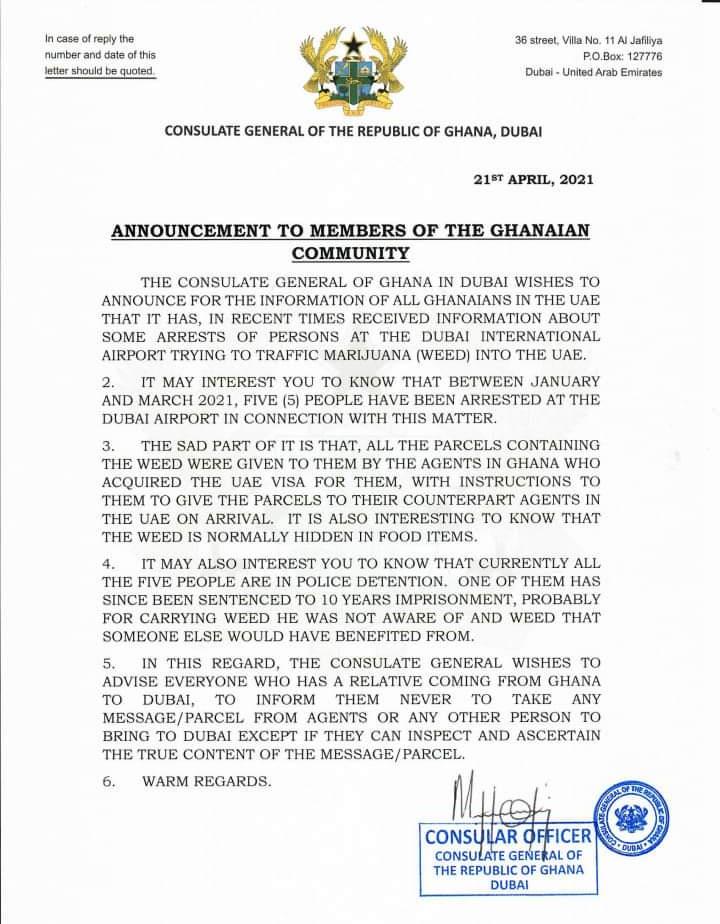 .