Sportsmen and women around the world always need fuel or inspiration to reach for greatness on big days and that could be the case for Ghana's George Ashie as he challenges WBO NABO Welterweight champion, Alexis Rocha, in California this weekend.
Ashie (33-5-1) a.k.a. Red Tiger, is a last-minute replacement for Rocha (21-1) who will be staging his second defence of the WBO NABO title in the main event to be broadcast via DAZN.
Boxing legend Oscar de La Hoya, whose Golden Boy Promotions is putting together this big fight night, said during a post-weight-in interview that while he hardly knew why there was a change of original opponent for Rocha he knew the replacement ( George Ashie) would be as a tough opponent.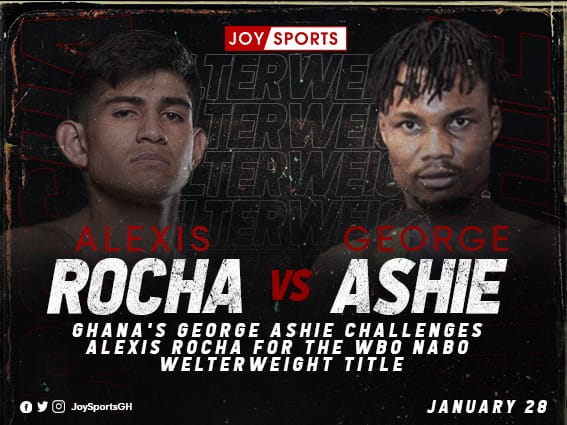 "I know we do have a difficult and tough guy from Ghana for Rocha on Saturday. Last-minute replacements are a drag and not good for anybody. I am very confident that this fight is probably gonna be tougher for Rocha. Just the fact that he is from Ghana," the legend said.
The multiple former world champions once again admitted that he gets chills anytime he hears the name 'Ghana'. "Just the fact that he is from Ghana. I hear Ghana and I think of the master of fireworks (Ike 'Bazooka' Quartey). I still get chills when they mention Ghana. It's gonna be a good main event."
Background of de la Hoya's comments
Oscar de la Hoya fought and won against Ghana's former WBA welterweight champion Ike Bazooka Quartey in what was one of the most explosive and closely fought welterweight championships at the time. De la Hoya managed to send Quartey down early in round six. And after the first minute, Quartey struck the Mexican with a left hook that sent him down. Then in the championship round (12) de la hoya sent Quartey down again before both boxers exchanged in a hot exchange.
After twelve rounds of that mega fight judges John Keane, Ken Morita and Larry O'Connel scored it 113-116, 112-116 and 115-114 to hand De La Hoya a split decision. This is a bout Quartey believes he won – a view shared by some pundits. Years later in an interview with Power 105, an American radio station, de La Hoya admitted Quartey gave him a hell of a time. Ike was left with swelling above his right eye while de la Hoya had a similar problem beneath his left eye.
The Mexican legend also admitted his inability to walk after the fight and he stayed indoors for weeks due to the intensity of the challenge from Quartey.
The challenge to Ashie
This endorsement by the legend will come with huge responsibility and while Rocha is the centre of attraction, Ashie will have to dig deep to produce the minimum of a good test for the American. On his US debut, Ashie (33-5-1) has an opportunity to win the WBO NABO belt – one that could secure his pass into the top 15 rankings of the welterweight rankings of any of the sanctioning bodies, especially the WBO. Rocha will be aiming at the number one or two contender position after this bout if he is successful.
Away from that, this main feature will be live on prime broadcasting giants, DAZN, which adds to Ashie's market value in subsequent bouts once he puts up a performance. And interestingly he started his career with a fighting style that subtly reminded journalists in Ghana of Ike Quartey. The big question now is – can he live up to the endorsement?
The boxing ring at the YouTube Theatre in Inglewood, California, will tell.
DISCLAIMER: The Views, Comments, Opinions, Contributions and Statements made by Readers and Contributors on this platform do not necessarily represent the views or policy of Multimedia Group Limited.