Ghana's active Covid-19 cases are on a steady rise again months after the government lifted almost all the restrictions, including the wearing of face masks.
An update by the Ghana Health Service (GHS) on Monday, June 6, shows the case count has started going up, with 370 active cases and a record of 62 new cases as of June 2, 2022.
The total confirmed cases are 161,795, with 159,980 recoveries/discharge, and 1,445 deaths.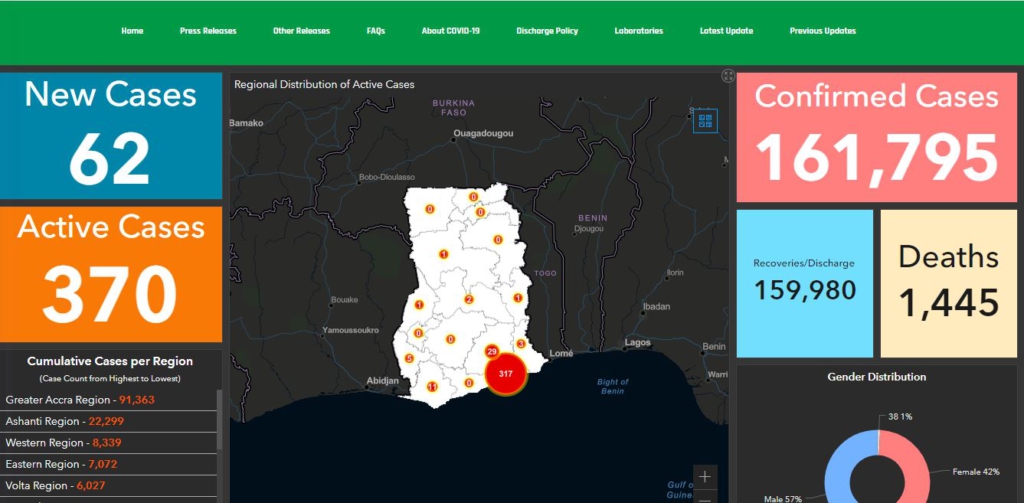 Between the month of April and May, the country's active cases were less than 100 – many expressed happiness over the situation due to what they saw to be a gradual victory against the virus.
Meanwhile, the public has been cautioned to continue observing the safety protocols where necessary to reduce further spread of the virus.
President Akufo-Addo on Sunday, March 27 eased the remaining Covid-19 restrictions and opened land borders.
Buttressing government's decision, President Akufo-Addo stated that even though the country hasn't reached herd immunity yet, a significant number of citizens have been vaccinated.
According to the President, "this review is premised on the background of rapidly declining infections, the relative success of the vaccination campaign being supervised by the Ghana Health Service, and the increased capacity developed in the public and private health sectors over the last two years."
He also justified the reopening of the borders with the claim that, "with countries in the ECOWAS Community, especially in our neighbouring countries, presently, like us, recording very low levels of infections, and having significant numbers of our people vaccinated, and on the advice of the national Covid-19 Taskforce and the health experts, I have taken the decision to revise the Covid-19 Restrictions, enacted under E.I. 64."
The limitations and bans placed on huge gatherings were also removed.
The President announced that facilities can now admit patrons to full capacity.
"Outdoor functions at sporting events, entertainment spots, political rallies and funerals may resume at full capacity, again, as long as all persons at these events are fully vaccinated," he said.
According to him, "government will continue to engage all religious and traditional leaders, agencies and institutions to encourage their congregants, subjects and citizens, respectively, to be vaccinated, to help achieve the 20 million target by June 2022."