The Ghana Internet Services Providers Association (GISPA) has held the 2020 Ghana Internet Conference under the theme; "Governance of Ghana's Cyber Space: Our Security and Privacy."
This year's conference brought together key stakeholders in the Internet industry to deliberate on policy matters and cost of internet in the country.
Delivering the welcome address, President of GISPA, Richard Densu, said the conference is to provide the opportunity for stakeholders to give serious attention to the security implications of the use of the internet.
He noted that technological advancement has been beneficial to many sectors, including the private sector, government, civil society and end users to maximize the benefits of the use of the Internet."
"The more open and more interconnected in ways that no one could imagined. I think the benefits are obvious to all of us," he said.
On his part, Chairman of Board of Dot Com, Prof. Nii Narku Quaynor revealed the style of governance appropriate for the Internet was the bottom-up multi-stakeholder approach.
"I am speaking from experience having been Chairman of the General Assembly of the DNSO at ICANN in the '90s, founded the African Regional Internet Registry, Afrinic, and other organizations that practised multi-stakeholder bottom-up decision making," he explained.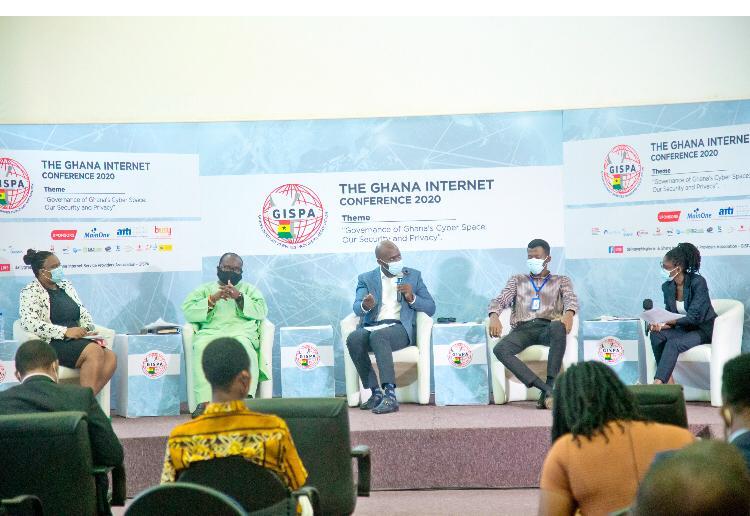 He advocated for a widespread application of this bottom-up approach to community decision processes locally in the internet, cyberspace security and privacy policy discussions.
"My interest is what a community must do correctly in order to evolve a functional bottom up decision process."
According him, for cyberspace security to be effective it will require the efforts of all internet users and operational cyberlaws.
"Both government and private sector have a role to play in ensuring that we are able to manage the governance of the space. Internet has broken the whole issue of jurisdiction."
Contributing to the discussion, an official from the – Data Protection Commission, Michael Owusu Jnr said hackers spent a copious amount of time to break into internet spaces that are lucrative like banks and even countries.
Therefore, it is important for internet users to know what they are clicking when they are online, adding that "because you expose yourself and everyone else around you to be vulnerable. We are gradually interconnecting every document and information about us."
He then advised that Ghana adequately prepares itself to deal with cyber threats.
"It is important to protect ourselves everywhere on the internet. There should be awareness concerning security and private issues. There should be collaboration between the private and government sectors in matters concerning Ghana's Cybersecurity space," he said.
"Governance is different from controlling the internet space because governance means we are all involved in protecting our cyber space. It is not left to just government to control or regulate the internet space."