A criminologist and lecturer at the Department of Sociology at the Kwame Nkrumah University of Science and Technology (KNUST) has noted that the growing mob and violent mentality amongst the country's youth is worrying.
Dr. Jones Opoku-Ware said he has been observing a lot of pent-up aggression within the youth that is particularly showcased during demonstrations and protests.
Speaking in reference to recent clashes between protesters and the Police, he warned that if Ghanaians continue to perpetrate violent and distrustful attitudes towards the Police, the peace officers will retaliate.
A University of Ghana research paper shows that youth violence and crime are high because Ghana has a large youth unemployment rate in the world.
He added that this is coupled with an increasing rural to urban migration rate.
On Tuesday, Police in Accra used teargas, rubber bullets and water canon to dispel the aggressive crowd at an organised protest by pressure group Arise Ghana.
"I honestly don't understand why people are targeting the Police for the violence at the protest. If you throw stones at a Police officer and intend to harm them, do you expect them to stand still or look the other way?" he asked.
Speaking with David Akuetteh on Luv FM's Luv In the Morning, Dr. Opoku-Ware said although demonstrations and protests are part human rights under Ghana's constitution, they have become opportunities for dissent and aggression.
"A big problem is that most of the protests in Ghana are based on political motivations – these usually end up violent as the leaders use violence as a tool to send their message.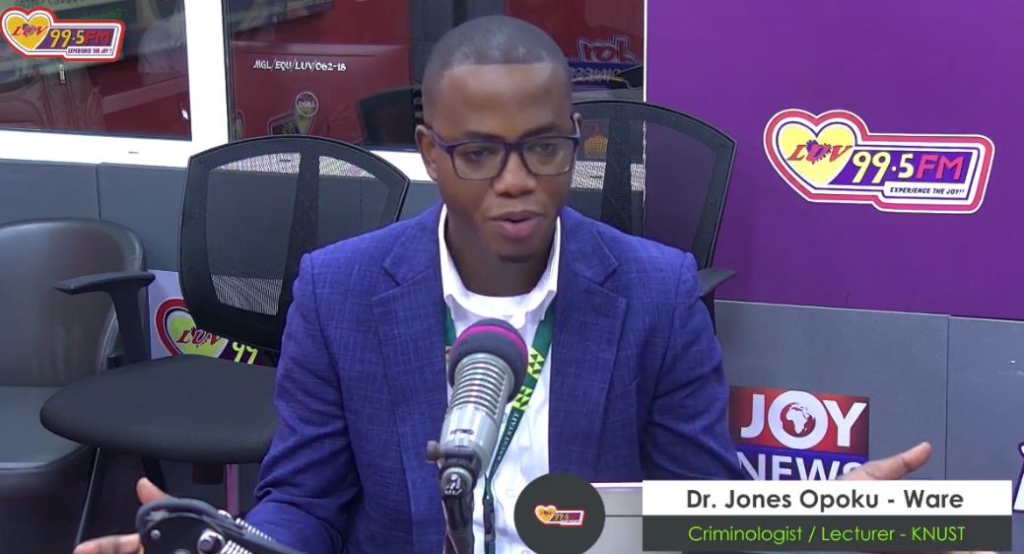 "The leaders are usually people of influence and use legal gymnastics to avoid repercussions and the responsibility is shifted to those who are on the ground."
Dr. Opoku-Ware explained that crowd analysis and management are of utmost importance during large-scale protests.
He said the correct Police response should involve issuing a warning through a megaphone for at least four times, deploying tactical formations and using non-lethal force if necessary.
"The protestors were throwing stones and pushing the Police on Tuesday, there was a lot of provocation. I give the Police a pass on this one because they used non-lethal methods of operation and remained surprisingly patient," he added.
Meanwhile, he wants the Police to adopt use of drones to identify troublemakers in the crowd rather than issuing a crackdown on everyone involved in the protest.
"Using drones is likely to vastly reduce the number of injuries and casualties in such situations. I understand that using drones may not be the easiest thing for our authorities but its importance is very high at this point in time."
Dr. Opoku-Ware also warned of the dangers of looters during protests.
He wants those who are not necessarily part of the protests to keep their distance to avoid any unfortunate injuries.
"Even if you have business in the area of the protest, stay away until the protest has passed."
DISCLAIMER: The Views, Comments, Opinions, Contributions and Statements made by Readers and Contributors on this platform do not necessarily represent the views or policy of Multimedia Group Limited.