The Head of State Award Scheme has condemned recent attacks on the President for seeing to the construction of the Ghana Award House project.
President Akufo-Addo on Wednesday cut the sod for the construction of the ¢5 million Ghana Award House, a new administrative building for the Head of State Award Scheme.
The ceremony and the project have, however, been condemned by a cross-section of social media users after President Akufo-Addo disclosed that the government is providing ¢1 million seed for the project and would also bear its operational cost under the direct supervision of the Chief of Staff.
According to some Ghanaians, the government has failed to get its priorities right by focusing on the said project.
But in an issued press statement, members of the Award Scheme indicated that although it is grateful for the feedback, "it condemns the unwarranted attacks on the persona of H.E. Nana Addo Dankwa Akufo-Addo for undertaking this honorary responsibility as Chief Patron of the Award Scheme."
According to the Head of the State Award Scheme, it seeks to resolve the "misconceptions and misunderstandings" surrounding the "honorary" Ghana Award House project.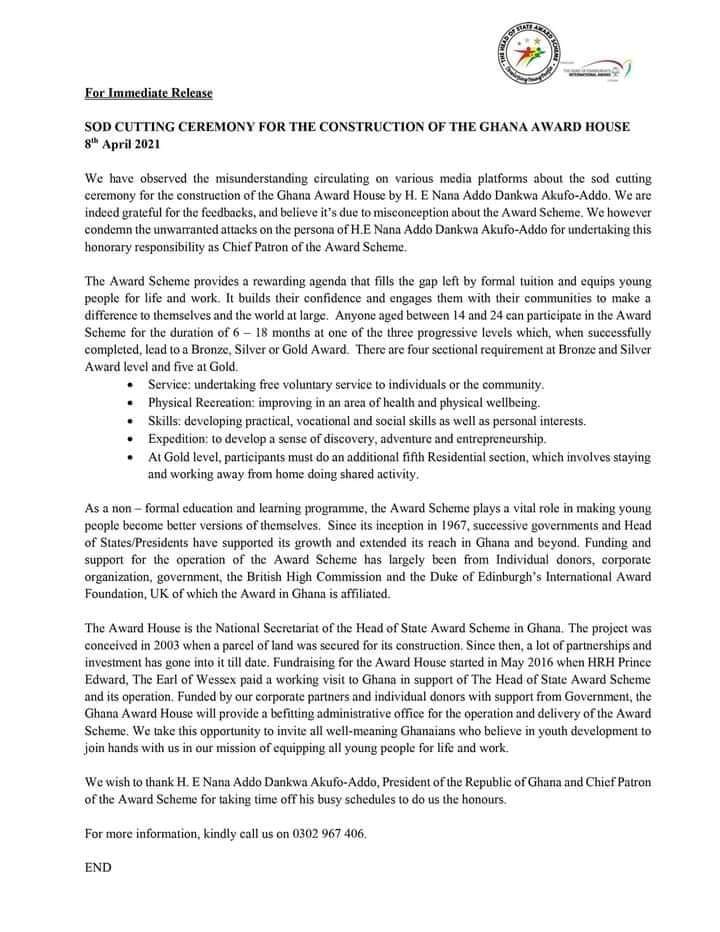 Touching on the financing of the project, the Award Scheme noted that over the years, financial sourcing has largely been from individual donors, corporate organization, government, the British High Commission and the Duke of Edinburgh's International Award Foundation.
"Since its inception in 1967, successive governments and Head of States/Presidents have supported its growth and extended its reach in Ghana and beyond," parts of the statement revealed.
It also noted that fundraising for the project commenced somewhere in May 2016.
Hinting on the pros of the Scheme, portions of the statement indicated that the Award Scheme as a non-formal education and learning programme equips the youth for life and work and also provides a rewarding agenda that fills the gap left by formal tuition.
"It builds their confidence and engages them with their communities to make a difference to themselves and the world at large…the Award Scheme plays a vital role in making young people become better versions of themselves."
Persons between the ages of 14 and 24 can participate in the Award Scheme for the duration of 6-18 months.
The Head of the Award Scheme therefore, encouraged all "well-meaning Ghanaians who believe in youth development to join hands with us in our mission of equipping all young people for life and work."
"We wish to thank H.E. Nana Addo Dankwa Akufo-Addo, President of the Republic of Ghana and Chief Patron of the Award Scheme for taking time off his busy schedule to do us the honours," the statement concluded.