With illegal mining popularly known as 'galamsey' hampering Ghana's efforts to make the most out of her gold deposits, it seems there is hope on the horizon.
Thulagano M. Segokgo, Minister of Communications, Knowledge and Technology of Botswana, says Ghana's case is "very much a regulatory issue" and it comes down to enforcement of the law" to win the war against illegal mining.
Speaking on the sidelines of the 2023 Mobile World Congress in Barcelona, he stated that government of Botswana is pleased to see Debswana and Huawei's joint efforts to drive digital transformation in the mining industry.
"I think technology is always available to help in terms of enforcement and monitoring happening on the mining sites," he said.
He added that just in the case of Debswana, the mining company knows where its assets are and can do monitoring in real-time.
"I think technology can play that significant aspect. It is up to Ghana and Huawei to talk and agree on what works since countries have peculiar needs," he said.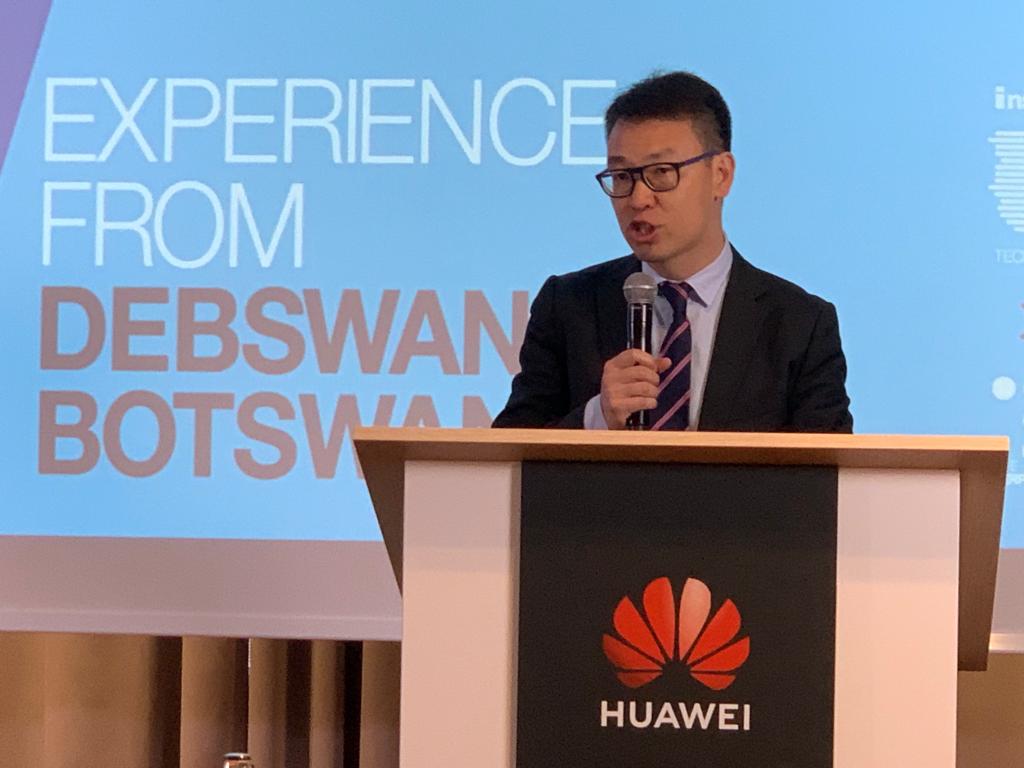 Xu Jun, Chief Technology Officer of Huawei Mine BU, said he has already met with Ghana's Lands and Natural Resources Minister on ways his company can assist.
According to him, discussions are ongoing although nothing has been finalised.
Huawei and Debswana launch world's first 5G-oriented Smart Diamond Project
Technology giant Huawei and Botswana's Debswana have told the success story of championing the world's first 5G-oriented smart diamond mine project.
Molemisi Nelson Sechab, Debswana's Head of Information Management disclosed that the Huawei-enabled smart mine solution has been deployed at Debswana's Jwaneng open-pit diamond mine.
He said the project started operation in December 2021.
The new 4G eLTE private network solution provides stable connectivity for the Jwaneng mine, connecting more than 260 pieces of equipment, including drilling rigs, excavators, heavy trucks, and pickup trucks.
Intended to offer high bandwidth with low latency, 5G can support technologies such as autonomous driving.
The technology allows interconnection between the mine's production, safety and security systems.
According to Huawei, before this solution was embraced, the previous solution has two limitations.
There was an issue of limitation with coverage and also it uses public wireless frequencies and has less robust anti-interference capabilities.
It said due to these issues, Debswane's different data of data could not be transferred stably in real-time.
Mr Sechaba said that it is important to deploy the eLTE solution to connect mining equipment more stably.
"There are two reasons for this. The first is efficiency. The ability to transfer data in real-time makes equipment like mining vehicles more efficient, increasing yield and reducing long-term OPEX.
"Second, the solution helped improve safety. Real-time data collection, backhaul, and interaction make the system more sensitive and accurate to provide more reliable protection for staff and vehicles.
The Jwaneng mine is the world's first 5G-oriented smart diamond mine. This means the hardware equipment such as base stations used in the mine's digital transformation solution support network upgrades to 5G.
With 5G features like high bandwidth and low latency can support the application of cutting-edge technologies like autonomous driving, enabling the more intelligent digital transformation of the mining industry in the future.
Debswana is a leading mining company in Africa that, by working with Huawei, can take the efficiency, productivity and safety of mining to the next level.
The Government of Botswana will continue to put in place facilitation measures to further support the digital transformation agenda across all sectors including the mining industry and welcomes international companies, such as Huawei, to participate in this agenda.
Measures already underway include formulated digitalisation agenda, 5G roadmap and other supporting policies.
Xu Jun, Chief Technology Officer of Huawei Mine BU, said, "Huawei is committed to using its strengths in ICT technologies like 5G, cloud, AI, and IoT to develop smart mine solutions that are based on an industrial Internet architecture for customers in the mining industry worldwide.
"These solutions make mine production safer, more efficient, and more intelligent. In China, Huawei has jointly developed a number of intelligent applications with leading mining enterprises.
"For example, we commercially deployed the AI mining model in projects with Jinneng Holding Group and Shandong Energy Group.
"We have also delivered mining digital transformation projects in regions like Asia Pacific, Latin America, and Africa. Huawei's collaboration with Debswana is an example of such a successful project."
DISCLAIMER: The Views, Comments, Opinions, Contributions and Statements made by Readers and Contributors on this platform do not necessarily represent the views or policy of Multimedia Group Limited.