The 62nd Annual Grammy Awards took place Sunday night in Los Angeles.
Lizzo and Billie Eilish made their Grammy debuts as both first-time nominees and stage performers. Eilish had the biggest night, taking home four of the top awards.
Second-time host Alicia Keys started the awards show in LA's Staples Center arena with a tribute to Kobe Bryant, who died in a helicopter crash shortly before the Grammy's started.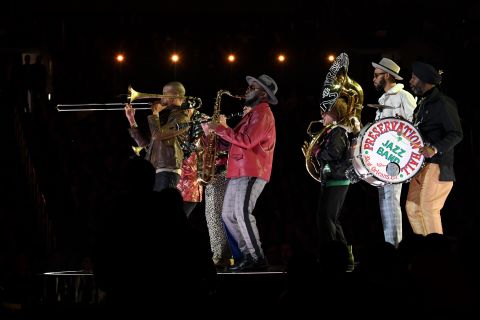 Trombone Shorty and The Preservation Hall Jazz Band perform. Robyn Beck/AFP/Getty Images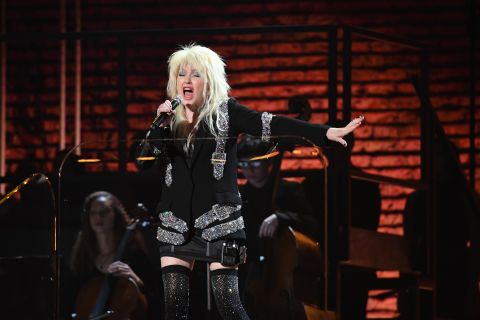 Cyndi Lauper sings "I Sing The Body Electric" from the 1980 film "Fame." The performance was part of a tribute to Ken Ehrlich as he ended his 40 years producing the awards show. Robyn Beck/AFP/Getty Images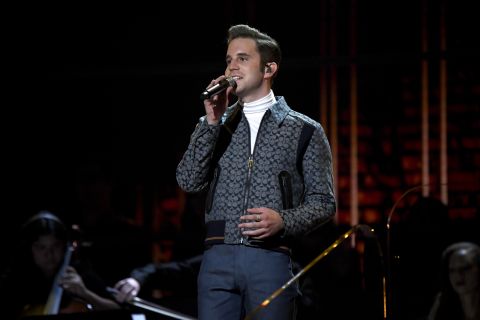 Ben Platt performs "I Sing The Body Electric" onstage. Kevork Djansezian/Getty Images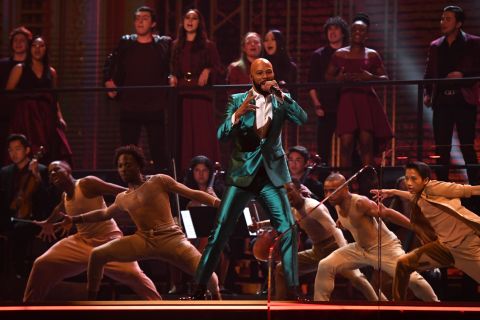 American rapper Common performs during the Grammys. Robyn Beck/AFP/Getty Images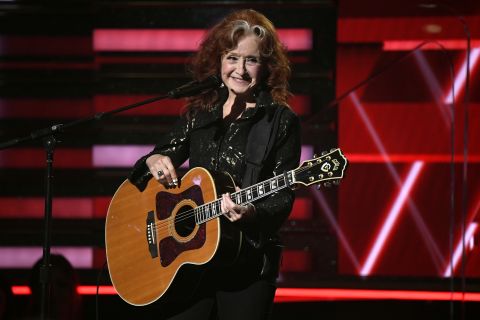 Bonnie Raitt performs onstage. Kevork Djansezian/Getty Images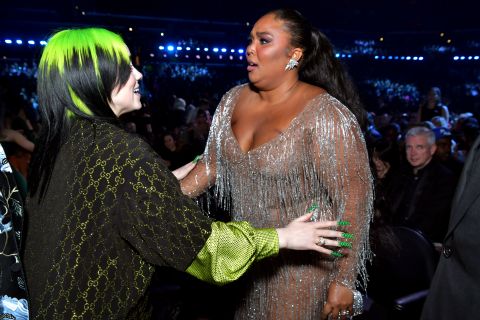 Billie Eilish and Lizzo chat during the show. Emma McIntyre/Getty Images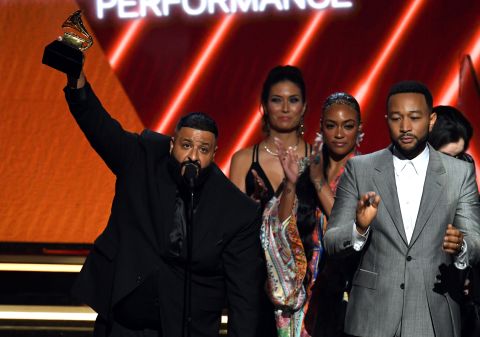 DJ Khaled, Samantha Smith, and John Legend accept the best rap/sung performance award for "Higher." Kevin Winter/Getty Images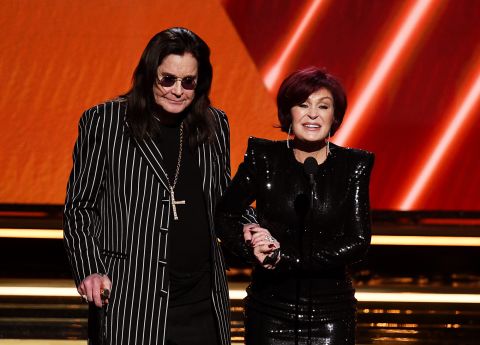 Ozzy Osbourne and Sharon Osbourne present Nipsey Hussle with posthumous Grammy Award for best rap performance. Kevin Winter/Getty Images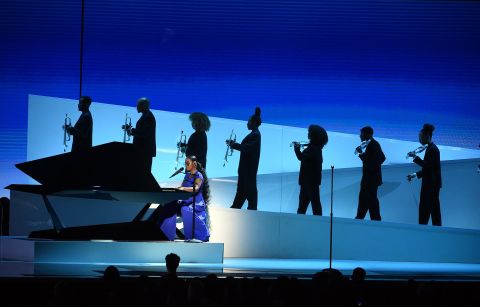 H.E.R. performs onstage. Kevin Winter/Getty Images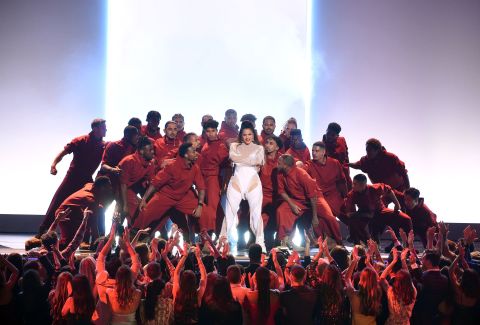 Rosalía performs. Kevin Winter/Getty Images North America/Getty Images for The Recording A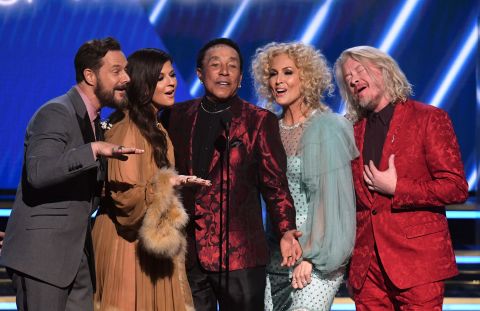 Smokey Robinson and Jimi Westbrook, Karen Fairchild, Kimberly Schlapman, and Philip Sweet of music group Little Big Town speak perform. Kevin Winter/Getty Images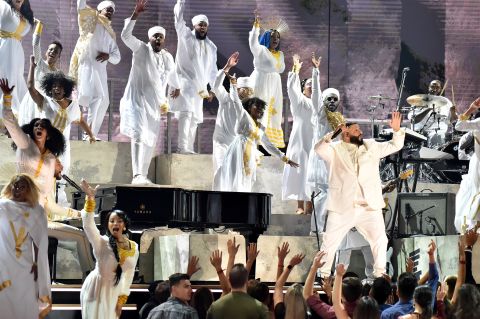 John Legend and DJ Khaled perform onstage. Jeff Kravitz/FilmMagic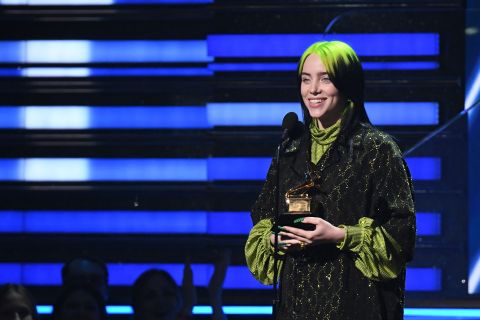 Billie Eilish receives the award for song of the year. Robyn Beck/AFP/Getty Images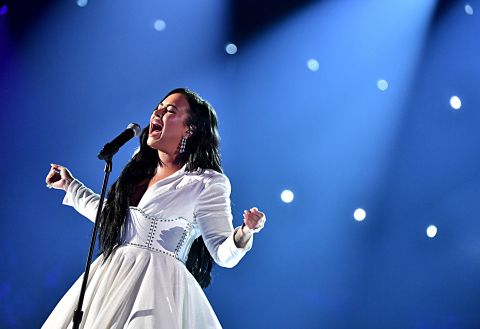 Demi Lovato performs in her first major performance since her overdose. Emma McIntyre/Getty Images

Billy Ray Cyrus, Lil Nas X, and BTS perform together. Kevin Winter/Getty Images

Ellen DeGeneres speaks during the show. John Shearer/Getty Images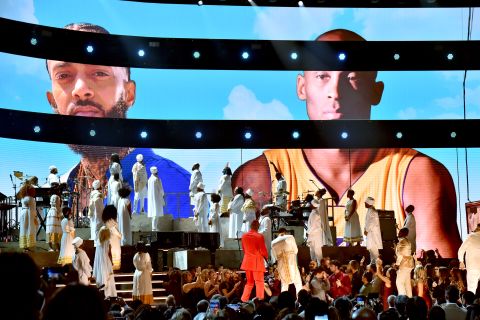 John Legend, YG, and DJ Khaled performed a medley of Nipsey Hussle songs alongside Meek Mill, Roddy Ricch and Kirk Franklin as a tribute to the late rapper and also paid tribute to Kobe Bryant, who died hours before the show. Jeff Kravitz/FilmMagic via Getty Images

Tyler, the Creator and his mother accept the best rap album award for "Igor." Kevork Djansezian/Getty Images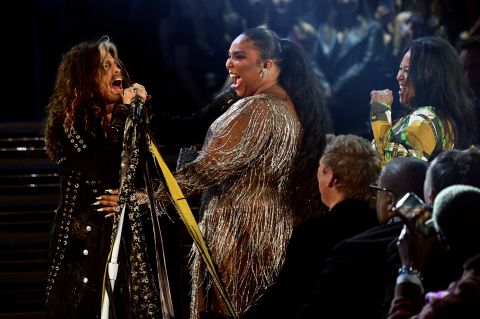 Steven Tyler and Lizzo perform onstage. Kevin Mazur/Getty Images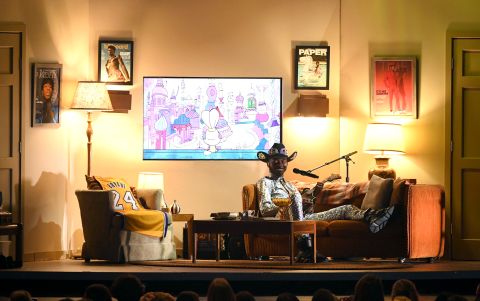 Lil Nas X performs "Old Town Road." The song peaked on the Billboard chart, the Hot 100, for a record-breaking 19 consecutive weeks. Kevin Winter/Getty Images

Camila Cabello sang a sweet tribute to her dad with her performance of "First Man." John Shearer/Getty Images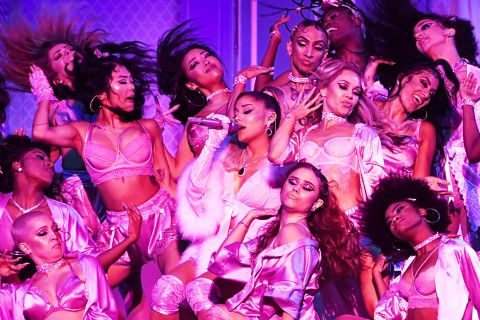 Ariana Grande performs "7 Rings." The song was in the headlines recently after Grande and seven co-writers were accused of plagiarizing it. Kevin Winter/Getty Images

Tanya Tucker performs onstage. Kevin Mazur/Getty Images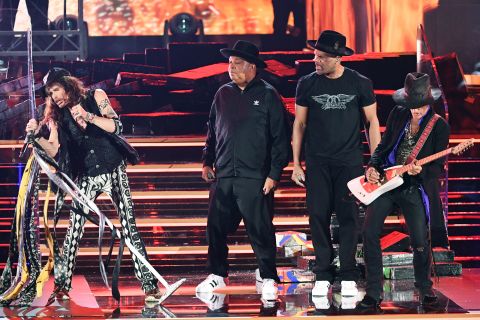 Steven Tyler of Aerosmith, Joseph Simmons and Darryl McDaniels of music group Run-DMC, and Joe Perry of music group Aerosmith perform a rowdy version of "Walk This Way." Kevin Winter/Getty Images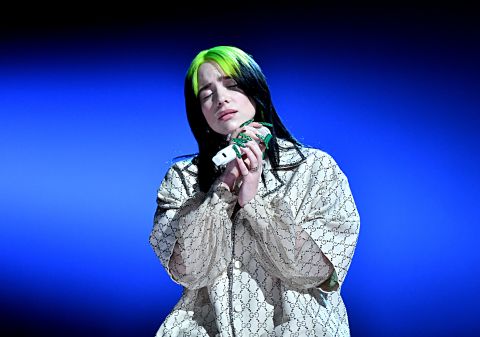 Billie Eilish performs "When the Party's Over." Emma McIntyre/Getty Images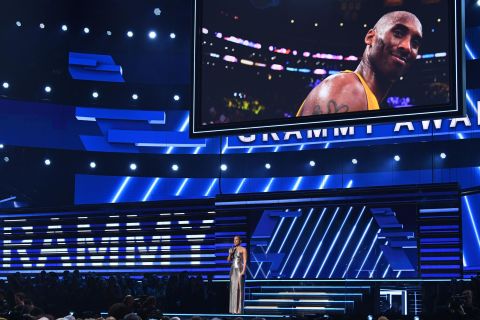 Grammy host Alicia Keys speaks about NBA legend Kobe Bryant, who died in a helicopter crash shortly before the show. Robyn Beck/AFP/Getty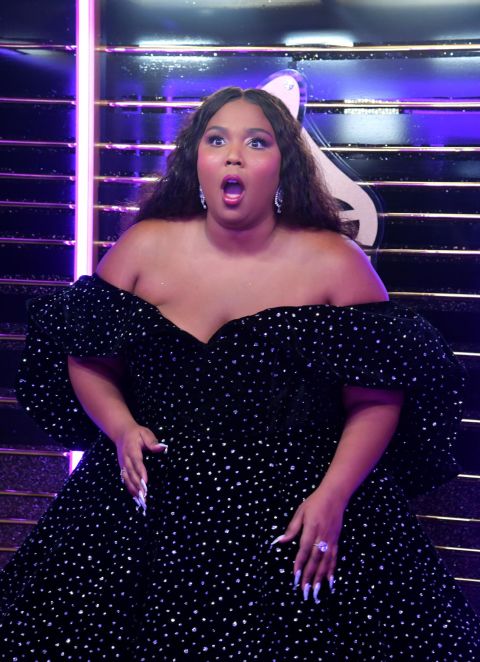 Lizzo reacts backstage after winning best pop solo performance for her song "Truth Hurts." Lester Cohen/Getty Images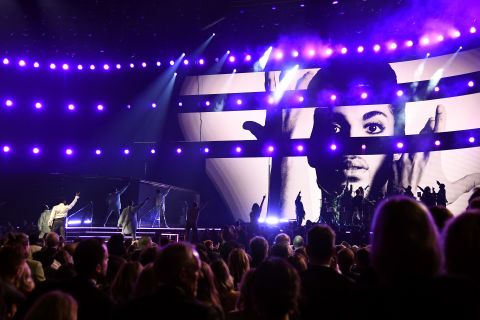 Usher performs a tribute to Prince. Kevork Djansezian/Getty Images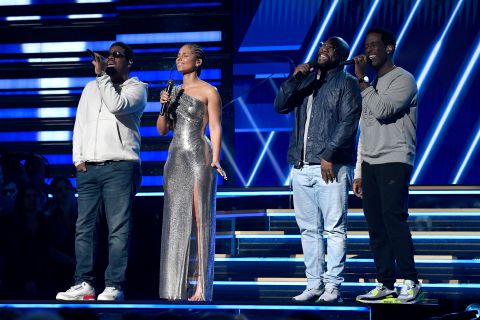 Alicia Keys, Nathan Morris, Wanya Morris and Shawn Stockman of Boyz II Men perform. Kevork Djansezian/Getty Images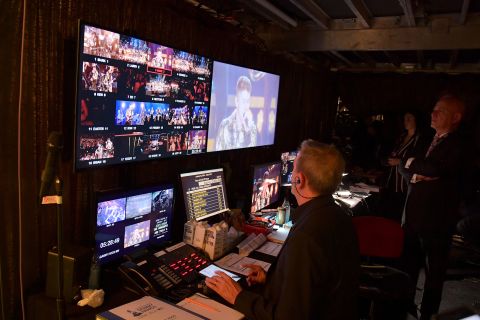 Grammys staff manage the show behind the scenes. Lester Cohen/Getty Images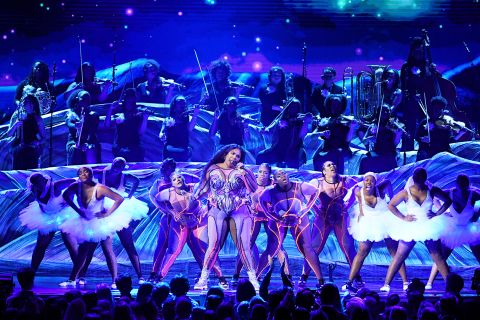 Lizzo performs during the show. Kevin Winter/Getty Images for The Recording Academy

The Jonas Brothers perform onstage. Kevin Winter/Getty Images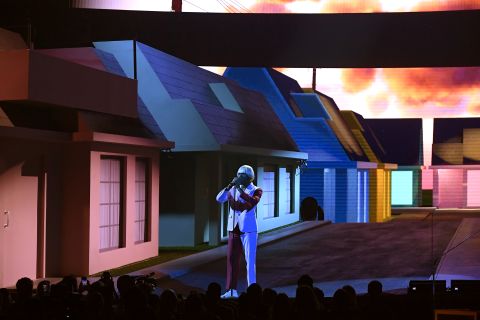 Tyler, the Creator performs. He won Best Rap Album for "Igor." Kevork Djansezian/Getty Images

Ariana Grande attends the award show. Kevin Mazur/Getty Images for The Recording Academy

Blake Shelton and Gwen Stefani hug after their performance. Robyn Beck/AFP/Getty Images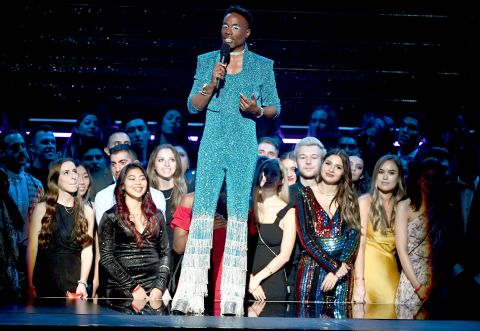 Billy Porter speaks onstage during the show. Kevin Winter/Getty Images for The Recording Academy