At least 13 people have now died and dozens more are injured after a volcano erupted on Indonesia's Java island on Saturday, emergency authorities said.
Residents were filmed fleeing a giant ash cloud from Mt Semeru.
Pictures show entire villages buried in volcanic ash up to rooftops, and locals have described thick smoke blocking the Sun, leaving them in pitch darkness.
Officials said at least 57 people have been injured, with many suffering severe burns.
A spokesperson for Indonesia's disaster mitigation agency (BNPB) said that the injured were being treated at various hospitals and medical facilities.
The eruption has left at least 11 villages in the Lumajang district coated in volcanic ash, submerging houses and forcing some evacuees to seek shelter in mosques and makeshift shelters.
According to BNPB officials, 902 people have been evacuated from the area so far.
But evacuation efforts have been hampered by choking smoke, a power blackout, and rainstorms during the eruption which turned the debris into mud.
Thoriqul Haq, a local official, told Reuters that a road and bridge from the area to the nearby city of Malang had also been severed during the eruption.
"This has been a very pressing, rapid condition since it erupted," he said.
Meanwhile, 10 people that had earlier been trapped in buildings have been rescued, according to BNPB.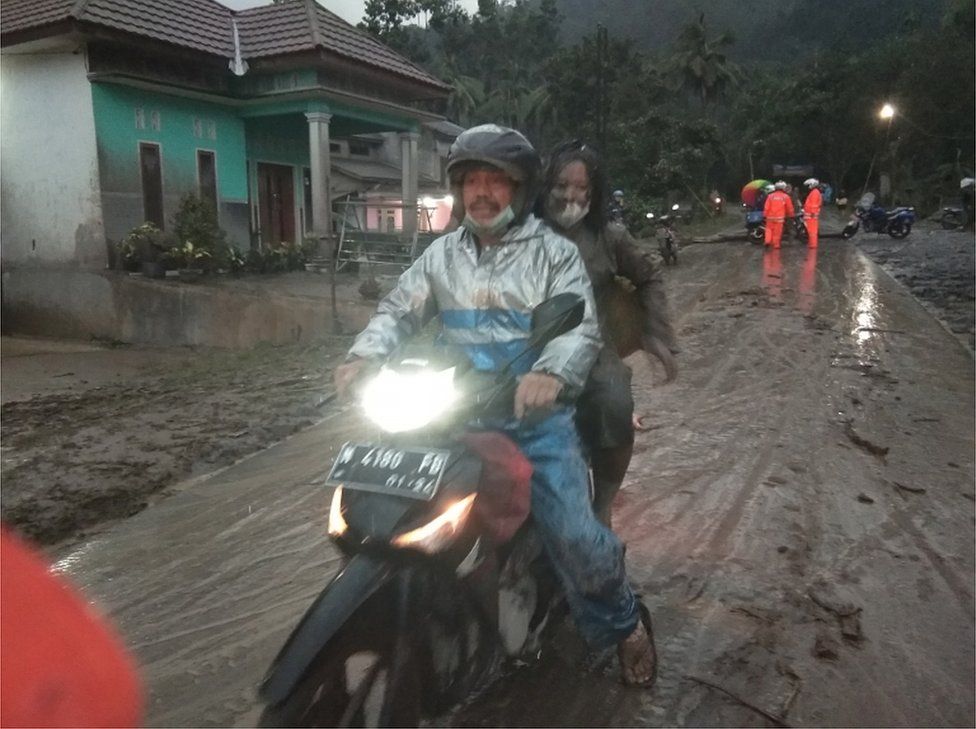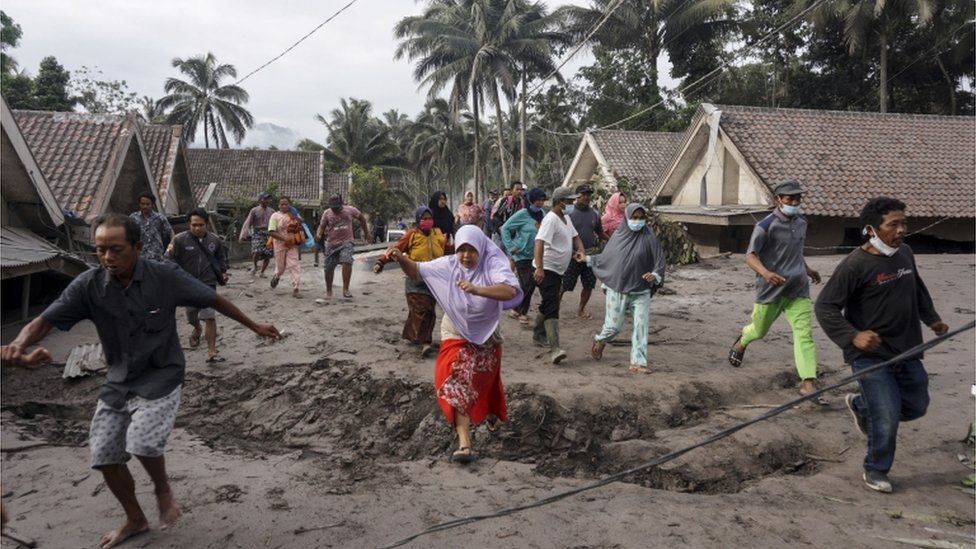 The eruption started at about 14:30 local time (07:30 GMT). Local authorities have set up a restricted zone within 5km (3 miles) from the crater.
The Volcanic Ash Advisory Center (VAAC) in Darwin, Australia said the ash appeared to have detached from the summit and was drifting south-west over the Indian Ocean. The VAAC provides advice to the aviation industry about the location and movement of potentially hazardous volcanic ash.
Airlines have been warned of the ash cloud rising up to 15,000m (50,000 ft), which is higher than the cruising altitude for most aircraft, Campbell Biggs, a meteorologist at the VAAC, told the BBC. He added that this would force most airlines in the vicinity to divert their flight paths to avoid the cloud.
Ash that solidifies on cooler parts of plane engines can disrupt airflow, which can lead to engines stalling or failing completely. It also affects visibility for the pilots and can affect air quality in the cabin – making oxygen masks a necessity.
Mt Semeru is in a near permanent state of eruption and regularly spews ash up to about 4,300m, so Saturday's eruption was a "pretty significant increase in intensity", Mr Biggs said.
The ash cloud should slowly dissipate, he said.
Mt Semeru rises 3,676m above sea level and is among Indonesia's almost 130 active volcanoes. The last time it erupted was in December 2020, forcing thousands of residents to take shelter.
Indonesia sits on the Pacific "Ring of Fire" where continental plates meet, causing frequent volcanic and seismic activity.
Videos shared by emergency officials and local media showed residents running away as a giant ash cloud rose behind them.
16.50
BPBD Provinsi Jatim dan BPBD Lumajang telah menuju lokasi untuk melakukan assesment dan evakuasi warga di sekitar Gunung Semeru. Silahkan mention jika ada yang dilokasi@PRB_BNPB pic.twitter.com/DYj8qIW23u

— jogjaupdate.com (@JogjaUpdate) December 4, 2021
Info saat ini bahwa jembatan Gladak perak putus. Tolong menginfokan kepada masyarakat yang akan melewati lokasi ini untuk berhati-hati pic.twitter.com/Cgap7SZwBz

— PRB Indonesia BNPB (Disaster Risk Reduction) (@PRB_BNPB) December 4, 2021
DISCLAIMER: The Views, Comments, Opinions, Contributions and Statements made by Readers and Contributors on this platform do not necessarily represent the views or policy of Multimedia Group Limited.