He watched with fascination the birds that chirped unknown songs on the tree trunks as he nervously maneuvered the canopy walkway which hung in the air among the evergreen trees of the serene Legon Botanical Garden in Accra.
It's always an ethereal and refreshing moment when Fulbert Adjimihoussou, a native of Paouignan in Benin, connects with the creatures of his Creator. He finds comfort and a renewing of his spirit whenever he picnicked at the green parks.
"It's like being connected to God. The birdsong, the sound of the foliage, and even the smell of the vegetation, free the spirit. It is also a perfect place to relax," he said.
On a working visit to Ghana's capital Accra, the environmentalist could not help but embark on an adventurous sightseeing tour of one of the country's natural vegetation before leaving for his home country.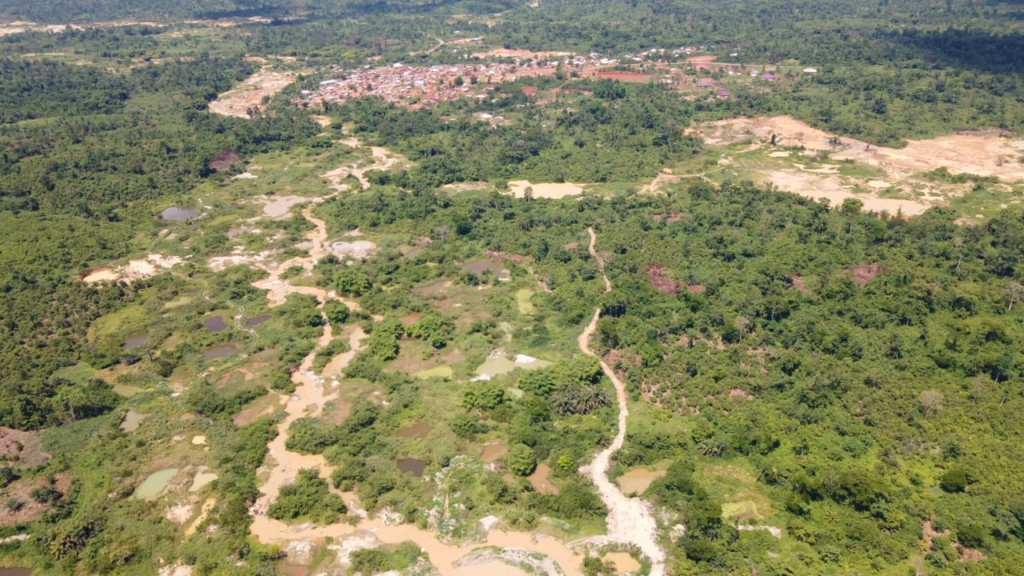 The garden – located at the apex of Ghana's premier university, the University of Ghana – harbors within its premises a lake, canopy walks, an open space for picnics, and a kids' playground. It's an avenue that affords its visitors a communion with nature and provides an environment to strengthen family ties.
As he traversed the garden and gazed at the beautiful scenery, Fulbert reminisced the fun times he had under the big trees, and at the beaches in Benin. There is not a single time he would not be inspired to appreciate and love natural creations more whenever he visited them.
"I don't often have the time to afford these opportunities anymore. But I make the effort to go there more often in my spare time. I always come back with new inspiration," he recounted.
Extensive research provides empirical evidence that viewing forest scenes contributes to reducing stress and fostering more positive moods and feelings.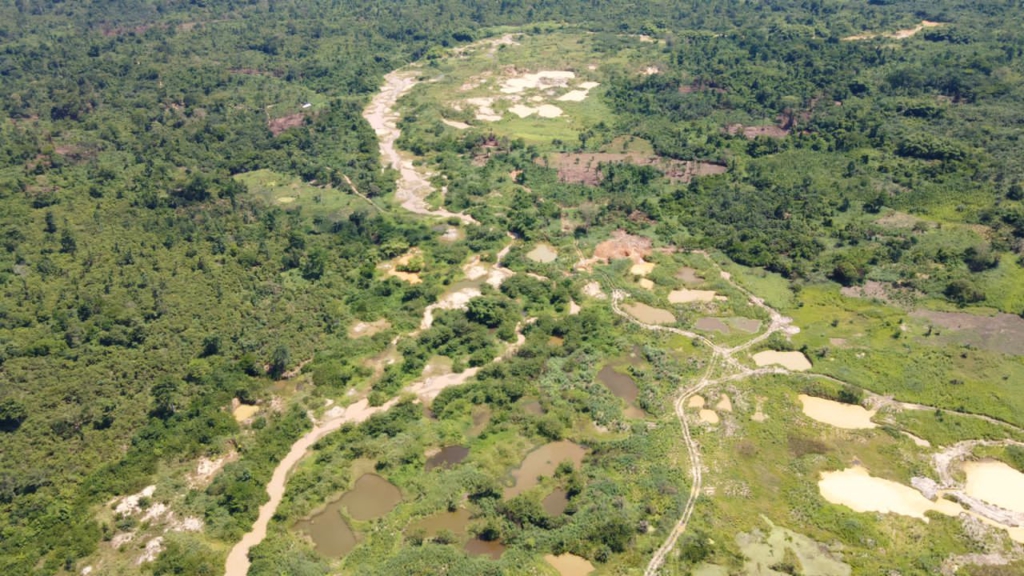 However, the unfortunate activities of humans stemming from their parochial interests are decimating the natural vegetation causing harm to the climate and biodiversity.
Killing the Forest Africa's rainforests spanning from Central Africa through countries along the Gulf of Guinea cover only 13% of the continent but are responsible for over 90% of the carbon stored in Africa's terrestrial ecosystem.
Covering about 72 million hectares, West African rainforests and wetlands are an important source of fuel, food, and livelihood for millions of people. They are also home to a wide range of vulnerable endemic plant and animal species.
A 2022 research published in the Frontiers of Environmental Science revealed the uneven distribution of African forests has resulted in a reduced forest area over the past two decades. Central and Eastern Africa recorded the highest reduction followed by West, South, and North Africa. But, West Africa's forest loss is reported to be the most significant. Only a 1% increase in the amount lost was recorded in five national forests with over 80% forest reduction area in 14 countries.
The loss of forest cover in West Africa was four times higher between 1990 and 2015 than at the global level.
Four factors were identified as the causes of increasing forest loss in the sub-region including unsustainable agricultural expansion; illegal logging; charcoal burning; and encroachment for settlement.
There is a looming environmental hazard after Ghana lost 1.41 Mega hectares of tree cover over the last two decades, equivalent to a 20% decrease in tree cover, and 740 Megatonnes of carbon dioxide emissions.
In 2021 alone, Ghana lost 101kha of natural forest equivalent to 62.9Mt of CO2 emissions with only 135kha of tree cover gained over the last two decades. Yet, the forests are exceedingly affected by deforestation and degradation caused by various drivers including illegal mining, unsustainable agricultural expansion, and illegal logging.
Deputy National Director of A Rocha Ghana, Daryl Bosu, is worried the depleting forest could soon threaten the existence of the vulnerable individuals who depend on forest resources.
"In most areas of the country, communities depend directly on the resources they get from the forests like medicines, cosmetics, and building materials. The forest has in recent times become crucial for cooling the environment. People who lack the wherewithal to purchase air conditioners will soon face challenges of an airy environment as the weather gets warmer," he said.
Deforestation is often exacerbated by transboundary issues such as trade between regions or within a region, which require strengthened forest governance and capacity at a regional level.
Trees: Health & Climate Trees naturally provide a plethora of benefits not only to humans but the entire ecosystem. Their essence in life cannot be overlooked. Ranging from livelihood provisions to health and environmental benefits, green plants play a crucial role in climate change.
Whilst they are affected by the current rising temperature and decreasing rainfall levels, forest protection is key to mitigating or building resilience against Climate variability.
Carbon removals by the Central Africa forest are estimated at -1.1 Gt CO2/year and emissions at 0.5 Gt CO2/year. This region, known as a carbon sink, is essential in regulating climate at both global and regional levels. Forests help mitigate a number of the human health-related effects of climate change.
For example, by mitigating heat and mediating water flows and flooding from increasingly intense storms in developing countries which suffer the greatest impacts of climatic change and environmental degradation. Urban forests and trees provide shade which can reduce the urban heat island effect by 4 to 5 °C in some settings.
Aside from sequestering carbons and reducing heat, the forest or green parks have been scientifically associated with one's dependence on drug use.
Researchers in Finland found that visiting parks, community gardens, and other urban green spaces may lower city dwellers' use of drugs for anxiety, insomnia, depression, high blood pressure, and asthma, research has found. Taking a stroll through such areas three to four times a week cuts people's chances of turning to drugs for mental health problems or high blood pressure by a third, and for asthma by about a quarter.
Von Hertzen's "biodiversity hypothesis" proposes that reduced contact with the natural environment and biodiversity leads to insufficient stimulation of human immune regulatory mechanisms, with a consequent increase in the occurrence of chronic inflammatory diseases.
Forest Conservation At the beginning of 2023, the government of Ghana received 4.6 million dollars for reducing carbon emissions during the first half of 2019.
It falls under the World Bank's REDD+ initiative to cut down on global carbon dioxide emissions. With the increasing prices on the emerging carbon market, Daryl believes countries on the continents can take advantage to shore up their economies.
"The carbon markets are opening up and the prices are going up. It presents an opportunity for countries to end cutting down trees but focuses on growing them," he said. Amidst the excitement of receiving such payments, the reality on the ground appears bleak as illegal mining and lease of mining concessions have been approved in some forest reserves. Daryl is asking the government to halt politicizing the issues of the environment.
"There is a lot of smart communication from the government on the real state of forests. In reality what they are touting as an achievement is the worst off. We need to be true to issues that are really happening, and we must be transparent. That's when we can take the necessary action so that we can ensure we deal with this problem at the roots," he said.
With no end in sight for these illegal activities and loose enforcement of regulations, a national danger looms with exacerbating impacts.
Always remember: when the last tree dies, the last man dies.
DISCLAIMER: The Views, Comments, Opinions, Contributions and Statements made by Readers and Contributors on this platform do not necessarily represent the views or policy of Multimedia Group Limited.