A group of Non-Fungible Token (NFT) enthusiasts in the meme economy had gathered in the final 2 hours of the auction on Friday night.
At the time of setting up the Twitter Spaces, the meme was worth just about 2ETH ($6,000)
But just about an hour into the chat, the auctioneers had bidded up to over 200ETH with Dubai-based recording company, 3F Music in the lead on Foundation.
Tech consultants and creators from around the world who had gathered grew ecstatic as they monitored the stock rise in real-time.
Calm and collected Benjamin Aidoo, popularly known as Otafrija was just quiet.
He had just occasionally explained the origin of the coffin dance which he started back in 2003.
Otafrija is the leader of the group now known as the Dancing Pallbearers, the year 2020's most viral sensation amid the Covid-19 pandemic.
Taking over social media timelines that year was the group of young men trying to turn funerals into rather hearty transitions.
Videos went viral depicting the team demonstrating their casket-carrying skills by orchestrating a choreographed routine, lifting it and lowering it, and even sitting on the floor if need be.
The now TikTok famous dancing pallbearers from Ghana ⚰️ pic.twitter.com/cKDCxDig7s

— BBC News Africa (@BBCAfrica) April 16, 2020
It developed into a meme over time where after portions of a BBC feature were added to responses to posts on social media to express impending devastation.
But today, the original digital copy has been developed into a GIF and was about to become the biggest African auction since NFT started.
On the description, the 10-second video listed on April 7, had made reference to a charitable cause as part of the use of the sale.
The description on Foundation.com outlined plans to use part of the proceeds "to help stop death in Ukraine, and help the people of Ukraine who are having a hard time."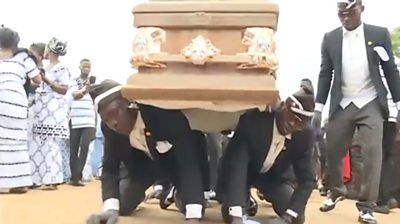 This was obviously also geared towards improving their funding to boost creativity in their future endeavor.
But the war bit pricked the audience on Friday's Twitter Spaces to chip in a question or two about the motive.
Ghana, where the pallbearers hail from, is currently suffering an economic downturn that has forced the government to initiate built-biting measures to the dismay of many citizens.
🇬🇭 Ghana's Coffin Dancers have pledged to donate 25% (💵$250,000) of the proceeds from the $1million NFT sale to Ukrainian🇺🇦 charities to help ameliorate the hardship brought by ongoing war with Russia🪖.
Ukrainian NGO, @BackAndAlive is excited to be the recipient of the amount. pic.twitter.com/WjEfO5iN6W

— Kenneth Awotwe Darko (@TheKennethDarko) April 11, 2022
Against this backdrop, some people who looked at the donation as geographically misplaced.
This is what one social media user had to say after an earlier story announcing the record sale on MyJoyOnline.com; Ghana's Dancing Pallbearers sell meme NFT for $1 million, 2 years after going viral.
"Misplaced priority… but in your own country, people are suffering… I didn't say donations is bad but other big countries are taking care of that, at least your country should've been a priority," the critic wrote on Twitter on Sunday.
Others were, however, enthused by the fast-evolving nature of blockchain and what it means for 'future of arts and commerce.'
"The power of the blockchain technology, #NFTs powered Ethereum," another shared on Facebook on Saturday.
Dada Awu go Spain 🇪🇸😂😂 pic.twitter.com/kf5u9vTgC0

— Tech Geek Africa (@techgeekafrica) April 14, 2020
As if Benjamin Aidoo had anticipated these questions in advance, here is what he told the guests on Friday's Twitter Spaces about the Russia bit which I thought was pretty profound.
"We are one family."
This was just one of the basis on which 25% of the sale had been allocated to this cause.
Ukraine has lost many soldiers to the war with many other civilians caught in the crossfire by the Russian invasion.
This presents the need for urgent help as the Russians continue to advance towards Kyiv amid a rigorous cry for aid and support by President Volodymyr Zelensky.
With all these happening, Otafrija says "we can't sit idle in Ghana."
"He [my manager] brought that up and we need to do that [donate 25%] to support our friends in Europe," he said.
He said despite the remote nature of the conflict from his home country, it merits Africa's concern because "when I cut your skin, the blood that is going to come out [is red], it doesn't matter when you're black or white."
"Since we saw what is going on, we decided that let's do this… I am very grateful and happy to do that."
It goes without saying that the GIF's minting was assisted by Ukraine-based influencer marketing and media buying Company, BADS Advertising ZLODEI.
We created and sold the world-famous "Coffin Dance" meme for 327 ETH on an NFT auction. It's $1047806.

We are happy to share this success, more to come!
🇺🇦✌️❤️ pic.twitter.com/GZRhjWFvE7

— BADS Advertising ZLODEI Team (@Bads_Zlodei) April 9, 2022
What better way to show appreciation to your helpers who are themselves fighting a crisis.
The Spaces was hosted by Lucas Beans and digital artiste/meme creator, Chris Torres.
For me, however, there is more to this. This gesture goes beyond simply helping a country fight a war with an amount which may be a drop in the ocean of funds and ammunition being poured in to put Ukraine onto a better footing in protecting their territory.
Public relation-wise, it is the best-placed gesture at the moment.
Since the Russians invaded Ukraine on February 24, name one top global company that has not taken a stand against the former. I'll wait…
Agencies and marketers around the world have gone to the extent of suspending business with Russian entities as part of punitive.
Coupled with international sanctions, these companies are rather taking a keen interest in the welfare of Ukrainians as an austerity measure for the vulnerable while their soldiers focus on fighting the battle.
There is no doubt that this is more of a humanitarian development but one cannot doubt the importance of these gestures in the bilateral world.
Benjamin has already admitted that though their coffin dance memes reached every corner of the world, there was really no chance for them to tour the world.
But when this war ends, Europe will be counting those who stood beside it during the crisis and that is where they will reap.
On that day, this gesture will be one that opens doors for the Dancing Pallbearers to exhibit their craft worldwide.
From a PR standpoint, what better billboard to advertise on than this.
It is also a morale booster for artistes and content creators seeking to tap into the NFT space and it was already evident in the Friday conversation.
While the value of the meme rose on Foundation.app, I continued to wonder what ran through Otafrija's mind.
He seemed calm but one other Nigerian screamed for joy over what his African compatriot was about to achieve in this round.
Kiel Orji referenced the popular 2000s Nollywood duo, Aki and Porpor. These two characters have developed into online memes and Kiel was just getting an epiphany about how beneficial their meme would have been if they had tapped into the craze soon enough.
"These memes now can be sold," he said.
"I thought about it one time but I thought like, men, this is a stupid idea. But seeing it happen in real life, bro! That was not stupid. This is crazy."
Another player in the Ghanaian NFT Community, Kofi Obuobi said it was "an eye-opener for a lot of things to happen especially in Ghana and elsewhere."
"This is epic, this is good. The ripple effect of the success is huge in terms of people looking at you being confident in what you do.
"Mr Obuobi told me in a separate conversation that it was his mission to educate Ghanaians about this disruptive blockchain technology and what it brings with it.
"We were there to support the whole experience. And make Ghanaians feel free to take advantage of the creative space," he said about the Twitter Spaces conversation.
Eventually, 3F Music outbid their way to securing the bid at 327.00ETH ($1,046,079.54) on Saturday, April 9.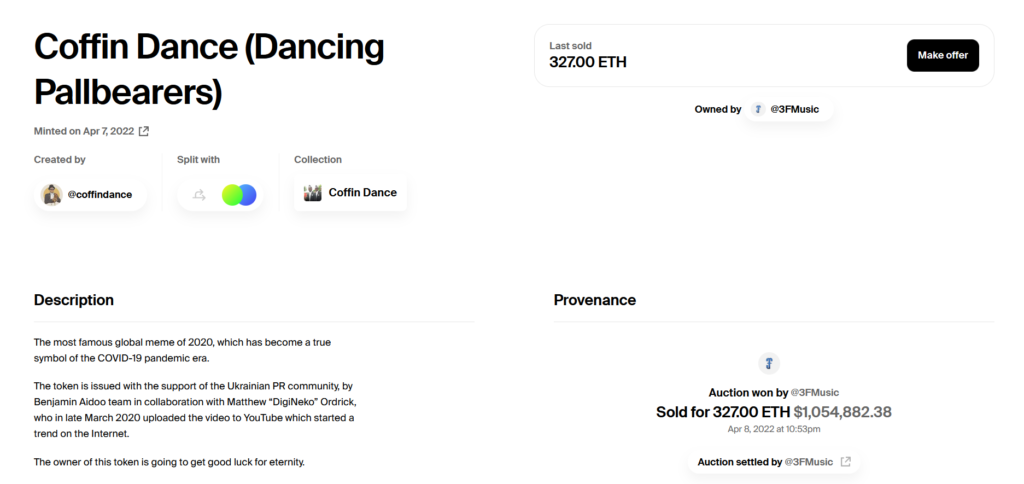 The amount places the meme among some of the most valuable NFTs to have crossed the million-dollar mark worldwide.
That was the last nail in the coffin for the over 200 listeners on the Twitters Space that night.
Otafrija has plans of opening a Foundation to help the needy in society because "everywhere you find yourself, it's the society that took you there."
For him, persons with disability will be a prime focus of his support and patients with "hole in heart conditions."
Therefore, philanthropy is very big on his agenda. In a nutshell, Ukraine is not the only mission of his drive for positive change.
Literally, the rest of the 75% stake will, in one way or the other, end up improving the welfare of his people back home.
For me, that is worth celebrating.
And I forgot to add, remember that composure he had kept all through the Twitter Spaces conversation, something had to give once the bid 3F Music snatched it at a whopping $1.04 million.
"I feel like jumping into the sky,"Otafrija said as he could not hold himself together any longer, and so would his 100 plus workers in Kumasi whose lives were changing before their very eyes.
Really though, why do you give a rat's backside about what this team does with their money?
I mean, it took them about 19 years to get here, but hey… what do I know?
And also those of you already calculating the E-Levy deduction that could go into this amount, you are warned… Lolx.
Congratulations Dancing Pallbearers.
*****
The author, Kenneth Awotwe Darko is a journalist and social media analyst and tech enthusiast.
Follow him on Twitter via @TheKennethDarko on Facebook, Kenneth Awotwe Darko and @TheKenDarko on Instagram.
Email: Kenneth.darko@myjoyonline.com
DISCLAIMER: The Views, Comments, Opinions, Contributions and Statements made by Readers and Contributors on this platform do not necessarily represent the views or policy of Multimedia Group Limited.